How To: Be the Chicest Mom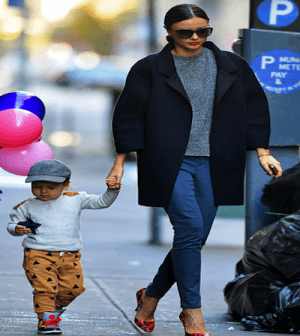 Throughout our lives, we experience momentous moments referred to as milestones. Whether it's losing your first tooth, earning your first paycheck, graduating college or buying your first car, these moments change everything and usually help us in moving on to the next chapter of our lives. For many women, becoming a mother is the milestone to top all milestones. Not only is motherhood rewarding because of the inexplicable and unique bonds so often fostered between moms and their children, it is also time consuming. As a recent video titled "World's Toughest Job" by cardstore.com reveals, it requires an unimaginable amount of dedication, initiative and energy to fulfill the responsibilities of being a mom. With all the diaper changes, dance recitals, soccer games and grocery shopping, I'd say it takes a real-life superwoman to sustain her style while mothering children. The good news is that, once a mother realizes how much she is already capable of, what with the sheer fact of being a mom and all, she can figure out that looking chic is well within reach. Inspired by some of my all-time favourite celebrity mommy muses, I give you my tips on how to be the chicest mom possible!
Sarah Jessica Parker
SJP can usually be spotted on the streets of NYC with her characteristic beach blonde curls and her signature staple: a great pair of jeans in a drool-worthy wash, rolled up for an unexpected twist. All in all, her look is casual, laid-back and easygoing with the ideal hint of fierceness and sophistication. Spice up a pair of AG boyfriend jeans with a sleek and form-fitting leather jacket. As for accessories, find a style of sunglasses that frames your face nicely and invest in a quality pair to wear while going about your daily errands. Running around in a pair of ballet flats, SJP never fails to seamlessly blend fashion and practicality.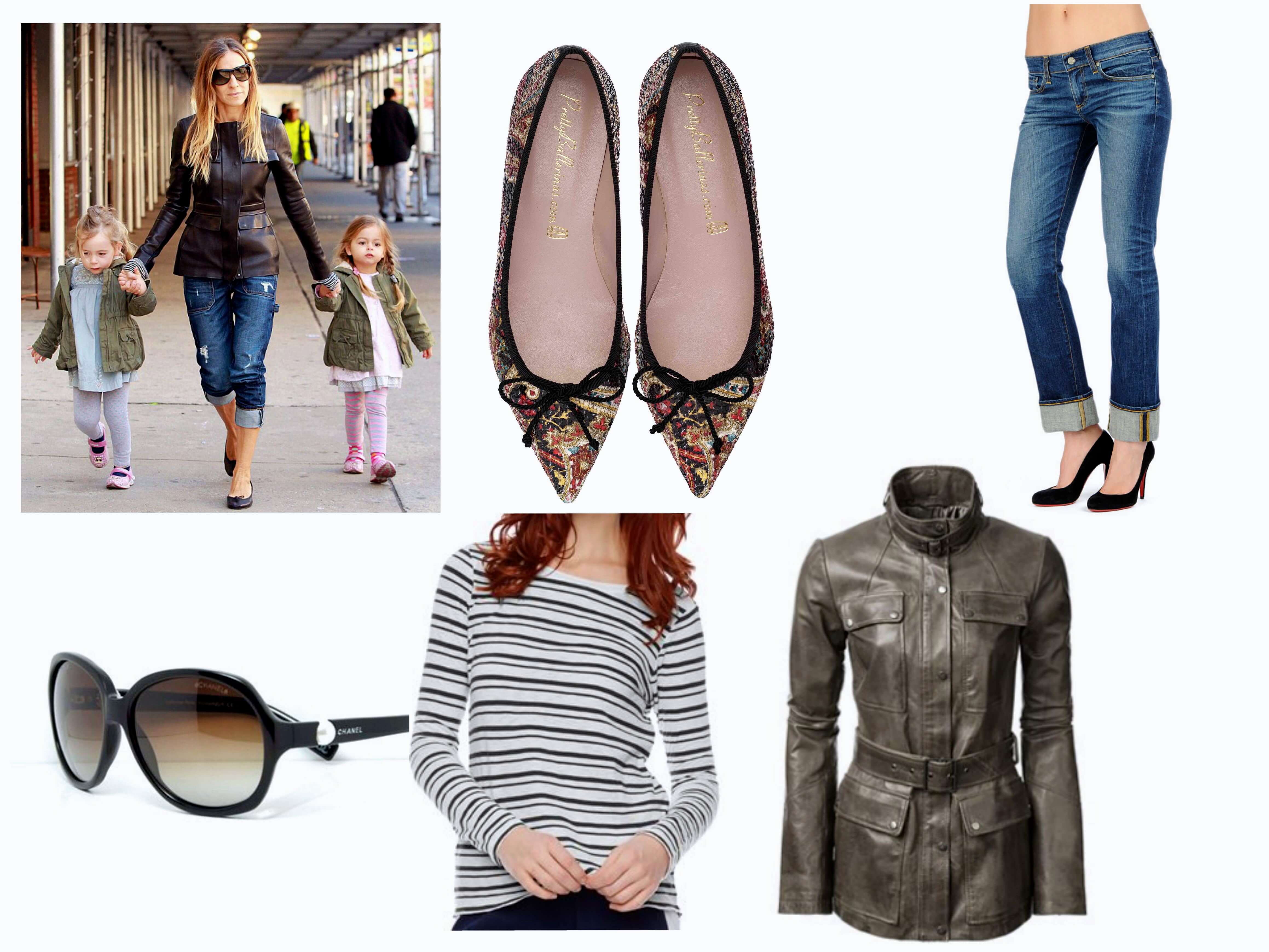 Shoes: Pretty Ballerinas, Jeans: AG Jeans, Sunglasses: Chanel, Top: Splendid, Jacket: Danier
Miranda Kerr
We all know that you don't have to be a mom to experience one of those mornings when time just seems to be moving way more quickly than usual. In cases like these, the maxi dress is a girl's best friend. Miranda Kerr gives us the ultimate chic-mom vibe—boho edition—in her simple t-shirt dress, tastefully accessorized with a thick belt, structured leather handbag and studded sandals. For a slightly lighter palette, try a mix of olive and white. Before forgetting, I think it's relevant to add that the adorable tot holding her hand definitely adds to the ensemble's appeal!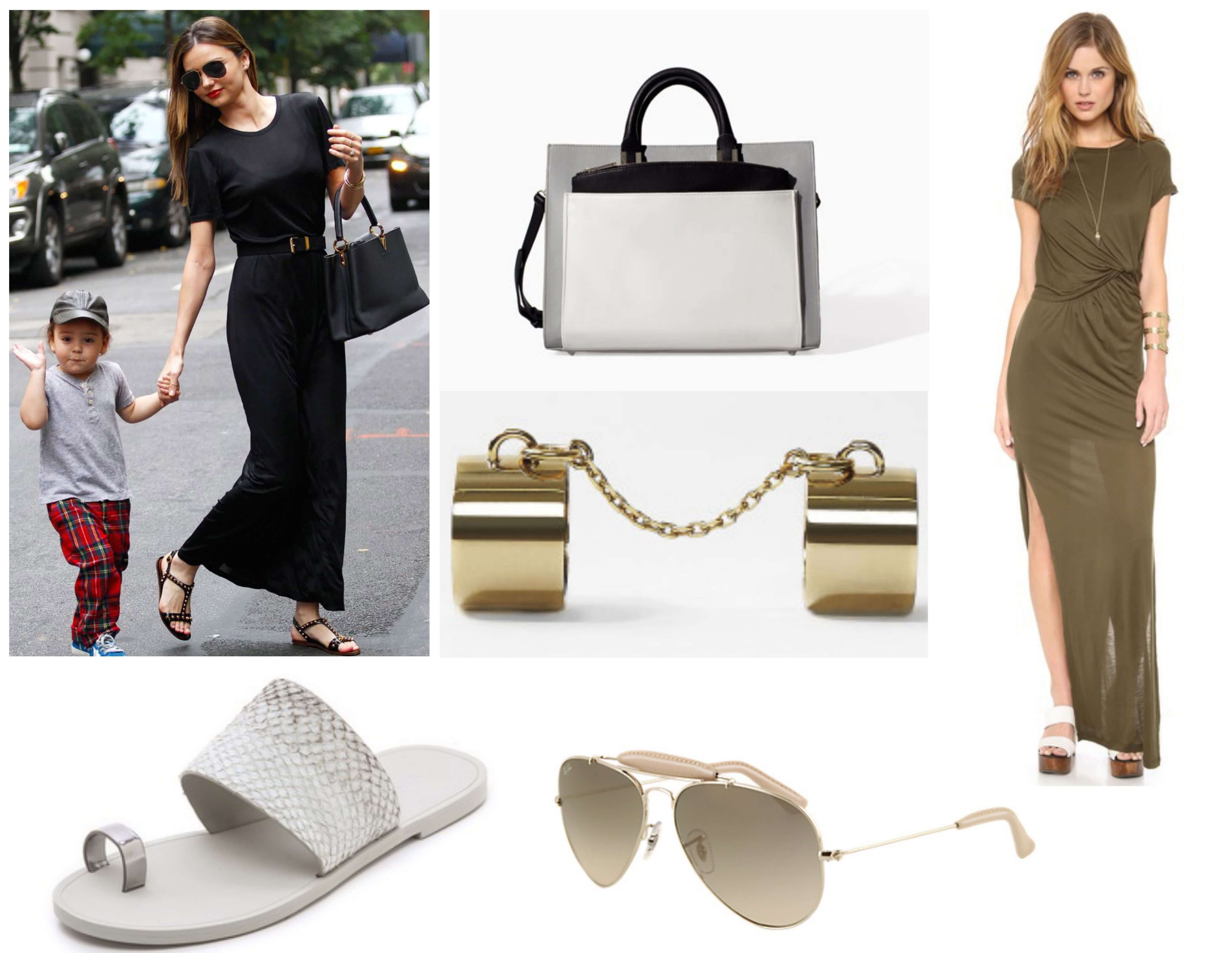 Bag: Zara, Ring: All Saints, Dress: ElevenParis, Sandals: Vince, Sunglasses: Ray-Ban
Gwyneth Paltrow
Gwyneth's spunky cargo trousers put any comments making fun of "mom pants" to shame. The effortless, casual look that this award-winning starlet is sporting rivals her red carpet ensembles in its stylishness and perfectly undone feel. Having longer legs allows Paltrow to work a pair of ankle booties, but ballet flats or Birkenstocks are great options for females with shorter frames. Pair the pants with the perfect white tee and layer a few chains and pendants around your neck for some embellishment.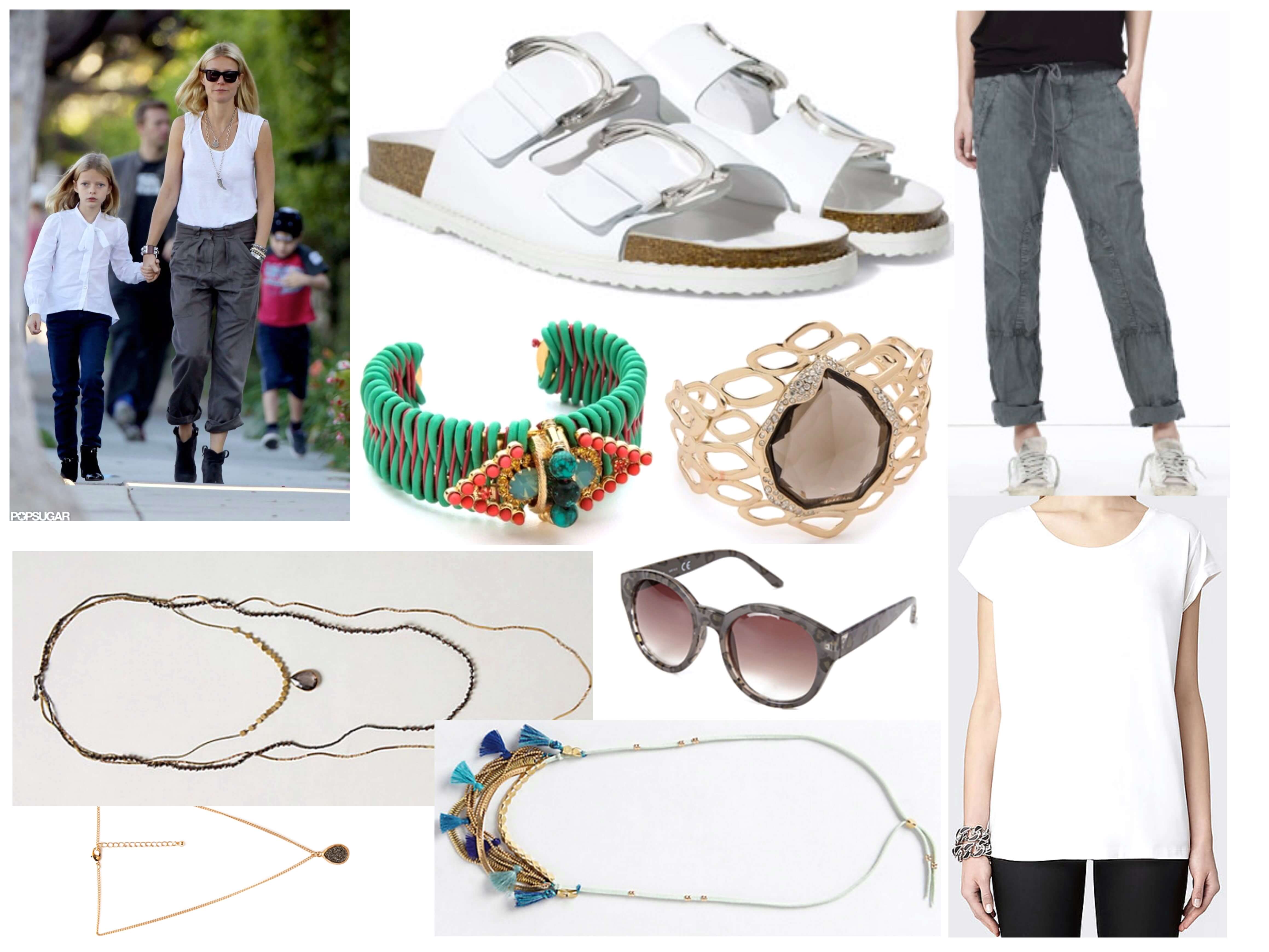 Sandals: Zara, Pants: James Perse, T-shirt: All Saints, Green bracelet: Elizabeth Cole, Gold cuff: Alexis Bittar, Sunglasses: Forever 21, Gold chain with pendant: Forever 21, Tassel necklace: Anthropologie, Layered necklace: Anthropologie
You know what they say: Celebrity moms have got it going on. But really, any woman who balances the full-time job of being a mother while simultaneously showing off some great style is successfully pulling off a serious balancing act. The key to being a chic mom is to choose outfits that come together easily and do not create a hassle when running around. Even for women who are not mothers, it is often the simple silhouettes and no-fuss garments that serve as the cornerstones of truly chic outfits. Keeping the clothes simple means you can have fun with accessorizing. Layering necklaces, stacking bangles or adding a minimalist belt are great ways to spice up your attire and add a modern flair. So, whether your mommy style aligns with Angelina Jolie's easy breezy look or you love some punk influence à la Gwen Stefani, don't let anyone fool you into thinking moms can't be stylin'. In my books, moms are some of the best dressed women around!

About Krystin Chung
While other kids were busy playing hopscotch, I could usually be found in my closet, playing dress-up or making one of multiple daily outfit changes. Currently pursuing a BA in Art History and Communication Studies, I think of myself as a burgeoning fashion writer, eager to use my knowledge, love for fashion and creative eye to bring you only the best.