A life-long relationship Civello, Rosedale – Where customer satisfaction is truly guaranteed.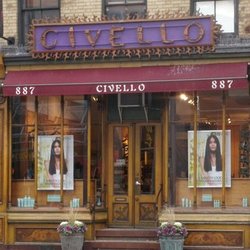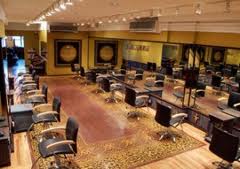 I made the transition from box-dye to professional salons when I was fourteen years of age, and ever since I have been in a long-term relationship with Aveda. Throughout the course of our on-going relationship I have never been disappointment, lied to or taken advantage of – leaving me never wanting to cheat. Why leave a relationship when you are constantly satisfied? Needless to say I am dedicated, committed and in this for good.
The first salon that I fell in love with and became a regular customer at was called "Coco Mazzi" in Stoney Creek, Ontario. My hair was healthy, shiny, unique and fabulous. When I moved to Toronto I knew it was unrealistic to continue to travel back and forth, as much as I wanted to. This lead to the beginning of searching for a new salon to take care of my hair and perfectionist needs. I am extremely picky when it comes to salons and this new one would really have to be special in order to blow me away. My expectations at this point were extremely high. Not only was I going to be comparing the customer service and visual aspects of this new salon, but the relationships between the staff members. Were they trained well? Were they able to work not only as a single professional but also in a group setting? Did I get offered a beverage when I walked in the door? Was I given something to change into to protect my clothing? Was a scalp massage included? Please keep in mind that I would much rather be in an upscale, classy, elegant, relaxing atmosphere than a ultra-modern, loud house music playing, trendy salon that leaves me feeling exhausted by the time I leave.
The moment I stepped foot into Civello, Rosedale I knew I had chosen the right place for me. Those familiar smells of Aveda products greet your sense of smell the second you walk through the door right before the very friendly concierge asks your name to check you in. The fresh, natural and welcoming smell lingers through your nostrils throughout the day afterward, I promise. You have the option to go to three different desks to check-in so there is never a long wait. They bring up your file and then personally escort you to the next step. You are given a black "Civello" robe to ensure your clothing isn't damaged in any way shape or form – it makes you feel comfortable, welcomed and very spa-like. You're then seated in the designated waiting area where you are offered tea, coffee, water or juice. Even though I usually go for a green tea or water choice I recommend trying the signature Aveda tea – it is very unique and quite delicious. Each sip has a hint of sweetness followed by a licorice type taste after swallowing. It's refreshing.
When the colour technician comes to personally greet you and escort you to their designated chair it's always accompanied by a smile and a brief introduction. Everyone in Civello always looks like they love what they do and where they work – this is so important. I have been to salons where people appear miserable. Regardless of where the 'misery' is coming from do us a favour and leave it at home – it only adds negativity and disrupts the calming atmosphere. Once seated, they take a moment to check out your current hair and ask you what you're in for. If you know what you want they are very accommodating and usually get right to work. If you need a suggestion or some advice they are full of knowledge and experience and give you honest opinions based on their teachings – not their personal opinions. I've never been talked out of something I've wanted to do to my hair – they really are all about personal satisfaction. In fact, there are numerous times I have brought in a photo of what I wanted my hair to look like and I have left with hair that is identical to the picture I provided.
After the quick colour consultation the colour technician will either bring over the hair stylist you will be seeing afterward for a haircut – or it's straight to the neck/shoulder massage (one of my favourite parts). If you are getting your hair cut, the stylist will take a moment from whatever they are working on to introduce themselves and discuss what your desired haircut is. They are also full of experience and knowledge so feel free to ask questions or for a suggestion! They're highly trained individuals and truly a master of their craft. Then the neck/shoulder massage happens. The colour technician will ask you to choose one out of three scents from the Aveda body oil line. I always forget which one I choose but it's nice to be able to have the option because you're going to be wearing it all day long – they all smell fabulous to me. It's a quick five-minute or so massage but wow is it relaxing!
The colour is put on in a very precise and timely manner. While you're waiting for it to set you're once again offered a beverage, a magazine or anything else they can do to ensure you are comfortable. After you're all rinsed up you either head over to wait for your stylist for a cut or your colour technician will blow dry you on the spot. If you're going to see a stylist for a haircut they typically cut it dry which always ensures fabulous results and there is no surprise once the hair is dry and then appears so much shorter than expected. The colour technician makes sure to come over once more to ensure you're happy with the results of the colour – I absolutely love this.
The customer service at Civello really makes you feel like you're held on a pedestal as a customer – and they're treating each and every single customer this way. The system that Ray Civello has set up is truly one that stands out to me. I will be a returning customer for as long as they allow me to! I personally see Byron at Civello. He is a colour technician and a hair stylist – I've sent numerous amounts of clients his way and they have all left completely satisfied. If Byron isn't available literally everyone who is working at Civello has the experience and level of expertise that will leave you a very satisfied customer so feel free to try someone else!
Also if you love spas – the spa on the second level is truly a satisfactory experience. I go for massages quite often with one of their resident RMT's. His name is Arda and he is absolutely fabulous. I'm so picky with my massages and I am one who thoroughly enjoys deep tissue, intense massages. He is one of the first massage therapists that has been able to take out the majority of the knots in my back in just one setting. The lighting in the room is very dim, the music is very calming and not too loud but not too quiet where you can't hear it, and you leave smelling like that refreshing Aveda smell all day long. I truly recommend it. I've never been happier and I look forward to going each and every single time. It's very rare that I don't have one complaint about a place.
887 Yonge Street, Toronto – Tel: 416 924 9244
www.Civello.com for more details.
Also see
www.Aveda.com to check out details on the products themselves!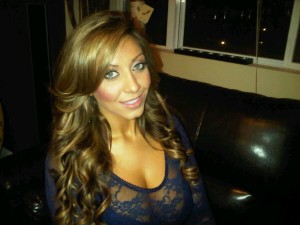 Here is an example of my hair done by Byron at Civello, Rosedale.
I'd love to hear about your experience if you do end up going! Comment below.