Should Tying The Knot, Mean Spending A Lot?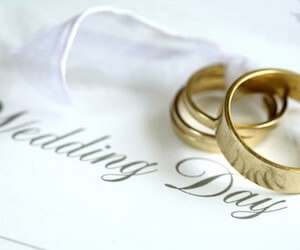 While job markets and the economy have been on shaky ground the last few years, one area that doesn't seem to be feeling the pinch is the wedding industry. Take away the elements of romance, commitment and love and you're left with some astonishing statistics that expose a money making machine.
After surveying 13,000 US brides and grooms in 2013, the website TheKnot.com took a look at the real cost of weddings and where all that money is going. Some of their findings are as follows;
–       Average Wedding Cost: $29,858 (excludes honeymoon)
–       Average Spent on a Wedding Dress: $1,281
–       Average Marrying Age: Bride, 29; Groom, 31
–       Average Number of Guests: 138
–       Average Number of Bridesmaids: 4 to 5
–       Average Number of Groomsmen: 4 to 5
–       Most Popular Month to Get Engaged: December (16%)
–       Average Length of Engagement: 14 months
–       Most Popular Month to Get Married: June and September (15% each)
–       Percentage of Destination Weddings: 24%
Keep in mind that these are the AVERAGE findings. Roughly 1 in 8 couples (14%) spent more than $40,000 on their nuptials, and nearly 1 in 4 (24%) didn't even have a budget to contend with.
Category
2013 National Average Spend
2012 National Average Spend
Overall Wedding (excluding honeymoon)
$29,858
$28,427
Venue (reception hall)
$13,385
$12,905
Photographer
$2,440
$2,379
Wedding/Event Planner
$1,874
$1,847
Reception Band
$3,469
$3,084
Reception DJ
$1,038
$988
Florist/Decor
$2,069
$1,997
Videographer
$1,700
$1,619
Wedding Dress
$1,281
$1,211
Groom's Tuxedo
$248
$230
Wedding Cake
$546
$560
Ceremony Site
$1,793
$1,711
Ceremony Musicians
$588
$554
Invitations
$443
$453
Limousine
$732
$708
Favors
$281
$289
Rehearsal Dinner
$1,184
$1,135
Engagement Ring
$5,598
$5,431
Catering (price per person)
$66
$63
Officiant
$260
$246
Figures based on respondents who hired a professional vendor for the service.
Not only are weddings financially daunting, but the pressure to outdo, upstage and outshine other ceremonies is ever present.
"Wedding budgets have been increasing steadily since the economic downturn of 2008, and in 2013, couples spent a record high average of nearly $30,000," said Carley Roney, cofounder of The Knot. "Couples are more focused than ever on creating a unique, personalized and once-in-a-lifetime experience for their guests – plus they're doing so in a modern way, by planning from their smartphones, publicizing details on social media and more."
The recent trend in weddings seems to be making it all about… the guests? Yup, that's right. Most couples planning their weddings are approaching their preparations from the guest's perspective. Guests are no longer invited to "just" a wedding, but to a marriage "experience". In 2013, the average cost of each guest attending a wedding was $220. Unique details to keep guests entertained, surprised and fed are at an all time high. Signature cocktails, unique food stations/bars, hired entertainment, guest involvement games, creating personalized seating charts, and offering gifts/mementos and party favors are all "musts" on most brides' to-do lists.
While wedding planning is not our full time job, we would suggest that anyone planning a wedding should take a step back and reflect upon themselves and their plans. Ask yourself, "Is this what I really want?" Make your big day, one you can enjoy. Let it be a day you can feel relaxed and think about the future with your loved ones.
We hope we haven't scared off anyone currently diving into the wedding planning process. As we head into wedding season in 2014, we wish everyone rehearsing their nuptials all the best and congratulate you on your commitment celebrations!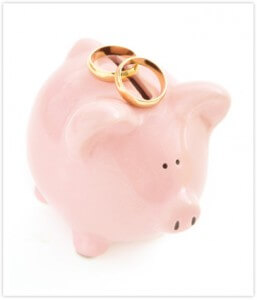 Statistics found:
http://weddingmarketnews.com/wedding_statistics/
http://wedding.theknot.com/wedding-planning/wedding-budget/qa/what-does-the-average-wedding-cost.aspx

About Jessica Strickland
I'm a lady whose ordinary, needs that 'extra'. With a background in corporate communications, I love the thrill of connecting with audiences and engaging with their interests. I'm fairly certain in a past life I was a mermaid…ok, I'm totally certain. One day I'll be living ocean side again. I love animals, and my golden retriever puppy Briar, is my pride and joy. @pr_in_heels http://jessandbriarblog.wordpress.com