Tasty Tours Toronto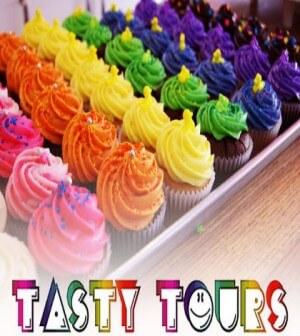 Torontonians and tourists alike love the Distillery District for its fascinating history and quaint atmosphere, with cobblestone pathways and charming restos. The former industrial complex was home to the largest alcohol distiller in Canada, owned by brothers-in-law Gooderham and Worts. Now it's been renewed as an entertainment precinct and historic landmark lined with cafes, restaurants, and shops. The Distillery District is now featuring a Sunday Farmers Market running throughout summer, and we get a chance to have a first glimpse courtesy of Tasty Tours Toronto.
My friend and I met up on one of the first gorgeous Sunday afternoons of the season and joined a few other bloggers for the tour. Our tour guide, Audrey Ooi, who runs Tasty Tours herself and has hosted many a tour around the city, is friendly and bursting with knowledge about our vendors today. So with sunscreen and empty stomachs, off we go to visit some of Ontario's finest market vendors…..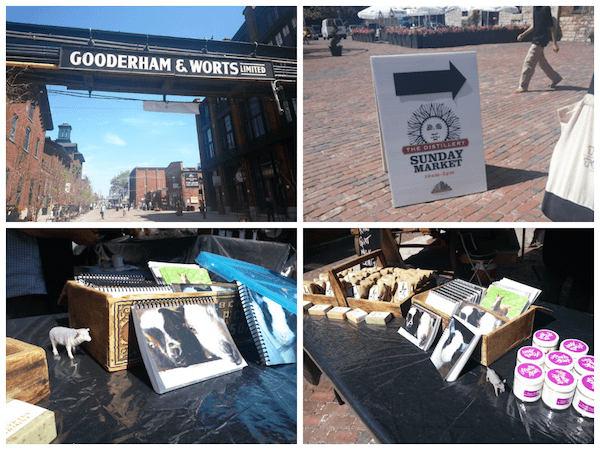 Haute Goat
Goat cheese chocolate truffles. Enough said. Well actually no, there's more to be said, but decadent treats like goat cheese chocolate and goat milk cajeta (caramel sauce) is a great place to start. Shain is behind the booth explaining to us his venture from the big city to the quiet rolling acres of Campbellford, where he and his wife brought home 4 Nigerian Dwarf Goats and were immediately smitten. Their love of goats quickly became a love of goat's milk and all things goat related, so they started up Haute Goat as a nod to their inspiration. Shain is a lively personality with stories to tell, that much is evident just from listening to him speak. There is an assortment of hand-crafted chocolates, milk soap, butter caramel popcorn, hand creams and more. We get to sample a few treats and they are absolutely dreamy.
Hi Honey
Beekeeper and activist Karen tells us about her handmade honey soap and beeswax candles. The "Hi Honey" name is endearing and elegantly scrawled on all products. Karen is passionate about reducing the risk of chemical harm to bees in Canada and has plenty of information to share. We sample a few different honeys including a delicious blueberry honey that wins everyone over.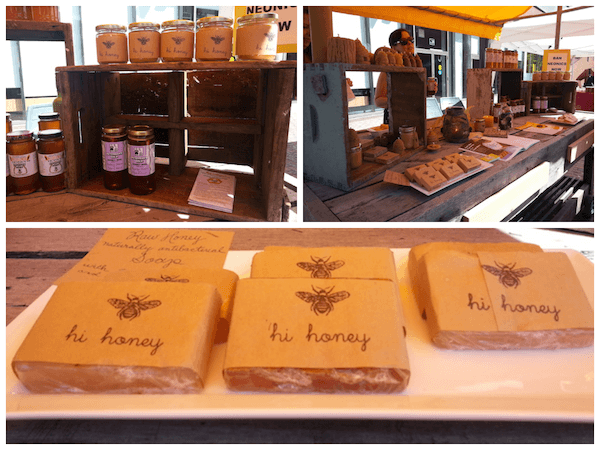 Spade & Spoon
Maple syrup, a Canadian treasure. I love maple syrup and comparing different grades of different brands so I'm excited for what Spade & Spoon have to offer. Their booth is elaborate with all kinds of colourful jars of jam and preserves, fresh and made in Ontario. Adam and Blythe are foodies who love fresh, high quality ingredients, farming, and creating unique products that taste great. Their jams are sweet and fruity and made in a variety of great flavours such as mojito jelly and fuzzy peach. We get to sample a wildberry flavour which was just made seconds ago, and it's amazing. We also sample a light and dark grade Maple Syrup to compare the difference; lighter is sweeter and not as dense, while dark is richer and stronger in flavour. My tour mates all seem to prefer the light, but I secretly love the dark grade.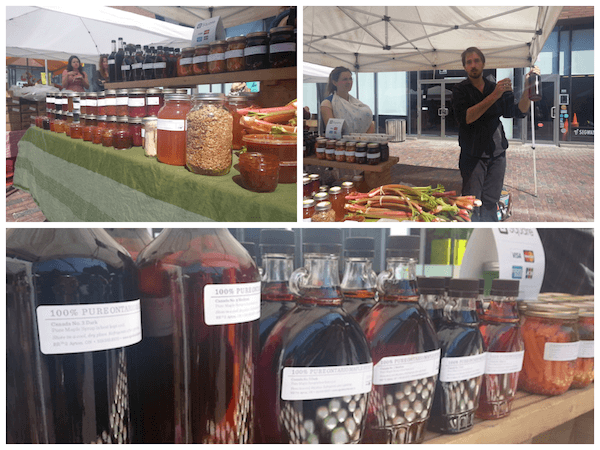 Sweet Escape Patisserie
Next, Audrey takes us into the Sweet Escape Patisserie where chef and owner Michelle Edgar tells us about this chic bake shop's mandate, which is to be "not boring" as much as possible. That's a mantra I can get on board with. What she means is that all of their sweet treats are made with creativity and delicious twists. At Sweet Escape they smoke their own cheese and chocolate and prepare a wide assortment of desserts like macarons, cupcakes, squares, ice cream, biscotti, and over 30 sweet and savoury flavours of shortbread. We get to sample an incredibly rich and lovely Nanaimo bar made with a peanut butter layer, a traditional butter tart, and an ice wine infused macaron made with Vidal ice wine. These goodies are fantastic, everyone is too busy stuffing their faces to speak to each other. The butter tart has a rich, creamy centre and is topped with crunchy walnuts. I'm not the biggest butter tart fan but I appreciate the freshness of the pastry and that classic ooey-gooey filling. Now, as for the macaron,  I love the light, flaky texture with the rich, chewy, decadent cream filling. Very sweet, dense enough to be a filling dessert on its own.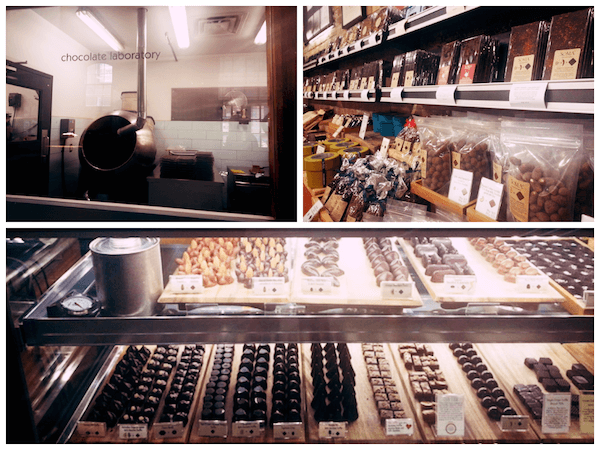 Soma
If you're a chocoholic who hasn't heard of Soma, you need to get in the game. Soma is Toronto's premier artisanal chocolate maker and is a self-proclaimed "place to drink, eat, and worship chocolate". Today we get to visit the secret lair: the chocolate laboraty and chocolate shop in the Distillery District location. A dream come true for a chocolate lover like myself. Soma specializes in fairtrade and organic cocoa beans to make a line of truffles, cookies, drinking chocolate, and more. While touring the unique chocolate factory equipment, we sample some delicious dark chocolate with fruity, earthy notes. Browsing the aisle of goodies, there are all kinds of chocolatey treats to purchase for all kinds of palates, whether you're into rich and decadent or light and fruity.
Mill St Brew Pub
Our final stop is a must-try at the Distillery. At Mill Street Brew Pub craft beer meets excellent food in the beautiful historic surroundings of the Distillery District. The brewery has won numerous awards for their outstanding brews, so it's only natural that we sample a few, such as the Organic Lager and Lemon Tea beer, among others. We learn about the various flavours and food pairings and I make a mental note to come back and try the Frambozen, a raspberry ale. I'm not much of a beer drinker but I've made an effort to expand my palate recently and am enjoying these selections quite a bit, to my surprise. It wouldn't be a proper celebration of Canadian-inspired food and drink without indulging in one of our nation's finest culinary creations…poutine! Mill St offers a short rib poutine made with tankhouse ale and Quebec cheese curds. Our group shares a couple of plates and it is delicious. This savoury meal certainly hits the spot after a sugar high. After a series of beer samples and a delicious poutine lunch, we get a tour of the Mill Street Beer Hall, which a few of us actually didn't even know existed. It's spacious and modern with a large patio and bar where a live jazz band plays for Sunday brunch. I highly recommend this spot for some quality summer lounging with a good beer.
The Distillery District Sunday Market runs every Sunday all the way through summer and into September, so make sure to stop by! Thanks to all of the incredibly helpful and friendly vendors and Mill Street Brew Pub for hosting us!
Special thanks to Audrey at Tasty Tours Toronto – follow her on Twitter: @Tasty_Tours and "Like" on Facebook.
For all Tasty Tours information please visit their website http://www.tastytourstoronto.com/index.php

About Courtney Gilmour
Courtney is a Toronto-based writer and editor whose work has appeared in various digital and print publications, and probably the back of your chair in high school. She is known for her ability to create a near perfect plate of nachos and her inability to properly close a pizza box. Follow her on Twitter: @minxcourtney