SPiN Toronto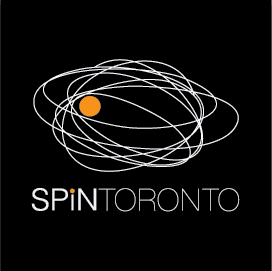 Ping-pong is just like sex.
Great now I have your attention. Spin is the only bar in Toronto where you can hang out with friends, sip cocktails, eat nice food AND play ping-pong. A must-see on any tourists list, Spin is a place you recommend people go. Created by owners, Franck Raharinosy, Andrew Gordon, Jonathan Bricklin and Academy Award actress Susan Sarandon, you can currently find Spin in New York, Los Angeles, Dubai, and of course Toronto. To me, it just looks like a fancy rec room. We arrive just before 6pm and the after work crowd is in full swing, literally. The ping-pong floor is mired with suits of all shapes and sizes and every single one of them is taking ping-pong a little too seriously. The host shows us to our ping-pong table. We have the table reserved for an hours play and when our time is up we are kindly asked to leave- the table not the restaurant. They welcome walk-ins however it's recommended you book a table in advance for a Friday or Saturday night ($34 an hour).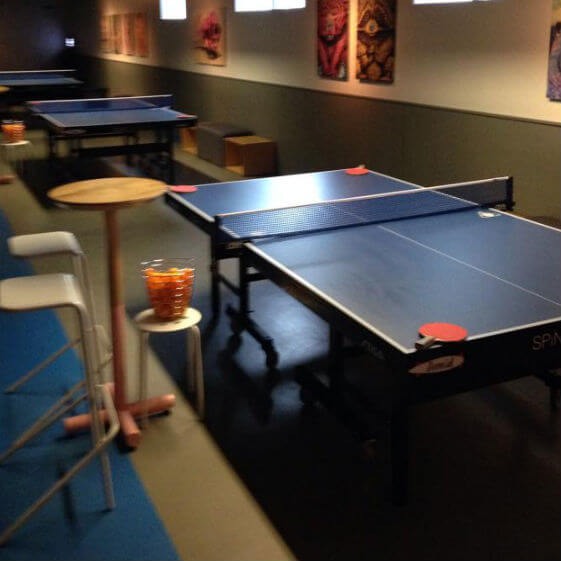 Spin's Executive Chef, Nicole Mclellan has recently revamped their menu, and as much as this place is all about ping-pong, I would argue it's all about food too. We start things off with the "Super Bowl" ($7) warm chickpeas, perth bacon, roasted mushrooms, and shredded brussels sprouts. There wasn't really a dressing, however the thick chunks of bacon worked wonders for flavor. And who doesn't love a warm salad on a windy day?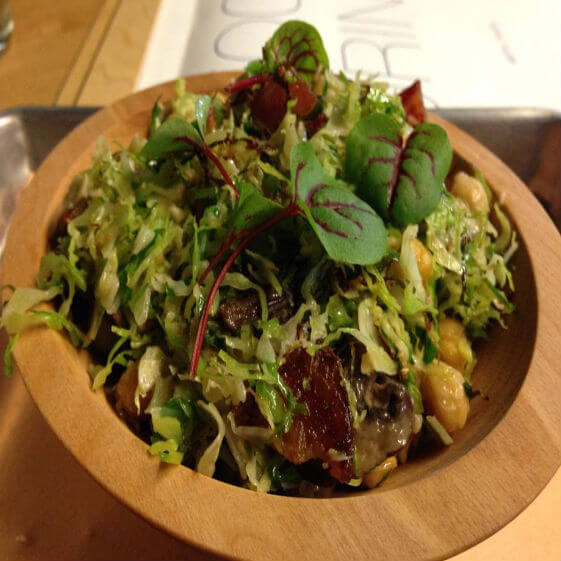 Next up, we had the salmon burger with a squid ink bun. Sometimes in life when things are so beautiful, regardless of whether they truly have substance, you must marvel the beauty. This is one of those moments. The squid ink bun is eye-catching, maybe even a show stopper and though it pretty much tasted like a "normal" bun, well, it really was so much more than that.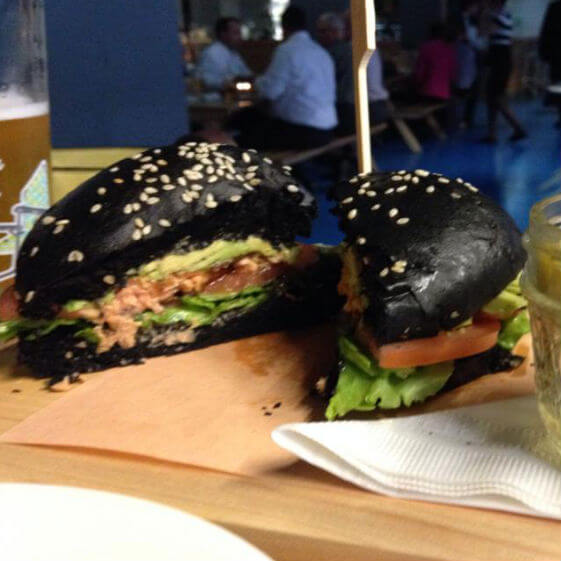 For dessert we had the "Spin Bites" ($8) bread and butter balls with butterscotch. Served piping hot resist the urge to eat right away. Perfect size for sharing with two people. I would also suggest trying the kimchi fries ($8). Spin, like everybody else has an emphasis on locally sourced ingredients and at least four beers on tap are from Toronto Breweries. No doubt this place will continue to do well, the concept is rad, the food is good, and there's alcohol. I don't think I need to say more.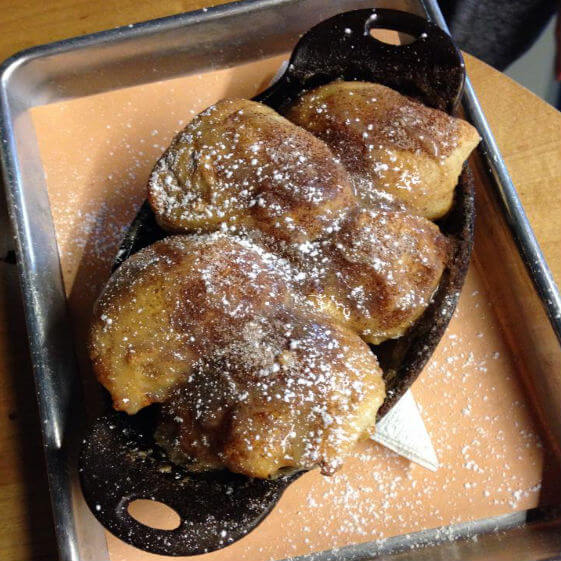 Eat on!
461 KING STREET WEST
TORONTO, ON, M5V 1K4
Map»
416.599.7746
"Follow" @Spin_Toronto & "Like" on Facebook here.

About Erin Wotherspoon
Erin, of average height and weight has no special skills to boast of. She graduated from Theatre School at George Brown, where she studied classical acting for 3 years. Erin began to feel like a pawn in a chess game she never consented to and switched her energies towards creative writing. Having had some mild success as a blogger, it is now her main goal in life to write novels. She currently contributes to a couple of food & drink related magazine around the city. @erinspoons