Remember These: Sun-In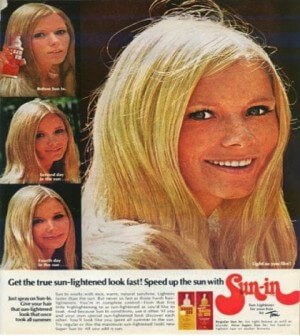 The essential summer hair product— if it was 1984 or 1998— also known as "the best thing to happen to highlights since sunshine." Sun-In: the coveted highlight enhancer of my youth that helped me look like an Olsen Twin…or did it? Sun-In was a love-to-hate item in your bathroom. You knew it could, somehow, possibly make your hair sun-kissed and radiant but every time you just got a "great" copper glow. I still tired it again every week praying for netter results. The streaky look was in then, no?
Sun-In is essentially lemon juice, water, and some hydrogen peroxide. My mom tried to encourage me to just use lemon juice instead of Sun-In— as if! I was always super excited to bring my Sun-In with me to the community pool every summer. Side note: Don't get me started on the above ad. I'm not sure if I want to know what they were trying to say.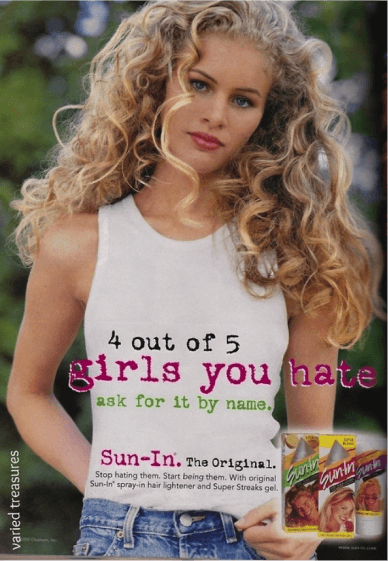 Sun-In is still around. The company sells it products at drugstores and hasn't changed their packing much at all. I'll attach the steps, just in case you forgot. I feel like Sun-In worked best on lighter hair (not my light brown) and the fact that it was sprayed willy-nilly all over your head didn't help with the distribution of color. Some people rocked it. I know I did— after the 25th application. Was it the original ombre? That's what I'm starting to think.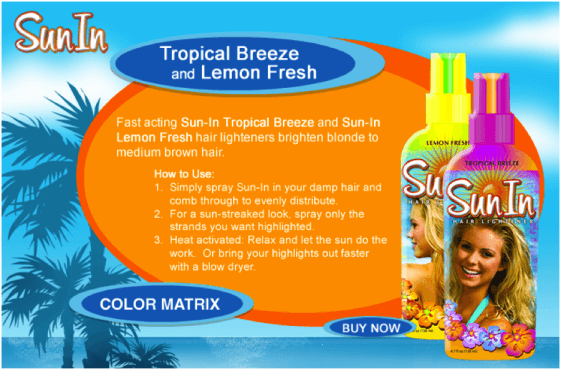 So grab your towel, a Capri Sun, and the Josh Hartnett issue of YM Magazine and head on over to the community pool. Your highlights will thank you. Do you remember Sun-In? Would you try it today? Tweet us your thoughts! @TOCityGossip @lkewolves
About Moira O'Connell
Moira is a writer & makeup-lover based in Toronto. She has a background in archiving, coffee slinging & relocating (also signing Iggy Pop a little too loud). She's pretty sure she was born in the wrong decade, maybe even century. Swears by: red lipstick, bell bottoms & selkies. You can check out her lifestyle blog at http://lkewolves.blogspot.ca or follow her on Twitter @lkwolves