Protect Your Hair This Summer!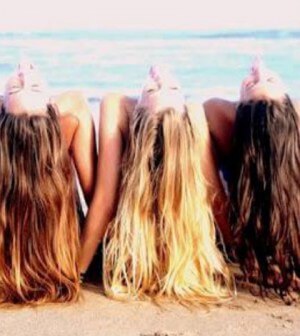 Fact: the heat is awful for your hair, so therefore summer is when you need to pay particular attention to the condition of your mane! Between heat styling at home and sun damage outside, it's crucial to take certain steps to ensure you aren't unintentionally frying your hair.
Invest in a cute, floppy hat
It may seem obvious, but a hat is the surefire way to protect your scalp and hair from UV rays – not to mention, it will also protect your face and shoulders! Oh, and it looks super cute paired with a messy side pony. See our latest Lust – Must for a suggestion on how to get this look for less.
Avoid heat styling
I know it's tempting to blow dry and flat iron your hair, especially during the summer months when hair tends to get frizzy. Letting your hair dry naturally will help retain natural moisture, preventing your hair from becoming dry and brittle. Towel dry your hair after a shower, add some sea salt spray and you'll be rocking mermaid waves in no time!
Oil up!
When your hair is extra thirsty, products like Moroccan oil and frizz-fighting serums are definitely your friend. Add this step between the towel drying, and the application of the sea salt spray.
See your stylist
Trimming your hair is an absolute must, but in the summer it becomes extra important! Regular trims will ensure the health of your hair, which increases its ability to retain moisture – and that's a good thing!
About Alex Payne
Alex Payne is a fashion student living in Toronto, and a complete pop culture junkie. She's an avid blogger, writing about beauty, fashion, dating, music and film. She's obsessed with cupcakes, Kate Spade and The Simpsons. Oh, and vodka.