Paese Ristorante
As someone who has worked in the service industry for the past 10 years, I like think I've got pretty decent wine knowledge. Light, fruity white vs. oaky and smooth? check! Soft fruit forward red vs. full bodied and tannic? Double check! So when I walked in to Paese's Blind Wine Taste Testing, I thought I'd do okay.. Well, I was about to learn a thing or two!
I was joined by my friend Sarah who was married in Italy just last month and certainly drank her fair share of wine. We sat at the bar and were greeted by our host for the evening Ian Thresher. Ian is the wine director and sommelier for Paese. Playing along in the blind taste test were a few more people, including the President of a Wine Agency, and the President of the Canadian Association of Professional Sommeliers. Gulp. Now I think I'm out of my league. Nonetheless, I'm always up for a good time.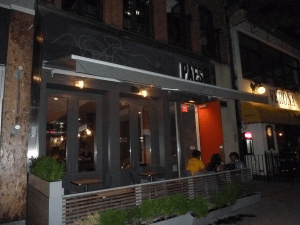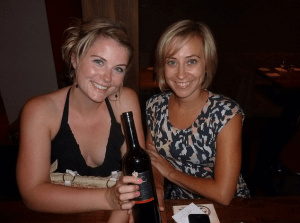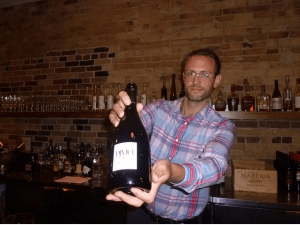 Over the course of the evening, we tasted 3 whites, 3 reds, and a sparkling. We were given a sheet and a pencil. It was our job to describe each wine's appearance, nose, and taste. Using our "extensive" wine knowledge, our next job was to guess the country of origin, the vintage and the varietal. Correct guesses were awarded a point each.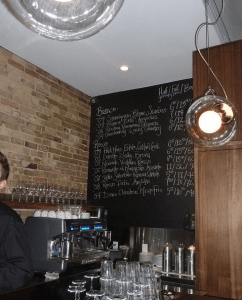 We began with a very peachy, bubbly something. After a few guesses from the crowd, we learned it was a young Italian Prosecco. 2 points for me! I described this particular wine as a great "Hot Tub Wine", which got a big laugh… too bad I wasn't trying to be funny…
The second wine was really hard for me to identify, so I literally said it tasted "wine-y". Turns out that wine-y taste is a Gavi il Doge Brolio. Sure.
The third wine was NOT liked by most. Here are the words used to describe the odour: Cheese, Feet, Rocks, Burned Butter. Yummy. Upon revelation, it was a 1996 vintage bottle of Chardonnay from France, that retails at the LCBO for $150! Whoa!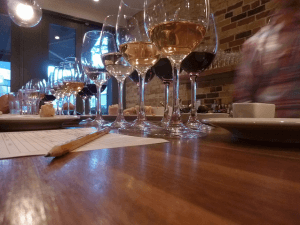 The next wine has very similar notes, a little less funky and a little more mineralesque. What do you know, it was also a $145 bottle of '96 Grand Cru.
(By the way, I'm only pretending I know what a "Grand Cru" is. I don't. I just wanted to fit in with this fancy pants crowd.)
Throughout the tasting, some small plates were offered. We were served a home made white bean bruschetta, a tuna tartar with a spicy red pepper aioli, and mushroom crostinis.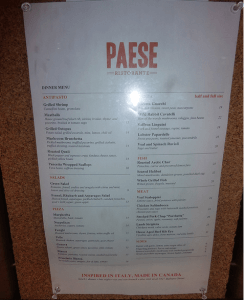 By the time red wines rolled around, I was starting to feel a little silly. The crostinis were not soaking up the wine like I needed them too. Nonetheless, we tried three reds, a $16 Merlot, a $180 Trotanoy Pomerol, and an $18 Colaneri Cabernet Ripasso. One of the guests literally went in to such detail to describe where one of the wines came from, she described it as "a south-facing slop, receiving lots of hail". I felt like I was in an SNL sketch.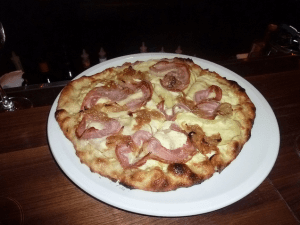 Around the time this time, our host Ian brought us out a few pizzas to nibble on. We were offered a Bianca, a Funghi, a Genova, and a Margareta. All very, very delicious and much needed!
We nibbled up the pizza as we tallied our scores from our correct guesses. Among the 21 possible points, I scored a 6. And would you believe it, that was tied for first! My prize was a bottle of Spatburgunder Rotwein. Huh? Ian said it's a Pinot Noir. Perfect! I love Pinot Noirs!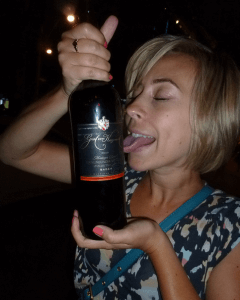 Overall, the experience at Paese's Blind WIne Taste Test was a very fun one. While I may have been way out of my league as far as the company surrounding me, the sommelier Ian made me feel completely welcome and comfortable. I know from previous experiences that drinking wine can be very intimidating. You can be made to feel silly for confusing a Burgundy with a Bordeaux. However, this will not be the case at Paese.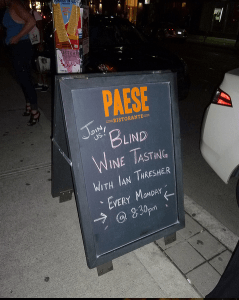 Sarah and I absolutely enjoyed ourselves. She said she'd love to bring her husband back, and I agreed that it is a wonderful choice for a second or third date (great way to see if they can play well with others). If you're willing to drink wine, play games, laugh, enjoy italian fare and possibly get tipsy, you should give Paese's Monday NIght Wine tasting a try. Plus when else are you going to try three bottles of wine worth a hundred and fifty bucks?!
For more information visit:
http://paeseristorante.com/
Also, feel free to check out more of my experiences on my personal blog and follow me on twitter here:
@QueenWestGirl
http://www.queenwestgirl.ca/