Maverick Hair Studio For Men
There are a number of events I look forward to every calendar year – the Superbowl, Canada Day, Opening Day of the NBA season and, in recent years, the end of Movember! Now I'm always up for supporting a good cause and raising awareness for issues that affect our health as a society however Movember is certainly not the way I feel like backing a cause. When I walk around downtown or hit the scene, I shake my head at those ridiculous perv mustaches that guys choose to wear for the entire month of November. These Movember staches have evolved from tight-knit and groomed facial hair to absolutely ridiculous and hideous broomsticks. I'm not a fan. So when December 1st rolls around, I'm more than happy to see my fellow males return with a clean face and a semi-normal appearance.
This year, more than ever, early December brought a sense of entitlement for those brave enough to look silly for 30 days by rewarding themselves for doing such a "good thing". I'm not sure if it was their inability to actually know how to remove an extended piece of facial hair or laziness, but more guys turned to the pro's in getting a fresh start to their November. And I think I've found the best place in the city of Toronto to do it!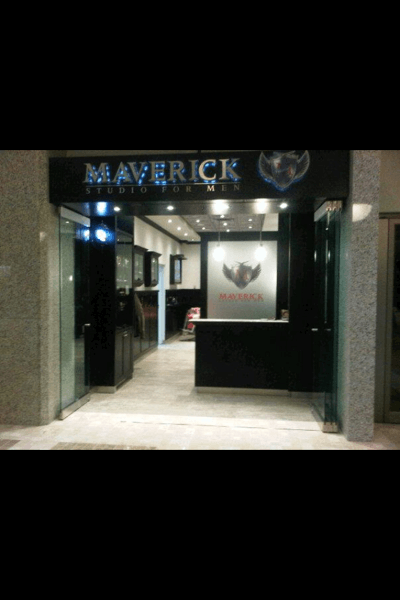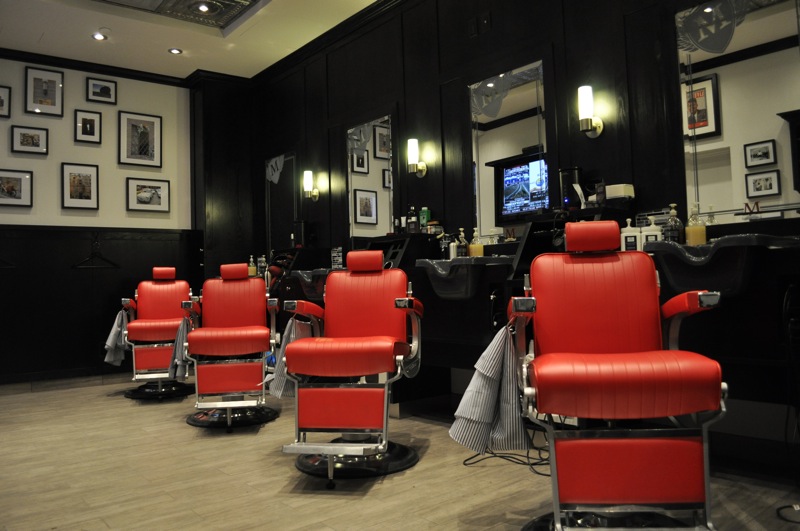 Maverick Studio For Men (http://maverickstudio.ca/) was recently opened in the heart of downtown Toronto (Exchange Tower Concourse across from Starbucks, 130 King Street West) in early fall 2011. The salon caters exclusively to male clientele in providing amazingly superb haircuts and – my favorite – the traditional hot towel shave. For just over 5 years now, my stylist David (he was formerly referred to as my barber but now I've been told to exclusively use the term "stylist) has been cutting my hair with flawless technique and precision. He decided to venture out and, with an equally like-minded, visionary and talented partner Joe, opened up Maverick. I've never been to someone who works so well with my curly and out-of-control locks and created a customized look for me. I'll admit it – I care about these things – yeah I get manicures and pedicures – but hair is at the top of my list. And David delivers. I don't think I can ever go to anyone else. The best part is that he always seems to offer me products for my hair that provide me exactly what I need between haircuts. Because of this, I get that just-out-of-the-salon feeling on a daily basis with my shampoo, conditioner and styling product combination.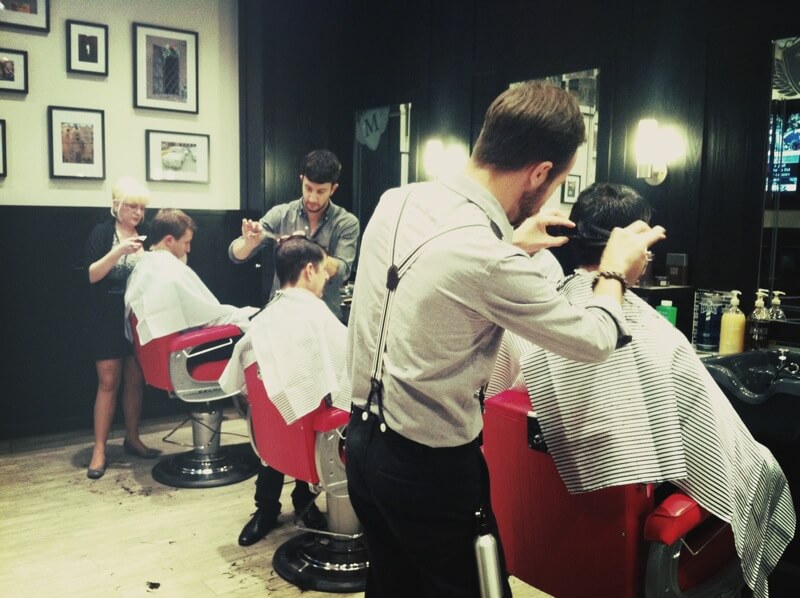 Behind the scenes for months, David has been working on perfecting the art of the hot towel shave. As a kid, I remember my local barber sharpening the straight blade up-and-down on a leather strop ready to rip the hair off an old Italian man's face. Looking back, it wasn't the most hygienic practice in the world and blood was common. But that's all changed. Maverick offers a hot towel shave unlike any other I've seen.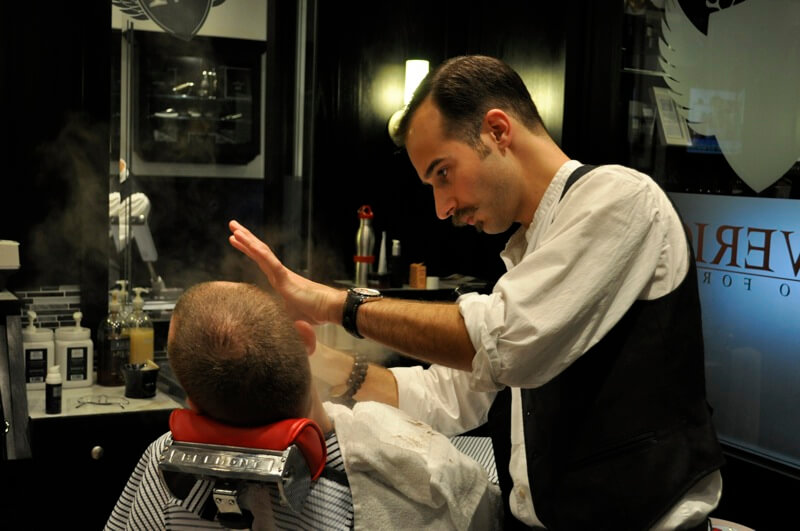 The experience starts with a hot towel over the face to shove and relax the pores. Then, a special machine that arches over your body and sends a constant stream of steam at your face for the balance of the experience. This leaves the pores open and ready for the closest shave you can ever have. After a series of ointment and lather treatments, my face already feels as smooth as it felt before puberty. But that's just when the work begins. For the next half-hour, David carefully glides the straight razor around my face and removes every single follicle of hair. Before the last hot and cold towel combination is applied, I receive a scrub with an alum bar that closes any vicious cracks that the weather has punished my face with. Before I even look at my face in the mirror, I feel renewed and refreshed – almost like I've shaved with a piece of silk strong enough to cut hair.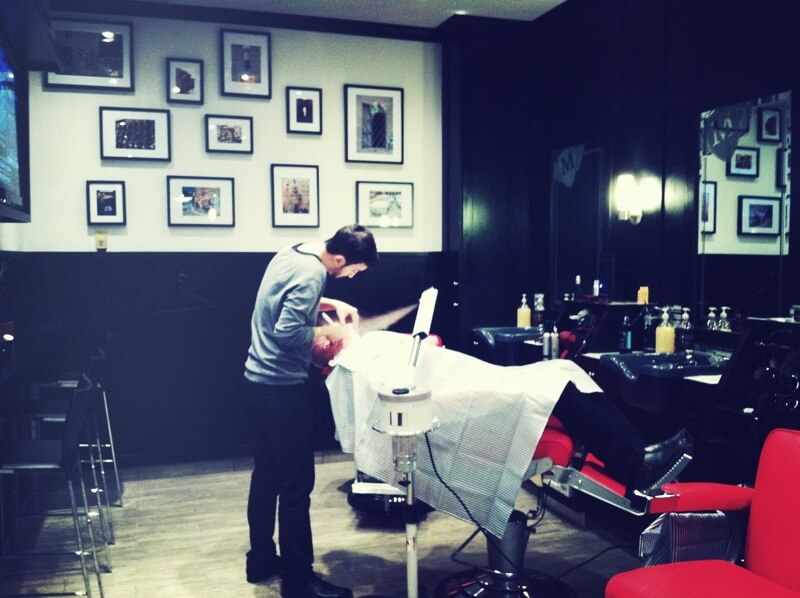 I cannot begin to express my delight when I reviewed the final product in the mirror. Never before has my face been so smooth and satin-like. While the products we have at home make this type of feeling impossible, this is certainly a treat worth having at least once a month. Amazingly, I didn't have to shave for about a week after the treatment – it was almost like my hair refused to come out for days!
Since David and I are tight, I asked him what we could do for our Toronto City Gossip readers. Guys – you're in luck – for only $45, the staff at Maverick will give you a hot towel shave AND provide you with products to take away for your at-home shave as well as a revitalizing treatment for your scalp and hair that are in themselves valued at $85 (this isn't some rub like The Bay has with products that they say are valued at a certain price – these are the actual retail prices of the products in the store!). Maverick will offer this to Toronto City Gossip readers (for a limited time) and its perfect right for getting fine tuned for those holiday parties. While you're there, grab a cut too!
A new player is in town for men's grooming and styling – and something tells me Maverick is going to be leading the pack!
Visit http://maverickstudio.ca/ for more details!