Jumping on the Bandwagon: Beautyblender Review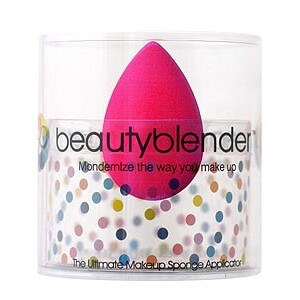 After spending years searching for the perfect foundation to match my skin tone, purchasing an endless supply of brushes and tools, and STILL not beings able to create a flawless finish, I caved – it was finally time to invest in beauty's latest trend, the beautyblender. Invented in 2007 by Rea Ann Silva, the beautyblender is unlike any product of its kind. It looks like a spongey pink egg, and designed ergonomically to curve to the contours of your face, the beautyblender provides you with an airbrushed effect for only fractions of the effort.
Sold at most beauty retailers, I picked mine up from Sephora. The sales associate urged me to purchase the kit that included two beautyblenders as well as the company's unique cleanser, the blendercleanser. I had told myself that no amount of money could stop me from finding my perfect product, and I must say that the $50 price tag was worth every penny. Using the beautyblender for liquid foundation, crushed powders, and concealer, I was shocked to discover that it worked wonders with all three products.
After testing various methods, I found that for liquid foundation, the beautyblender was easiest to use by applying a small amount of the foundation to the back of my left hand. I then dapped the sponge and applied the foundation to my face using a stippling technique (essentially just bouncing the sponge on my face in a circular motion). When using the beautyblender to apply my crushed powder foundation, I applied straight from the compact. Applying concealer however, is done best by using the concealer brush to apply the liquid to my problem areas, and then bouncing the beautyblender until the concealer has done its job.
I can't explain how much this product has changed my makeup routine – I know it sounds cliché, but I don't think I will ever need to use another applicator. The beautyblender allows me to reach difficult areas like around the hairline, jaw, and under the eyes with ease, and gives my skin a healthy glow that other sponges or brushes tend to mask.
If you've read any of my other articles, you know how much I HATE using non disposable washcloths, makeup pads, or sponges, but the blendercleanser left the sponge feeling brand new after every clean (I religiously rinse and repeat after EVERY use). If you're looking for a makeup applicator that is easy to use and unlike anything else you've tried before, I seriously recommend investing in the beautyblender.
Tried the beautyblender? Let me know what you think below! I look forward to reading your reviews!

About Megan Dussin
Megan is a marketing student living in Toronto, working in fashion merchandising. She spends her time scouring thrift stores and flea markets for the perfect vintage pieces, sipping coffee on her balcony with friends, and exploring the city on foot. Obsessions include anything black, leather, or shiny. Follow her on Instagram at @megadeexo