Healthy Life hack – Daily Diet Tip to Beat the Bloat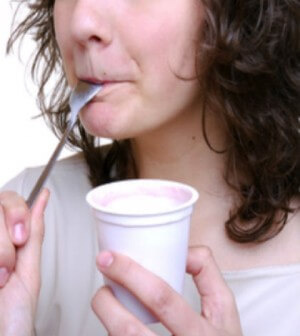 With the media flooding our lives and constantly providing advice on how we can improve our appearance or lose weight, we are all aware of the standard tips: don't eat junk food, drink more water, exercise regularly, no eating after 8 p.m. The list goes on and on. Along with these tips, there are a multitude of products, foods and teas that are said to help with weight loss. If you'd like to cut down on major cals and lose weight without too much sacrificing, here is one the best health hacks yet.

Eat your food upside-down. This simple tip sounds silly, but eating foods this way allows food toppings to hit your tongue first, enhancing taste. We tend to pack on extra coatings of butter, salt, PB and sugar for more flavor, but eating foods upside-down, or flipping your fork stimulates your taste buds so you will ultimately cut at least half of the unnecessary sodium, calories and fat in added layers of belly-bloating garnishes. With your taste buds satisfied, you will also be less likely to opt for second servings!
Next time you're craving a slice of pizza, don't deprive yourself. Grab a smaller slice and eat it upside down. You'll enjoy a little a lot more.

About Amanda Santalucia
Amanda Santalucia, originally from Montreal is a driven Marketing student, currently developing her Advertising career in Toronto. Remaining active as a young adult, her passion for health and fitness sparked several years ago while reading an intriguing health related book. After being diagnosed with various food intolerances shortly following, Amanda began to explore several diets, the effect of stress and different environments on the digestive system, food groupings, food health benefits and more. Currently, she practices a healthy lifestyle, free of gluten, dairy, meat, GMO's and refined food. Amanda enjoys experimenting in the kitchen and believes in creating foods using healthy alternatives without substituting great taste.