A Healthy Choice For Your Easter Weekend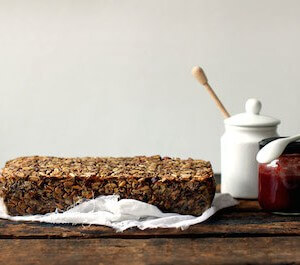 After 40 days of Lent, I can deduct that many of you may be craving one or more of the following common food-related sacrifices: Chocolate, cream, and bread.
Easter is coming! For the sake of this article, let us focus on the foods we associate with the occassion. Wonderful, wonderful food. What's on your weekend grocery list? Hot-cross-buns. Eggs. Lamb?
Whether or not you practise Lent or celebrate Easter, I think we all need a few perks after what has been a deathly cold and tormenting tail-end of a Canadian winter. Knock wood! You can never be too sure if the temperature might still drop below zero again in the middle of the breath of fresh air that is our month of April.
To keep things light in the spirit of Spring, I have for you a recipe for a guilt-free, nutrition-packed bread. Yes, bread. According to Sarah Britton, writer and creator of the healthy food blog "My New Roots", this is "The Life-Changing Loaf of Bread".
Think fibre, flax, coconut. If you love bread, this is one for you to try. A unique and delicious recipe, it sits among many other excellent original and health-conscious choices, via Sarah. Visit her website here: www.mynewroots.org/site/2013/02/the-life-changing-loaf-of-bread/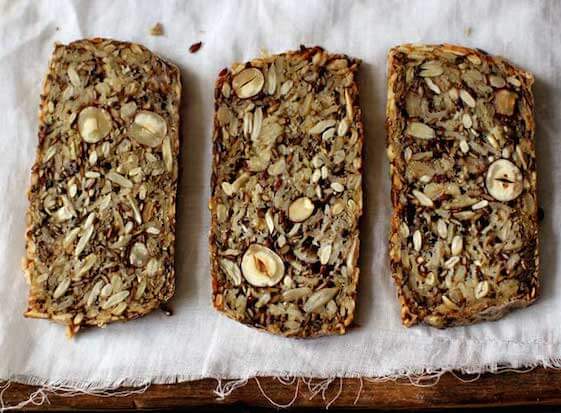 The Life-Changing Loaf of Bread
Makes 1 loaf
Ingredients:
1 cup sunflower seeds
½ cup flax seeds
½ cup hazelnuts or almonds
1 ½ cups rolled oats
2 tbsp. chia seeds
4 tbsp. psyllium seed husks (3 Tbsp. if using psyllium husk powder)
1 tsp. fine grain sea salt (add ½ tsp. if using coarse salt)
1 tbsp. maple syrup (for sugar-free diets, use a pinch of stevia)
3 tbsp. melted coconut oil or ghee
1 ½ cups water
Directions:
1. In a flexible, silicon loaf pan combine all dry ingredients, stirring well. Whisk maple syrup, oil and water together in a measuring cup. Add this to the dry ingredients and mix very well until everything is completely soaked and dough becomes very thick (if the dough is too thick to stir, add one or two teaspoons of water until the dough is manageable). Smooth out the top with the back of a spoon. Let sit out on the counter for at least 2 hours, or all day or overnight. To ensure the dough is ready, it should retain its shape even when you pull the sides of the loaf pan away from it it.
2. Preheat oven to 350°F / 175°C.
3. Place loaf pan in the oven on the middle rack, and bake for 20 minutes. Remove bread from loaf pan, place it upside down directly on the rack and bake for another 30-40 minutes. Bread is done when it sounds hollow when tapped. Let cool completely before slicing (difficult, but important).
4. Store bread in a tightly sealed container for up to five days. Freezes well too – slice before freezing for quick and easy toast!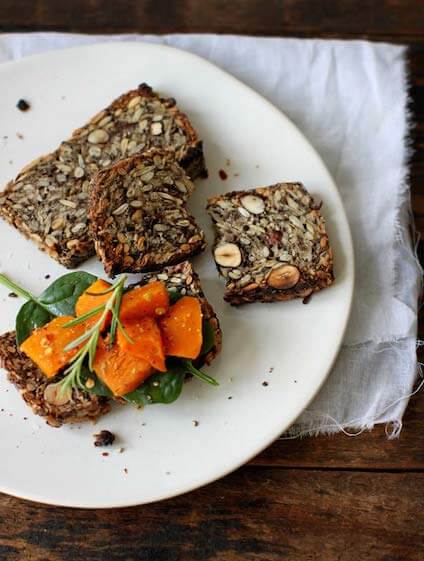 *All Photos & Recipes Copyright My New Roots 2013. Sarah Britton Original.
Ps.
My Mum always dressed me in purple and yellow for Easter…
A creative idea for your Easter cupcakes:
Try adding dried lavendar to a cream-based icing! Delicate in taste and colour.

About Olivia Lloyd
Olivia is a graduate from a joint program at The University of Toronto and Sheridan College, where she studied Theatre & Drama, and English. Currently, she works in promotions, and as a BodyAttack Instructor at GoodLife Fitness. She sings in an acoustic duo with her boyfriend playing her favourite kind of music - 80s soul. Her spare time is spent singing, painting, cooking, learning to play the guitar, and dedicating herself to fitness. She loves writing about health and fitness and hopes she can give readers some new ideas! Favourites: tea, long walks, music. If you are looking for some easy-listening acoustic entertainment, Paul and I are always looking for venues: https://soundcloud.com/pj-oli