Fancy Hair Extensions

Hair Extensions, oh hair extensions…. the fabulous world of hair extensions… where do I even begin?
I don't know about you, but long, voluminous locks whisper "fabulous", "glamorous", "elegant", and so on and so forth…
Even if you're not obsessed with the beauty-world, like I am, you can't help but notice when someone has jaw-dropping hair on or off the red carpet. Now, it's not always easy to maintain and/or even grow hair to become long and lustrous. It takes time, patience, maintenance and a lot of TLC. That's where the wonderful world of hair extensions comes into play.
Microlinks, cold fusion, hot fusion, seamless tape, sewn-in weaves, clip ins – you name it, I've tried it.
My very first experience with hair extensions was with clip ins. And then began the addiction of immediate results. Shortly thereafter was hot fusion, and then micro links etc. etc. I ended up using hot fusion for 6 years. Yep, 6 whole years. Now, not only is this an expensive addiction to have (but, c'mon, there are far worse things to be addicted to in this world!), but if you don't take proper care of your actual hair it can be quite damaging. Thankfully, after the first couple of times, I was able to do enough research and through experience learned how to properly maintain these bonds for the least amount of damage, which at the end of the day, is still damaging.
Now, before I move on with this story, the fabulous result is a lot more than just placing bonds onto pieces of your hair. It requires someone who is a master of their craft to strategically place them onto the different parts of the head, especially if you're mixing colours, but the bigger issue (IMO), is the actual quality of hair. Besides the number of very, very high-end products available on the market, there are some amazing, and absolutely awful products available. I have been through it all. High end, low end, medium – you name it. There is nothing more disappointing than paying the money and taking the time to put in hair that has been coined "the best" to find nothing but shabby results. I won't mention names of places/brands, but boy let me tell you, they're out there.
If you're buying the hair in person, or you're able to visit your stylist prior to the application and are able to touch the hair yourself, that's definitely a bonus. However, it is still their word against yours until you wash it and style it (a few times) with heat and all of that jazz to really reveal the true colours of the hair. Which leads to my next rant: working within an allotted budget and buying online. The horror! Oh, the horror. Nightmare 101.
Late 2013, I realized that it was time to give my hair a rest from the constant application of hot-fusion. So, after many referrals from stylist friends of mine (and countless hours of online research), I decided to try the "next best thing" – Seamless Hair Extensions. Now, I can do a separate post about my opinions on each type of application methods such as micro links, seamless extensions, etc. So, if that is something that you want, be sure to comment below and I will make it happen! Anyway, this technique is much newer to the world of hair extensions so finding the best sellers/manufactures was a complete nightmare. My first experience with these was initially great! I couldn't believe how quickly they were able to be applied and instead of looking stringy like individual bonds, they were nice and full like my memory of clip-ins back in the day. However, like clockwork, after a handful of washes and heat application the hair turned to shit very, very quickly. The frustration was intense and one evening I literally ripped them all out. So, with one more attempt, I decided to search long and hard online and found a retailer that appeared to know what they were doing. For someone who constantly needs to apply a few colours due to highlighting/ombre, this is a nightmare in itself when buying online. For whatever reason it is very difficult to find someone who can match your visions/descriptions and even sample photos with the actual colours you like. That being said, these second ones were even more of a nightmare and I really needed to take a step back and reevaluate my situation.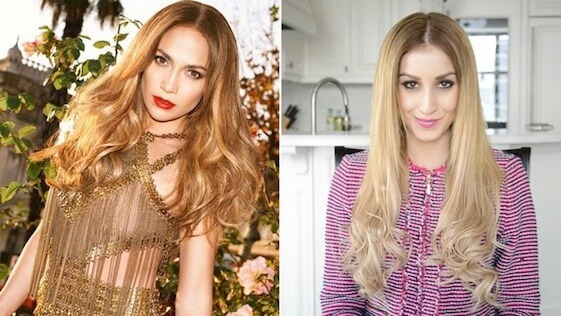 This is when I decided (and what a hard decision it was) to give my hair a break and made a "New Years Resolution" to stick to clip ins for as long as I possibly can, without giving up or caving, for the year of 2014 with the desire to see how quickly my hair can grow with the proper maintenance. Of course I would need to substitute the extensions I am so fond of for something more temporary, because c'mon, hair is my thing! And then came along Nikki, from Fancy Hair.
I was so torn with which company to go with. Back in the good 'old days, when I had a lot more time, I would simply make my own hair extensions but lets face it – "ain't nobody got time for that!". Also, it costs about the same nowadays to find a supplier that has already done all of the work and research for you.
I knew two things: 1) I wanted to support a Canadian business and 2) I wanted to feel confidant about the product I was purchasing. Initially, I checked our BellaMi hair, which is a lot of peoples go-to. I found countless tutorials and reviews that ranted and raved about their products so, I decided to reach out to their customer support team for a little Q&A. First problem: they are expanding so quickly that it takes days for a response. Second problem: they only sell their bundles with x-amount of grams and do not mix and match colours. This is a no-no for me. I am use to dimension in my hair and I need a couple, if not a few colours in my head at all times. I have no problem buying 100grams of each but they were not budging with this request. So, the search continued. And, like a little sign from heaven, I found Fancy Hair. Not only were they Canadian but from Toronto! How fitting!?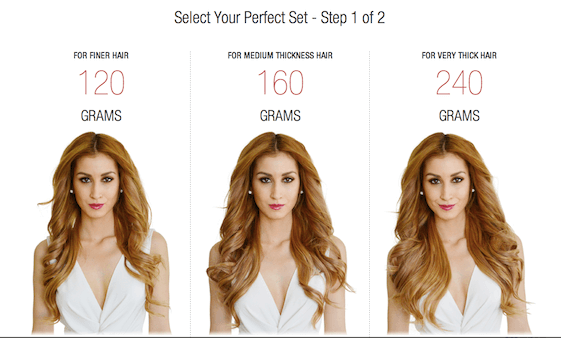 After watching the extremely informative videos that they have on their website a few times over, naturally, I reached out to their customer service department with a few inquiries. (Note: My email was either responded to that same day or the day after, regardless it was a prompt reply. Check!) How can I trust that these are 100% Remy Human Hair extensions?How do I choose my colours? Are you available to meet so that I can feel the hair myself? Am I able to buy in smaller quantities of each colour that I desire?
I had so many questions and believe me, I received the answers. (Will provide a file below for you to read the entire raw and unedited Q&A with Fancy Hair founder, Nikki).
Nikki won me over. Her passion, her understanding, her mission, her versatile selections and great pricing. I was so, so nervous as i was picking up the hair from her (huge, huge bonus as she is local and I was able to touch and feel the hair) only a day or two before New Years Eve and had plans to wear them to achieve my desired NYE look.
Believe it or not, I had forgot how to properly clip-in the hair! It is like riding a bike, but you definitely need to fall off a few times in order to get it right. The hair blended so well without me going to my colour technician, Byron at Civello, to match and blend with my real hair the way I normally do. This is because Fancy Hair offers multi-tonal colouring technology for natural blending. Another check!
I also noticed that the hair is completely thick from top to bottom, which is very important when selecting hair to ensure it's made with 100% Remy human hair, which these are. They're expertly sewn together with lace to minimize shedding and to extend their lifespan. I've worn these extensions about 20 times, give or take, since I received them (yes, I'm really trying to behave here!) and can attest to the lack of shedding and tangling. I did notice that as product and natural oils started to build up onto the hair it began to get a little dryer which did cause some breakage, but nothing that would cause insane tangling or anything. Which leads me to my next point…
I wanted to ensure that I was conducting a proper review/opinion of these for all of you, so I actually tried to wait it out as long as I could until I washed the hair to not only see how long it took to get there, but after all of the wear and tear it went through before the wash, how they were able to hold up. They did pretty well and let me tell you, they were an absolute dream to wash! The second that water hit them the product immediately started to slide off. With the instructions provided on the website washing them was very, very simple. However, I hope they come out with some type of mechanism to make the actual process a little simpler. Perhaps a hanger for the shower? Nonetheless, as per Nikki's instructions, I laid them out on a towel to air dry and to my surprise they had a natural wave to them, which I love.
Once dry they were ready to go! Literally back to 'normal' the way they were when I had originally purchased them. This is such a factor in my decision making process whether to return to the seller or not. I recently went to my salon sanctuary, Civello, to visit my hair-gods, Aidin (cut) and Byron (colour), to start the lightening process as we gear up for the spring/summer season and to trim my hair. I asked if Aidin wouldn't mind cutting some layers into my extensions and can I just say, wow! Once the hair was cut up, blended and washed I was unable to refrain from touching my hair at dinner all night long. My dinner-date must've been getting annoyed but whatever..
I would recommend using a wand or curling iron with very high heat as I found that my regular ceramic barrel wasn't holding the curls all night long.
All in all I would definitely recommend Fancy Hair to someone who is looking for high quality hair extensions and fabulous customer service. Bravo Nikki! #NattyJApproved
(Full Q&A available here. FancyHairQ&A)
Call to order yours today! 1-800-577-0921
Also, follow Fancy Hair on: