The County General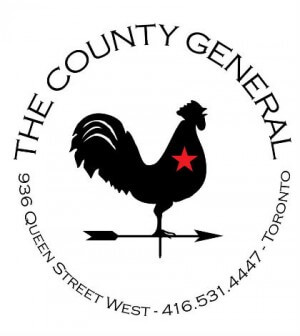 The County General is a small little restaurant with big personality nestled on the corner of Shaw and Queen West. Reservations are recommended as the seating is small and mostly all bar, but don't let that deter you, once seated you're whisked into a delicious adventure of beautifully built food and astonishing cocktails.
As I arrived I noticed very few tables in this little restaurant and was worried about seating, but the reservations list is so well organized and the staff are easily adaptable, we were sat with no difficulty.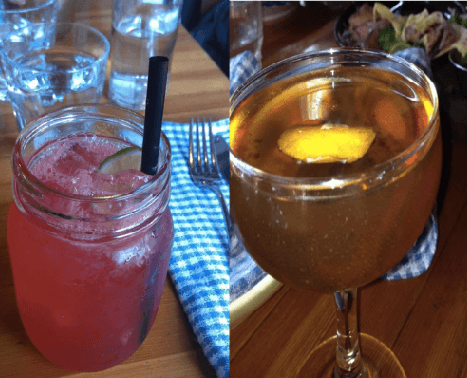 Looking at the menu we noticed the first page was food and the next two were all drinks and cocktails! I spent more time deciding what to drink before even looking at the food menu. We decided on a traditional manhattan and a dr. painkiller. I highly recommend the dr. painkiller if you like cinnamon; the peppery spice really came through in the drink while balancing it with a summer spritzer feel. The manhattan was delicious, though a little too strong for my taste, it was deliciously balanced and was given a rave review by my companion.
We then moved onto appetizers, ordering the Gnocchi Supreme ($7) and the pork smokies. ($7) Both were amazing! Perfect sized sharing plates, the gnocchi was perfectly cooked and finished in a sweet sauce with pulled pork and sour cream. The Smokies was a smoked pork sausage with mustard between a pretzel bun. I highly recommend trying both of these apps.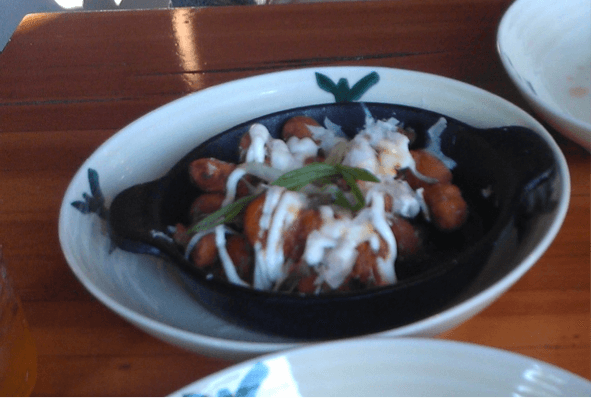 Moving onto mains, my companion chose the single portion of marinated flank steak ($18) which was served on a sizzling skillet with onions and peppers, sided with in house made tortillas, salsa Verde and the hottest hot sauce I have ever tried, again the portion size was great and left him feeling satisfied.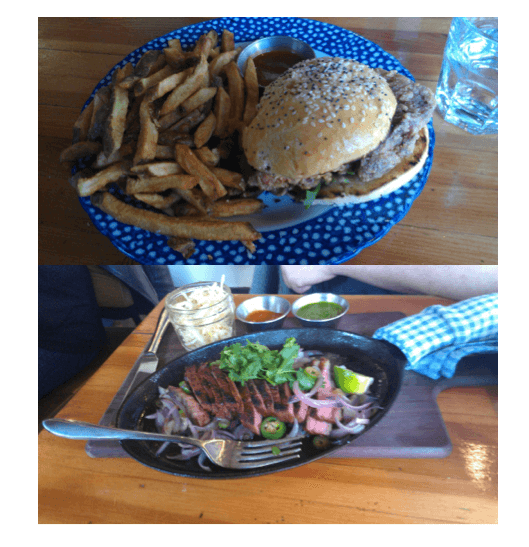 I chose the Fried Chicken thigh sandwich ($14), topped with avocado chutney, pickled red onion and cilantro, its Mexican notes paired with the perfectly cooked, crispy fried chicken left me wanting much much more.
Alas, our meal had come to a close, but we were invited over to the bar to relax and have a few more cocktails while watching the bartender Andy do his thing, I was served a Shanghai cocktail, which had notes of anise and delicious citrus flavours in it, and the bitter bourbon fizz.
I can say without question I will be back to The County General very often, and would recommend this restaurant to anyone who loves the comfort of good service, great presentation and food interaction, and downright delicious food!
The County General
936 Queen st. East, Toronto
416-531-4447
www.thecountygeneral.ca
"Like" The County General on Facebook and "Follow" on Twitter @CountyGeneral

About Emily Miles
Culinary School graduate, new Torontonian and adventurer! Full time cook by day, food connoisseur by night. Can be found in coffee shops getting the daily caffeine fix, working on work outside of work, and walking around aimlessly downtown trying to find the next place to try fish tacos. My passion for food shines through in everything I do, and where others spend their money on clothing, shoes, and tangible things. I will be found in a market, restaurant or grocery store buying the next thing to excite my taste buds! "What's your favourite food? Or "What's the best thing you cook?" will not get you the answers you are looking for, simply because the answer will always be changing. That's the best part of food, food feeds your mind and is constantly changing, and it's my goal to keep up with it.