Bring Heat to Your Water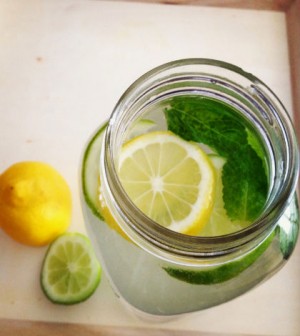 Mint, Lemon & Lime Liver Cleanser
Here's a detox water that can be used to jump start your morning, give you a midday boost, or can be sipped on all day long! To receive full benefits, it's best to drink the detox water on an empty stomach first then in the morning, then wait 15-30 minutes to eat breakfast. For many of us, it's hard to break our morning coffee routine, but this refreshing drink will rev up your metabolism and keep you feeling energized, without the post caffeine crash. These items will give your water a kick and keep you hydrated throughout the day, while cleansing the liver and aiding digestion after an indulgent weekend of alcohol and junk food.
Thoroughly wash the lemon, lime and mint before slicing and placing in your water. They're loaded with bacteria and pesticides and will contaminate your water if not properly cleaned.Add slices & mint to your water and enjoy!
Lemon Health Benefits:
Loaded with Vitamin C, essential for the immune system.
Aids digestion by flushing out toxins.
Strengthens the liver.
Balances the body's pH level – even though it tastes acidic, it has the opposite effect once consumed.
Antibacterial and great for the colon, as it contains pectin fiber, binding substances in the intestine, allowing easier "flow" of waste.
ACV Boost:
Another heath boosting item to add to your water is apple cider vinegar. Simply add 1-2 tsp of ACV to 1 cup of water and drink 3 times a day, 15-30 minutes before a meal. This will drastically improve digestion and provide a wide range of health benefits. You'll start to notice higher energy levels, better digestion and bowels after two or three days.
ACV Health Benefits:
Improves digestion and cure constipation.
Increases energy and stamina.
Strengthens and improves immune system.
Balances the body's pH level – even though it tastes acidic, it has the opposite effect once consumed.
Increases metabolism, aiding with weight loss.

About Amanda Santalucia
Amanda Santalucia, originally from Montreal is a driven Marketing student, currently developing her Advertising career in Toronto. Remaining active as a young adult, her passion for health and fitness sparked several years ago while reading an intriguing health related book. After being diagnosed with various food intolerances shortly following, Amanda began to explore several diets, the effect of stress and different environments on the digestive system, food groupings, food health benefits and more. Currently, she practices a healthy lifestyle, free of gluten, dairy, meat, GMO's and refined food. Amanda enjoys experimenting in the kitchen and believes in creating foods using healthy alternatives without substituting great taste.