Berber Resto Bar Lounge
It has rained all week and finally today has been pleasantly sunny all day. Unfortunately, work has been the height of my excitement for today, unable to enjoy the beautiful sunny skies, but as soon as closing time comes my best friend and I are off to enjoy some cocktails and dinner. As usual, we have no idea where to go when a suggestion came out way. We immediately made 8:30p.m. reservations for Berber Resto Bar Lounge.
I have never been to Berber Lounge and my curiosity has officially been aroused. I wondered what type of cuisine would a name like Berber Lounge have to offer? The live music show started at 9:00 p.m., I asked the woman on the phone what kind of live music would they be playing? How loud would it be? Would I still be able to have a conversation with my friend? Questions and questions racing through my thoughts. Patience Camila! You will eventually get there and find out, I told myself.
There was no sign out front so we were a little stumped where to go but remembered they were located beneath Sultan's Tent. We entered down the red carpeted stairs which, at that moment, felt like a challenge for a woman in 5 inch heels.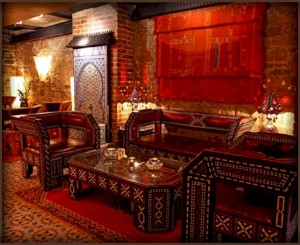 I entered a room and immediately its beauty captured my eye. Very soft lighting created a seductive, dim atmosphere that created a cozy, alluring feel to it. There was art everywhere; from the way the booth-like tables were designed facing the center of the room (where I can assume the live performances happen) to the cushions and pillows covering the seating area. From the walls, to the light fixtures, to the doors; the decor is extremely antique looking and has a very authentic Arabian feel. My curiosity got the best of me and I asked the waiter, Alec, to give us a bit of history lesson on the place. Berber Lounge was created just under 2 years ago and was head to toe hand crafted by the owner, Angela. Everything from the comfortable cushions, pillows, booth-like tables, wall décor to the lower set tables with transparent tabletops were all imported from Morocco- even the floor! Absolutely an incredible atmosphere!
In the background jazz music was playing. I adore jazz music so I welcome it wherever I go at any given time of the day. However, with this gorgeous authentic Arabian auro, I felt Arabic music would be more suited to really set the mood, perhaps even a couple belly dancers prancing around!
Alec, our waiter introduced himself ever so kindly and explained the signature four-course menu to us. We immediately felt our palates begin to moisten. Mmmmmm! Everything sounded delish! To start off our waiter brought us our water. He then suggested we start with the signature "Blue Berber" cocktail. We nodded in agreement. Woo-hoo, it's cocktail time! As we waited for our cocktails, we took a glance around the room notice was romantic the setting is and agree that it is the perfect place for a date or even a double date.


The signature cocktail consisted of white sparkling wine, passion fruit juice, blueberry liquor, and Hypnotiq and was topped with blueberries. This drink was a perfect blend for a summer cocktail. As I sipped on it, I envisioned myself with one of these in my hand on a warm summer day sitting on a patio. The sparkling wine compliments the sweet Hypnotiq very well as the blueberries floating on top compliment the blue drink. It was quite refreshing- the perfect summer cocktail.
As I sip on my refreshing cocktail, I took a look at the simple, yet mouthwatering menu. I noticed that each main course offers a wine pairing below. I love when restaurants do this! It's such a helpful tip for the not-so-experienced wine connoisseur. Our waiter stopped by to see how we were enjoying our drinks and then explained the menu a bit further.

The 4 course dinner is priced at a very reasonable ($39) which includes a starter, an appetizer, chefs sorbet and a main course. Desserts are available for an extra cost of between ($8 – $10.)


The starter is the "signature" anti-pasto, which is served individually. It contains: Bocconcini cheese marinated chili, mint and lime skewered with seasoned sun-dried tomatoes. Dry cured chorizo sausage with roasted garlic and capers. It was a nice small portion plate that can hold you over until the rest of the food comes out. However, if you had a day like me, than you just can't wait until the next dish comes out!

Its 9:15 and we were anticipating our next dish as we watched the band prepare for their performance. Mike, the piano player, introduces the band. They put on a cabaret show, which was fantastic. Suzana Da Camara (www.suzanadacamara.com) was the singer who performs both in English, French and Portuguese. Her voice was gorgeous and the ensemble was outstanding- a fresh face with an old school style to her voice/singing. You could definitely feel the energy that came from the band and you could tell they love performing. They are so comfortable with each other that you can guess they have been long-term friends.
I could not seem to take my eyes off the band's performance. Suzana walked up and down the "runway" of Berber Lounge, entering the seating areas as she was singing when suddenly my focus switches and I could no longer keep my eye off of my salad as it was being served. The food takes a bit of time to come out but it allowed me to assume everything was prepared fresh. No microwaves here! Our salads that came out were both paired with the suggested wine pairing on the menu. The Warm Chevre and Pear Salad contains mesclun mixed greens with fresh pears, spiced caramelized walnuts, red onions and grapefruit segments all tossed in cream pommery dressing. Accompanied by bruleed warm goat cheese and served in a rice paper basket. Served with a white wine; Stoneleigh Sauvignon Blanc, New Zealand. It's quite a thick creamy salad, absolutely delicious, however very filling. The dressing takes away the arugula taste but the cheese leaves your mouth watering for more. The wine paired with the salad is on the sweeter side and truly was the perfect mix with the salad, which was a little bit on the bitter side.


The other salad that came out was the Cambozola Fritter which happened to be my favorite, contained a walnut encrusted cambozola fritter served over a bed of Arugula and blonde frizee, tossed in a champagne raspberry vinaigrette. Accompanied with heirloom beets and pistachios and paired with Birwood Vidal icewine, Niagara. This salad was mouth watering, the cheese in the salad with the beets and frieze, just melted in our mouths leaving us wanting for more.

Intermission took place as we were doing our best to finish the salads, trying to save space for the main course. Sorbets are then served to cleanse our palates; what a lovely touch! The chefs at Berber were really big fans of sorbet so they were kind enough to go out of the usual one flavor per table rule and allowed us to sample both. Tangy pomegranate (orange) – tangy was right! I loved sour and this was an absolute treat. Tasted like a bundle of delicious sour candy in your mouth! The three berry raspberry, blackberry and blueberry (purple) had a tiny taste in comparison to the tangy full-of-flavor pomegranate. This wasn't much of a competition, the pomegranate sorbet wins hands down.
While we were busy cleansing our palates with the in house made sorbet, the singer/band took a break while the sounds of their album and the sights of one of their videos played in the background. It had a 20's feel to it as it was in black and white. Think Charlie Chaplin days. The video was an extraordinary touch. CD's were available to purchase throughout the evening.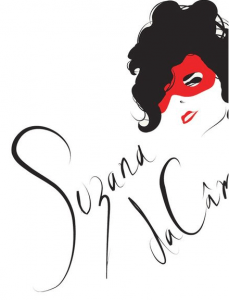 As intermission ended, our main courses were brought out as the singer came back on stage and explained that her next song would be in Portuguese from the Azores islands, where she grew up and why she wrote it. She described her memories of the island with her father, and the men dancing with the women everywhere. She sat beside one of her band members, leaned over to him and began singing, creating a very romantic atmosphere in the restaurant. A perfect setting to the main course.
We had five choices for our main course; a beautiful balance of chicken, steak, lamb, fish and a vegetarian dish. We decided with the Prosciutto Wrapped Chicken Supreme and the Lamb Loin Chop as they were the favorites of our waiter, Alec.


The Prosciutto Wrapped Chicken Supreme was imported from Parma, Italy. The prosciutto was thinly sliced and wrapped around a free-range chicken supreme stuffed with smoked Gouda and caramelized balsamic onions. Baked and served over woodland mushroom risotto and finished with truffle oil and served with seasonal vegetables. The suggested wine that was paired with this dish was a glass of Marco Polo, Pinot Grigio from Italy.
The chicken was so tender, juicy and delicious! The Gouda gave the chicken that smoky taste that you just can't get enough off as the caramelized balsamic onions add a hint of sweetness to the dish. It was SO GOOD! A lot better than the lamb loin chop. Don't get me wrong, it was delicious as well, it just didn't have the WOW factor like the prosciutto wrapped chicken did.


The lamb loin chop came with two 4 oz tender Alberta lamb loin chops, grilled to order and finished with a Sage reduction. Accompanied by roasted potatoes and seasonal fresh vegetables and was paired with a red wine- Louis Bernard, Cotes du Rhone. The lamb was done to a perfect medium.
Out of the two, I would choose the chicken. The bed of risotto and vegetables that the chicken was served on was so good, you'll continue to savor the flavor by licking your lips afterward.
Alec, came over to the table and we we thanked him for the suggestion while continuing to cut off a piece unable to come up for air from the deliciousness. He says, "I don't usually go out for chicken but I would for this dish." I personally order chicken often while out and this one definitely earned bragging rights. A must try for all you foodies out there.

I'm pretty stuffed at this point, our main courses were quite filling. However, our waiter insisted on desert so he asked the chef to send out his favorite desserts. All of the deserts are in-house made, even the round of the chocolate. Okay, here comes a little bit of excitement; the flourless chocolate cake was hard to break into at first, but once you got in there- you were embraced by a very rich dark chocolate taste. Even the round bit of chocolate circling the cake is very rich. Definitely, a great delight for chocolate lovers. It was quite the treat for someone who loves chocolate and does not eat it on the regular. The chocolate wasn't too heavy so it didn't leave your stomach upset. A delicious bitter sweet treat!
The Grand Marnier Cheesecake was a refreshing delightful desert that had a lemony, tangy twist too it. It wasn't my favorite out of the two. I am a huge cheesecake lover, but there is something about lemon and cheesecake I don't like. So this one definitely just got one bite out of me. However, both of them were delicious in their own way. My friend really enjoyed the cheesecake.

In a nutshell, Berber was truly extraordinary. The decor and feel of the place truly made us feel like we were in an authentic Moroccan restaurant. (Although I was a bit confused as the plates/cutlery/napkins/music are French inspired yet the atmosphere and decor are Arabian inspired.) Aside from that, the pricing was extremely reasonable for what you get; a four course meal + live entertainment in a relaxed and romantic atmosphere. I recommend to put Berber as one of your MUST experiences in Toronto to go for a date, a double date or with a group of friends.
…And don't forget to order the mint tea at the end of your meal. It's delicious green tea with fresh mint leaves and hint of orange blossom.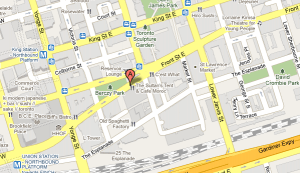 49 Front Street East
Toronto, ON M5E 1B3
(416) 860-9000
http://www.berberlounge.ca/