Anti-Wrinkle Products for Men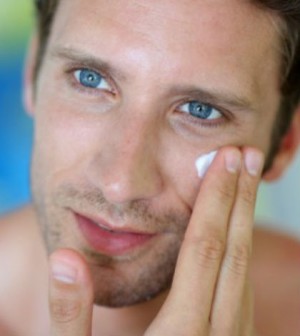 Aging is inevitable, and there's nothing wrong with asking for a little help from your local cosmetics counter to help trick Mother Nature into slowing down. While women seem to be obsessed with the idea of "Peter Pan Syndrome" – wanting to never grow up (or at least, not wanting our skin to grow up), ask almost any man about aging and they'll tell you they've never even thought about using products to stop the appearance of wrinkles. While they may not seek out preventative products, men certainly do notice when fine lines turn to wrinkles, and the subtle signs of aging are suddenly all they can see. If you're looking for anti-wrinkle products for your man, look no further:
Clinique Maximum Hyrdator ($37 at Sephora) – This intense daily moisturizer will help reduce the appearance of fine lines and wrinkles while hydrating and firming skin. Apply after exfoliating skin or shaving to regain moisture and tighten any loose skin.
Clarisonic Mia 2 Gray + Jack Black Set ($180 at Sephora) – If you're looking for an all-over skin regime, this seven piece skincare set includes the Mia 2 cleansing system and some of the best Jack Black products. The pulsing sonic cleansing tool will clean skin better than any washcloth, and is perfect for use before shaving. Follow up with the Jack Black Beard Lube Conditioning Shave and Double-Duty Face Moisturizer to tighten skin, minimize pores, and increase blood flow.
Clinique Anti-Age Eye Cream ($31 at Sephora) – This oil-free treatment is perfect for thinning skin around the eyes (one of the tell-tale signs of aging). Reducing the look of dark circles and puffiness, this eye cream is great for all skin types and will rejuvenate the skin for younger looking, bright eyes.
Givenchy Intensive Age-Fighting Force ($80 at Sephora) – Boosting elasticity and collagen, this anti-aging facial cream will fill wrinkles while making your face look youthful. Part of the Givenchyman line, this product uses high concentrations of all ingredients, to speed up the effectiveness to see results quicker.
LAB Series for Men Age Rescue Eye Therapy ($44 at Sephora) – Another amazing eye cream, this lightweight gel will provide a more awake appearance for every man's eyes. Perfect for any skin type, this product will reduce lines and wrinkles while lightening the under eye area for a fresh, healthy look.

About Megan Dussin
Megan is a marketing student living in Toronto, working in fashion merchandising. She spends her time scouring thrift stores and flea markets for the perfect vintage pieces, sipping coffee on her balcony with friends, and exploring the city on foot. Obsessions include anything black, leather, or shiny. Follow her on Instagram at @megadeexo