TALLBOYS Craft Beer House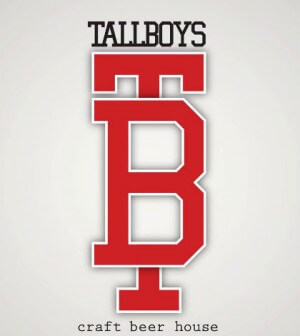 A short girl walks into a tall bar.
It is because the bar is called Tallboys and this joke is not very good.
On a Friday night, after a long week and only a head of broccoli plus about a thousand variations of hot sauce in my refrigerator, I need to go out. It's a physical necessity. For someone who typically ventures down the wine and pizza route on weekends, I'm surprised by how intensely I'm feeling the burgers and beer vibe. It's well timed considering I'm headed over to Tallboys Craft Beer House for exactly that. Sometimes the gods just smile upon you, you know?
It's a little after 8:00 pm when my friend and I show up to the Bloor & Ossington spot; the tall red letters on the sign welcome us from all the way across the street. Inside, the tall owner Phil greets us and we are seated at a tall table. So far, my impression is that this place definitely lives up to its name. I'm also 5'1 so everything is bigger to me anyway.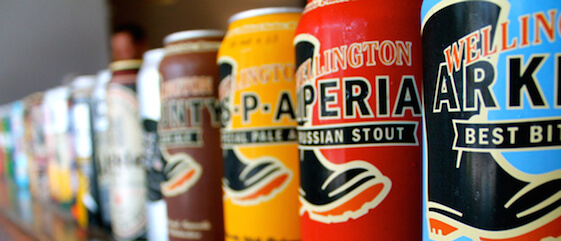 After a minute to peruse the beer menu, which boasts over 70 Ontario craft beers from independent breweries, we decide on a Neustadt Sour Kraut (Raspberry Sour) and an Amsterdam Blonde. My palate for beer has expanded over the years, but I still find myself drawn to flavoured brews out of curiosity and a sweet tooth. The Neustadt Sour impresses me right away; it's smooth, light, and has the faintest hint of raspberry. For beer drinkers and non-beer drinkers alike, this is a good choice because the flavor is not overwhelmingly beer-y, and also not overwhelmingly fruity. It's refreshing and easy sipping.
So we have a challenging task ahead of us with tonight's chow-down: we want to try a little of everything without having to be wheeled out of the bar on a gurney. Our best bet is to start small, so we get a half order of Tall Boys Nachos: salsa, homemade guacamole, sour cream, jalapenos, loads of cheese, and hand-cut tortilla chips. This proves to be a solid choice and we're surprised at how big the portion is for a half order. The chips are perfectly crisp, and while I find the grease game to be a little high I like that the toppings are both evenly distributed and generously amassed. Nacho lovers know how important this is for functionality; we want to shove that mess into our faces, but in the most efficient manner possible.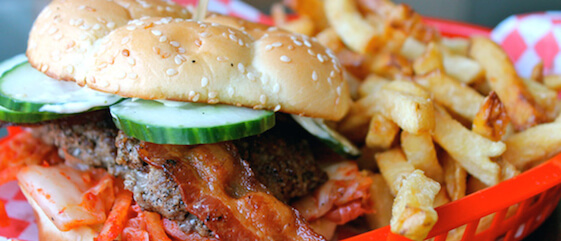 Now it's burger time. I mean, it's always burger time, but this is official. We deliberate over our options. The "Blossington" burger caught my eye right away with its combination of guac, bacon, over easy egg, and scallion mayo. There are six burgers to choose from and all of them look pretty intriguing. They call them "smash burgers" because they're smashed flat, and it's like they knew that that's exactly how I like them so now I'm kind of suspicious. In any case we decide we want to try the Koreatown burger, which features kimchi, crispy bacon, cucumber, and scallion mayo. The burger was huge and stacked high, a good sign for sure. Taking a bite, I can taste every layer of toppings and still got a lot of chew factor from the juicy burger. And juicy it is. I'm also enjoying the tanginess of the scallion mayo, I definitely like a little extra zip on my burger so the mayo certainly comes through there. To be honest I prefer to have minimal vegetable slices on burgers, I find that they slide around too much and add nothing to the taste, however I'm surprisingly liking the cucumber on this patty, I prefer it to tomato, anyway. The kimchi, which is the superstar ingredient here, is definitely up to par – and my friend who has just recently returned from Korea insists I give them two thumbs up. The hand cut fries are also a big win for us, they're crispy and addictive the way they should be.
Our last dish is one I want to try for a change of pace. Which means, we're switching gears from burgers to tacos. Meat to tofu. Beer to…more beer.
Tacos are probably my favourite food, so I'm always eager to try them wherever I go. I also eat a lot of tofu. And I like things crispy. Therefore, the crispy tofu tacos seem like a natural choice. Luckily they're a good one because by this point my friend has decided to fold, food-wise – we're both full, but one of us needs to forge onwards. I'll be the hero of this story.
These are soft flour tortillas brimming over with guac, salsa, coleslaw, and chipotle seasoned tofu. The tofu comes in big sticks, and they're well battered and crispy. I'm loving the chipotle flavour, but could use a liiiittle more. Otherwise, these tacos are delicious and are a great pub fare vegetarian option. This menu overall wins points for variety and originality.
Before we leave I chat with Phil, who is instantly friendly and ready to answer all of my beer-related questions, and he tells me a little bit about Tallboys' history. He co-owns it with his brother Tom (also tall, equally personable) and the two of them are passionate about featuring independent Ontario craft breweries. Everything from lagers to dark ales and everything in between is on their menu from all over the province
With craft beer for miles and food that far surpasses the typical 'pub grub' expectations, this tall drink of water is sure to quench your thirst. But be sure to come hungry too.
Tallboys Craft Beer House
838 Bloor Street West
Toronto, ON
Phone: (416) 535-7486
Email: info@tallboyscraft.com
"Like" TallBoys on Facebook and "Follow" on Twitter @tallboysbar
*Images Credit: TallBoys Website

About Courtney Gilmour
Courtney is a Toronto-based writer and editor whose work has appeared in various digital and print publications, and probably the back of your chair in high school. She is known for her ability to create a near perfect plate of nachos and her inability to properly close a pizza box. Follow her on Twitter: @minxcourtney