Yellow Tail's Wine Orchestra
What goes well with a glass of wine? A little bit of music. And what goes best with some good music? A nice glass of wine. And what compliments the two of them simultaneously? Making a difference.
We are happy to let you know about a movement sponsored by Yellow Tail and Great Big Sea's front man Alan Doyle: The Yellow Tail Wine Orchestra. As Alan Doyle says "The whole deal is great … wine, music? All for a good cause. What's not to like?
Toronto City Gossip was not only fortunate enough to attend their exclusive event at Bang Bang Bar on College street, a quaint, modern little corner bar with a neat patio, but also fortunate enough to chat with the Alan Doyle about his endeavors. Yellow Tail sponsored the event and needless to say glasses of red and white were abound all to support Yellow Tail's and Alan's rally to support the Unison Benevolent Fund. If you have never had a Yellow Tail wine, put this article on pause and run to your nearest LCBO to pick up a bottle for a reasonable price.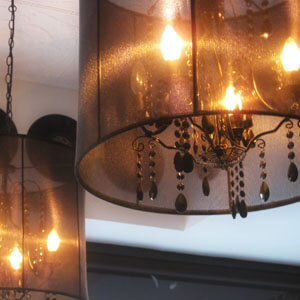 So now that you're back, what is the Wine Orchestra you ask? We were lucky enough to get the scoop right from a Canadian legend's mouth. Go online to www.yellowtailwine.com/wineorchestra where "all you have to do is clink your glass … and every time you upload a video and join the orchestra, Yellow Tail gives a dollar to an awesome charity". So all you have to do is make music with your wine glass and upload the video. But what is the Unison Benevolent Fund (link: http://www.unisonfund.ca/)? Well, Alan was also able to shed some light on the message behind the fund. It is a fund that is there to support Canada's musicians in need so that they in turn can continue to do what they love, which is make the music that we love. What's even more beautiful is Alan Doyle's passion of supporting fellow musicians.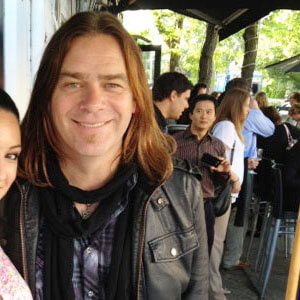 "I can't think of another group of people that have raised more money for charity than musicians. They are the first ones there every time there is a need, and finally, this one is for you."
So he got on a small make-shift stage with his guitar, raised a glass to the attendees and sang a song for those who sing songs. Alan sang in the city he calls Canada's big brother, Toronto, and did exactly what he told us makes him proud of being a Canadian musician. He was the first to support his own because "it's a great big community and everybody wants everybody to do well."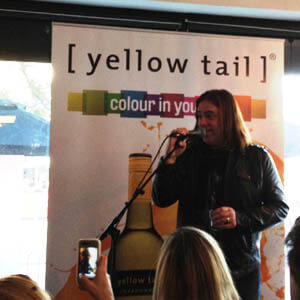 Now it's our turn Toronto, head over to www.yellowtailwine.com/wineorchestra between now and September 30. Clink that wine glass in front of you and for every video you upload, Yellow Tail will donate $1 to supporting our artists. Let's do our share as the big brother and support our singing voices.