Woods Restaurant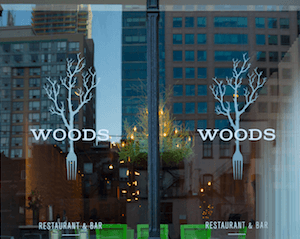 In my books, a walk in the woods is easily one of the spookiest ways to spend a Friday night, which is why I'm relieved when a second glance at my calendar confirms that my plans actually involve "dinner at Woods". Oh. Phew. However, as I make my way to St Lawrence where Chef Bruce Woods' restaurant resides, I realize that my initial misreading was not all that far off – minus the spooky. A large front window features its name with an etched image of a tree that becomes a fork at the bottom; brilliant. This place has panache and I haven't even been inside yet.
A good host will say hello and smile warmly, everyone knows that. An excellent host, however, will do both of those things while taking your coat. This is my first impression upon entering the new Colborne Lane 'it spot'; a lovely smiling hostess hanging up my coat and directing me to the table where my two dinner guests are sitting. A long, elegant white bar stretches across the front of house; I walk past it taking note of the illuminated white wall behind it with a ripple effect and a leafless tree monument standing prominently centred in front. This tree, with long, outstretched curling branches somewhat reminiscent of Tim Burton animation, is the restaurant's signature decorative symbol. I see it on the back of the bar chairs, in black-and-white dining banquettes, a low hanging green chandelier. Then there are the raindrop shaped light fixtures, rustic wood floors, the whimsical vibe…I soon realize that this is not an eerie walk through the woods at all. This, my friends, is an enchanted forest.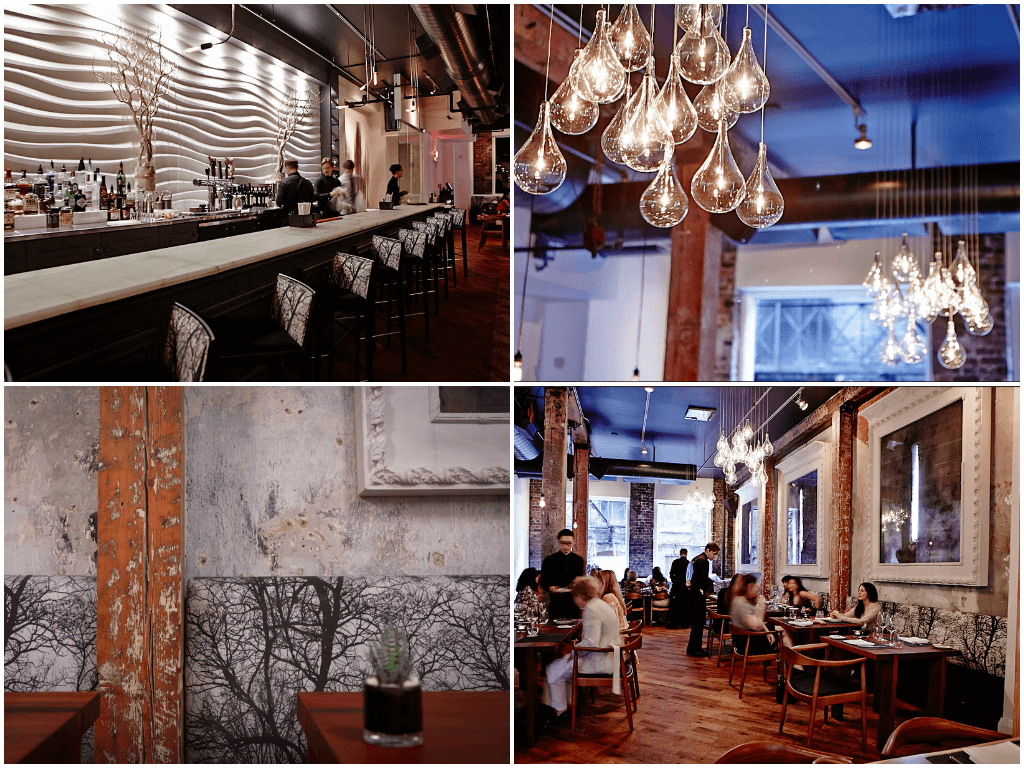 I sit down and we get right to business: cocktails. Rye and ginger topped with dry Prosecco – the Woods Boulevardier (rye paired with Aperol and sweet vermouth) and a New Fashioned (Dark Horse Whiskey, brandied cherries, root beer cinnamon bitters) for myself. The drinks arrive quickly and a "Cheers!" is in order, of course. While we peruse the menu our server brings us some fresh bread with house made butter; it's soft, chewy, delectable. The butter is smooth and so easy to spread.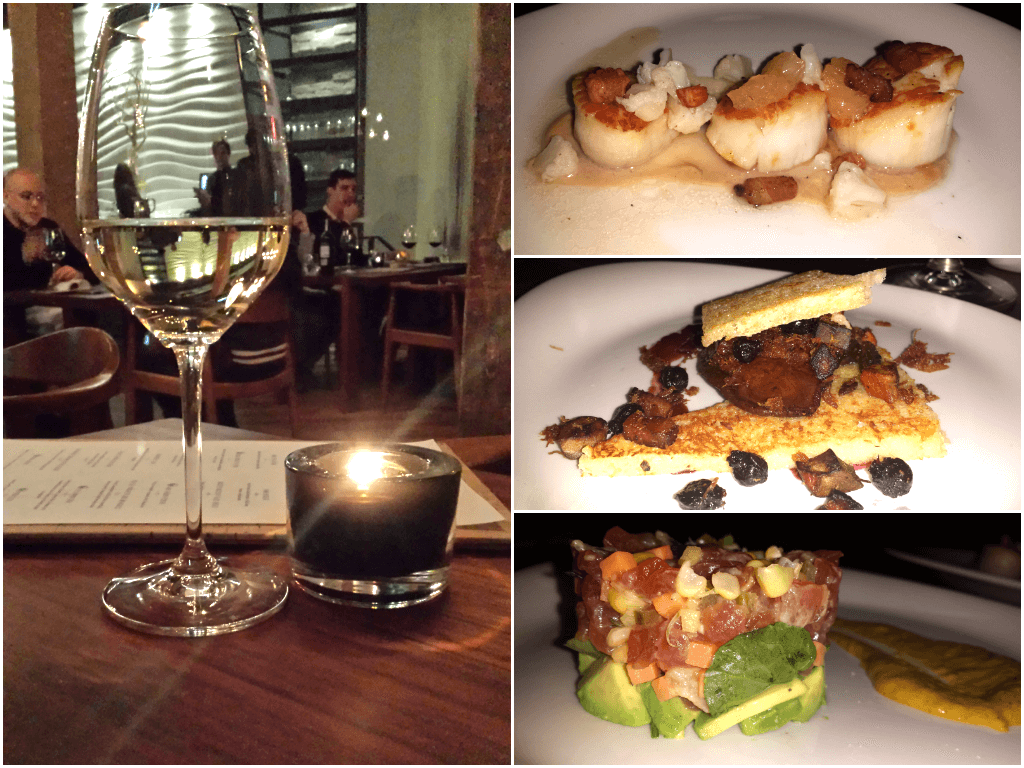 Our first course is wild digby scallops with brown butter cauliflower puree, seared Quebec foie gras, and tuna tartare. Scallops seem to be a "love it or hate it" type of dish but all of us conclude that these scallops in particular are delicious with nice texture. The foie gras is rich, savory, a lot of flavour packed into a small morsel. As for the tune tartare, I think this one is on the top of my faves list – so delicious, and the avocado is a nice touch! To pair with our course we drink a 2011 Brancott Estate sauvignon blanc from New Zealand, which is light and has a smooth finish.
Next up is Red Fife Spaghetti & Meatballs made with Camembert stuffed bison meatballs, house made pasta and tomato sauce, and toasted basil breadcrumbs. This dish is a showstopper for sure. We love that the spaghetti noodles are thin and cut extra short, it makes for easy transit between the fork and your mouth and avoids messy, awkward situations. I know people are into the whole Lady & The Tramp noodle feeding thing, but when you're dining five star there's just no room for clumsiness. This dish is paired with a 2010 Tepranillo Torres Ibericos red wine from Spain; it's got spice, fullness, and staying power perfect for a hearty dish.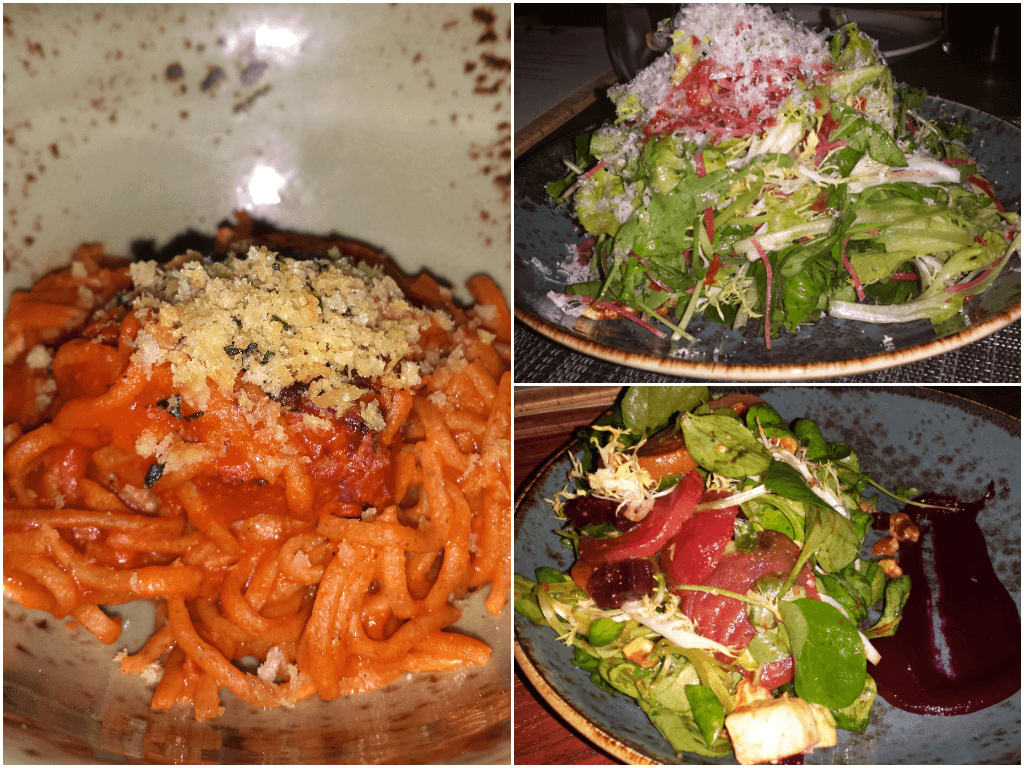 Our forks are barely set down for a second before our lovely and ever so prompt server brings us a refreshing and delightfully flavourful beet salad. This is a beautiful mix of greens made with sheep milk feta, black walnuts, and cider vinaigrette. Oh, and of course organic beets. My colleagues and I indulge happily and cannot stop with the accolades. Who knew salad could be this incredible? Not long after that we have another organic greens salad with watermelon radish, pecans, and icewine vinaigrette. It's good but by this point we're so hung up on the first one that we just don't have eyes for any other salad.
The third course is where things get intense. We have a Roasted Muscovy Duck breast with duck egg bearnaise. It's tender and tasty, not tough the way we've tried it before. Next, Lake Huron Pickerel with wild rice risotto, squash, kale, and hazelnut. This, we decide, is a winner. The pickerel is light and flaky, sweet and salty. Perfect. The risotto and squash are a fantastic accompaniment. Definitely a dish to remember. Chicken cordon bleu is up next and we think it tastes oven roasted; tender, cheesy, lovely. We sip on a light but flavorful Lucas & Lewellen 2010 pinot noir.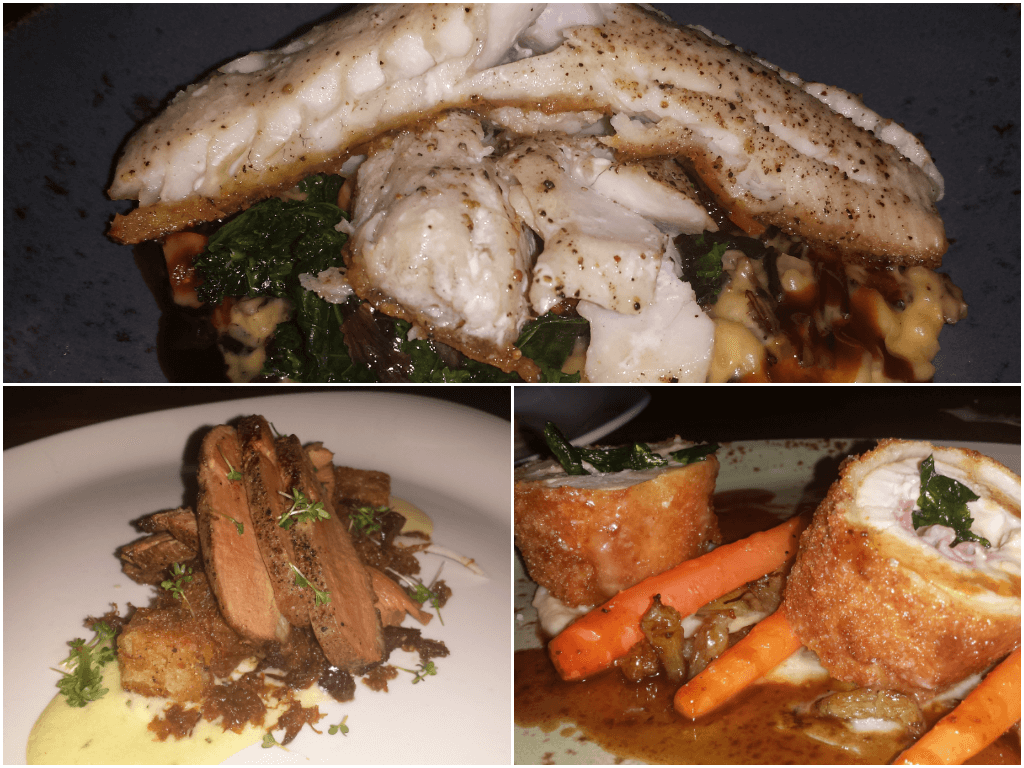 By the time we get to dessert we are stuffed and satisfied – dare we keep going? How can we not when a mason jar full of mascarpone mousse and raspberry tuile awaits us? With basil ice cream to boot! I've never had basil ice cream before, but there's a first for everything – and I'm glad to dive right in, spoon first. I'm amazed that ice cream can taste like basil and still be ice cream. It's an oddly delicious and unique dessert that I do think I would like to try again.
The mason jar raspberry macaronnade is sweet and creamy, an excellent choice for real dessert fans. Speaking of sweet tooth, we try a dynamite Nanaimo bar cheesecake (say that five times fast) and it's perfectly decadent. Last but not least, buckthorn pavlova impresses us with a sweet, crunchy meringue and a scoop of black sesame ice cream. To pair, we sip on a deliciously creamy Brandy Alexandra espresso martini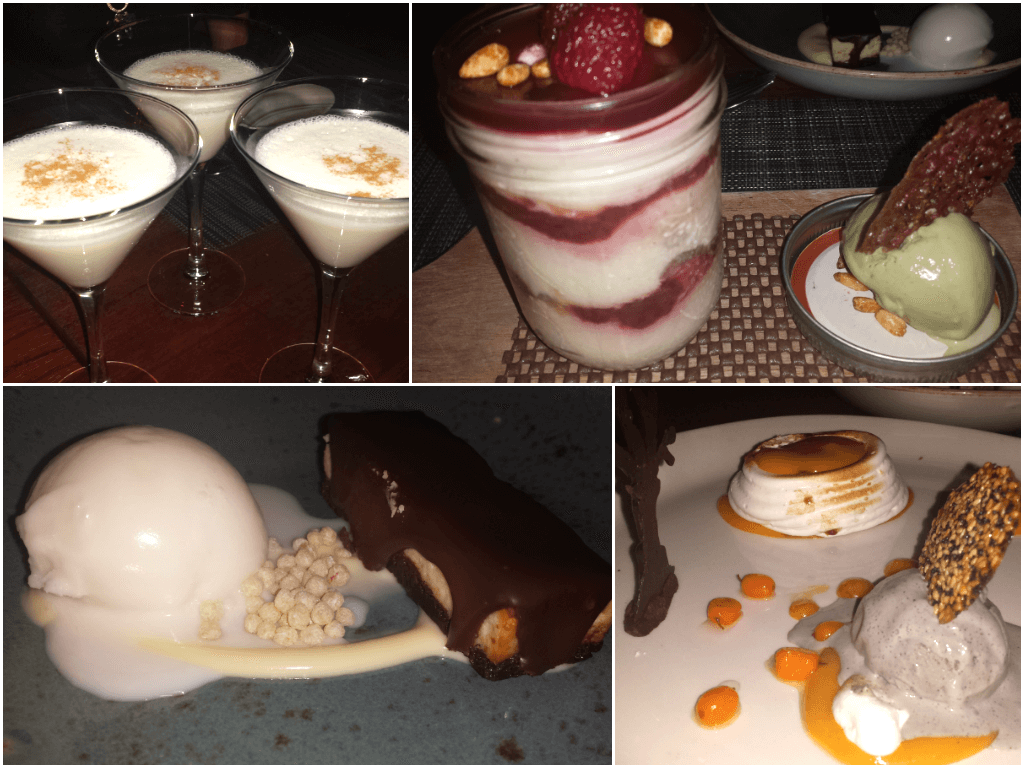 Our experience is complete and as Chef Woods chats with us about his food we sense the passion he has for fine dining and gourmet cuisine. With a repertoire that includes five star hot spots like Brassaii, Centro, and Modus this solo project is ambitious, as well as a testament to his growth in the culinary world. What makes this restaurant an easy top pick is its seamless combination of a winning menu, stellar ambience, and friendly service. That's no easy task, but where other venues fail to see the forest for the trees, Woods comes through with the whole package – and it's magical.
45 COLBORNE STREET
TORONTO, ON M5E 1E3
416.214.9918

About Courtney Gilmour
Courtney is a Toronto-based writer and editor whose work has appeared in various digital and print publications, and probably the back of your chair in high school. She is known for her ability to create a near perfect plate of nachos and her inability to properly close a pizza box. Follow her on Twitter: @minxcourtney