The Weekly Warm Up: June 2nd – June 8th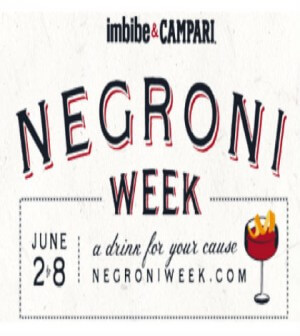 Negroni Week – All week
Though a seemingly narrow endeavor, I would not be one to complain about an entire week dedicated to celebrating the traditional spicy Italian cocktail that marries gin, Campari and sweet vermouth, also known as the Negroni. The festival in its honour, sponsored by Campari and Imbibe, will see bars around the world concocting their favourite variations on the beverage and dedicating the proceeds from their creation to a local charity. Participating venues in Toronto include Banu, La Carnita, Spirithouse, Red Sauce and numerous others, and what better reason to hit the town for a great cocktail than for a great cause?
DOC Now Screenings – June 4th – 5th
The DOC NOW Festival celebrates the work of established and emerging documentary practitioners from Ryerson University's Master of Fine Arts program in Documentary Media. With 23 works in film, new media, photography and installation, this week's set of screenings include a wide range of subjects–from a poignant examination of the struggle for peace in Egypt through the lens of its female citizens, to a daughter's exploration of the silence surrounding her father's death due to AIDS, to a hope instilling tale of how one artist overcame a hard fought battle with scoliosis. All of the screenings are free.
Schedule: http://docnow.ca/screenings/
First Aid Kit at the Danforth Music Hall – Friday, June 6th
The Swedish folk rock duo that found viral fame after covering Fleet Foxes' Tiger Mountain Peasant Song is coming to Toronto's Danforth Music Hall. The duo has been lauded by fans of country and folk and critics alike for their unique sound and emotionally complex and poetic lyrics.
For Tickets: http://www.ticketmaster.ca/first-aid-kit-toronto-ontario-06-06-2014/event/10004C52B2F56A0A
Listen to First Aid Kit: https://www.youtube.com/watch?v=PC57z-oDPLs
Tiff Books on Film: Andre Dubus III on House of Sand and Fog- Monday, June 2nd
The Tiff Books on film series explores the successes and challenges of committing literature to film. Authour Andre Dubus will attend the screening to discuss how his celebrated novel about the struggle for possession of a house between a reformed addict and an Iranian expatriate and his family, was translated into an award winning film. Screening at 7pm.
Toronto Taste 2014- Sunday, June 8th
For food lovers this is one of Toronto's premiere events, as it brings together a vast array of extremely talented chefs to create over 70 gourmet food and beverage stations. The event is being hosted in the stunning lakeside Corus Quay building and alongside its laudatory selection of food and drink purveyors, it will feature an fine wine, live and silent auction and a raffle that each offer chances to win incredible prizes, including trips with Porter airlines, a wine barrel tasting and lunch for eight from Norman Hardie Winery, and a host of beautiful appliances. Slip on your summer cocktail attire, bring an empty stomach and an open mind and enjoy the great tastes Toronto has to offer.
Enjoy your weekend!
About Mary Anderson
Mary is a history student, freelance writer and avid culture junkie. Three years ago she moved from the nation's capital and began a love affair with Toronto that has only grown in strength since. In her spare time she can be found trying to complete her bucket list items of trying a Caesar in every bar in the city or crafting the perfect breakfast taco. Follow her on Instagram: @_mollieanderson