The Animal Clinic Is Run by Renowned Veterinary Doctor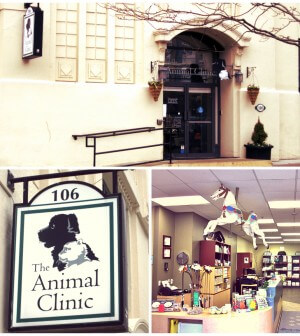 Did you know over half of the North American population have at least one pet in their household? Our furry friends are just like rest of our family members. Being a pet owner myself, I've always want the best for my little girl! A top priority of mine is to ensure she is healthy and that her fluffy tail is always wagging. Whether it be a daily treat or a belly rub, she is my little bundle of joy and I only want the best for her. I know many of you feel the same way I do about your pet.
One of my closest friends has been taking her dog to The Animal Clinic since she has moved downtown. When in search for a clinic for your pet it is a lot like a job interview. Finding the one you can connect with is extremely important. Every Veterinary Clinic should take the time to get to know and understand who you are just as much as who your furry child is.
The Animal Clinic is run by renowned Veterinary Doctor Dr. John A. Reeve-Newson and Dr. Matthew Richardson. Dr. Matthew Richardson started working in the clinic back in 1988 when he was in High School as a part-time Animal Care Attendant. His passion and dedication grew into ownership. Dr. John A. Reeve-Newson is also the founder and is still the CEO of the Veterinary Emergency and Referral Clinic Partnership of Toronto, the first veterinary emergency clinic established in Canada.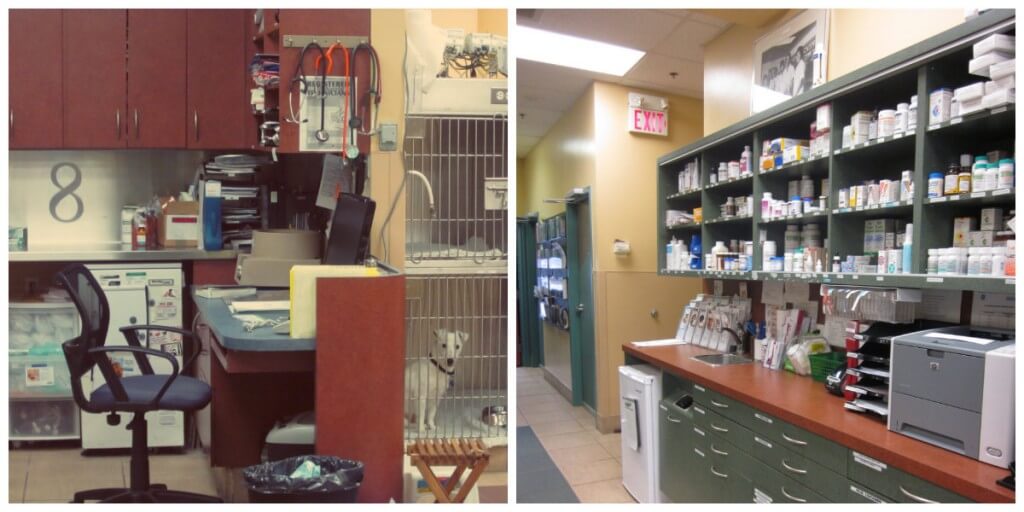 Dr. John A. Reeve-Newson is quite the extraordinary Veterinarian; he does not have plans to retire anytime soon and is very active within the community. He is a member of the Ontario Sighthound Association, The Borzoi Club of Canada, Borzoi Club of America, Midwest Borzoi Club and the Santa Barbara Kennel Club. He is licensed to judge all breeds. Professionally he is a member of the Canadian Veterinary Association, the American Animal Hospital Association, the Ontario Veterinary Medical Association and the College of Veterinarians of Ontario where he has served as Councillor and as President 1993 – 1994. He is quite an impressive man whom stands behind his word and is extremely passionate about pets and pet care. He established The Animal Clinic back in 1974 where the original location was over on Parliament Street.
In the spring of 2002, The Animal Clinic relocated to it's new facility at 106 Mutual Street. The clinic is a full service Veterinary Clinic which currently employs two associate veterinarians, a professional business manager, and staff members who occupy a variety of positions including veterinary technicians, reception, administration, veterinary assistants, and animal care.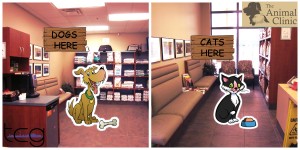 When entering the facility you are greeted by the wonderful receptionists. If your dog is anything like my dog, she shakes like crazy when visiting the vet. Surprisingly with a storefront-like feel, my little girl wasn't as shaky as always. Although they always know what is in store. Being only 5lbs she pretty much shakes all the time, especially when you have a treat in your hand – she happens to be one of those dogs that will just about do anything to have it.
The Animal Clinic is an accredited facility by the CVO College of Veterinarians of Ontario. I bet you are sitting there wondering what the CVO is all about and I had your exact same thought. When in communication with The Animal Clinic and the CVO I found it fascinating how the association works with the public and approved veterinary practices. The CVO plays an extremely important role in this industry; the group regulates the practice of veterinary medicine in Ontario to protect the public's interest.
Vet visits with our beloved furry family members vary from wellness check ups, vaccinations, ultrasounds, dental cleaning, etc. The Animal Clinic understands our pets whether it is our dog, cat or rabbit, they treat our family members as their own. Everyone at the clinic works extra hard to ensure all of their clients expectations are met but they also give their all to make our furry family members come out with their tails wagging. The feedback they receive from their clients are extremely important to them so that they can continuously improve their quality of service. The whole team contributes to making the experience a better one each and every time.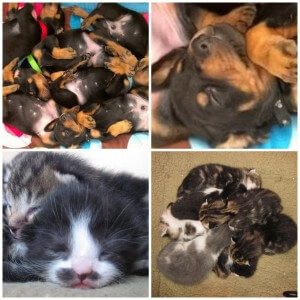 Services The Animal Clinic offers is:
Day and Overnight boarding for cats and dogs
Annual Physical Examinations, Vaccinations, Wellness/Senior/Heartworm/Specialty Lab work
Profiles
Fecal Testing for parasitesBoth dog and cat grooming
New Puppy and Kitten Care
Senior Pet Care
Ultrasound
Full Service Pharmacy
Kitten and Adult cat adoptions
All elective surgical procedures including spay/neutering/dentistry and digital radiography. One addition to the clinic for its surgical facility is a digital vital sign monitoring system. This technology integrates the monitoring of electrocardiography (ECG), non-invasive blood pressure (NIBP), pulse oximetry (SpO2), Capnography (Co2) and temperature – similar to the systems used in human hospitals. Anaesthetic machines installed in both the surgical and dental suites assist us in ensuring our pet's safety during an anesthetic. Remember all those times you feared for your pet when you knew they would have to receive an anesthetic?

This technology can now put your mind at ease just a tad bit. Not to mention for the comfort of our furry family members, The Animal Clinic installed body warmers to keep our pets warm and cozy during their surgical procedures. Now that is forward thinking along with the laser technology treatments they are proud to be able to offer for our four legged babies.
The Animal Clinic is also proud to offer digital radiography to assist in the diagnostics of your pet's medical concerns. The benefits of digital versus traditional radiography include improved visual quality, enabling the Doctors to better see things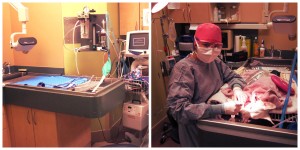 such as chicken bones or foil. It also provides enlargement capabilities and computer enhancements such as measurements and notations. The digital images are also easier to send to any specialist by way of CD or email. As well, the reduced radiation required makes it even safer for your pet and their staff, and the results are available more quickly than with traditional x-ray. Forward thinking. The Animal Clinic is up-to-date on the latest and safest pet care practices that come into the industry. With doctors like Dr. John A. Reeve-Newson and Dr. Matthew Richardson behind the scene it is evident The Animal Clinic really focuses excellence for our furry family members. After all, they are like our children and we can only speak for them.

#/pages/The-Animal-Clinic/266870593253?sk=page_map
Website: www.TheAnimalClinic.ca
Location: 106 Mutual Street
Contact: (416) 868-1545