The Ultimate Artist Showdown! 2014 Art Battle National Championship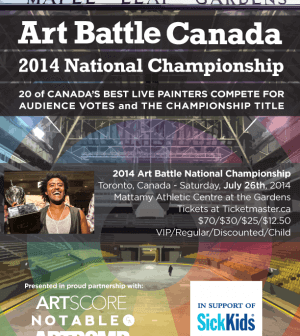 Saturday July 26th, 7pm.
Mattamy Athletic Centre at the Gardens, 50 Carlton Street, Toronto
Tickets: $70 VIP, $30 General Admission, $25 Students/Seniors, $12 for kids
(plus applicable service charges)
On Saturday July 26th the 2014 Art Battle National Championship will take place! Finalists from across the country will be competing on this very special night in Toronto at The Mattamy Athletic Centre, formerly known as Maple Leaf Gardens. This is one of Canada's most iconic buildings, truly a home of Champions past, present and future. The National Championship is the final event of our 5th amazing season of live competitive painting.
The National Championship VIP package includes access to the exclusive Art Battle VIP and Painter Lounge, a 10% discount for the auction of Championship paintings, and a ticket to the National Championship Pre-Party on the evening on Tuesday July 22nd. 100 packages are available.
Get your tickets now! Available at all Ticketmaster locations and online at:
http://www.ticketmaster.ca/2014-Art-Battle-National-Championship-tickets/artist/1996511
Help shine the spotlight on Canadian Artists by joining the Facebook event!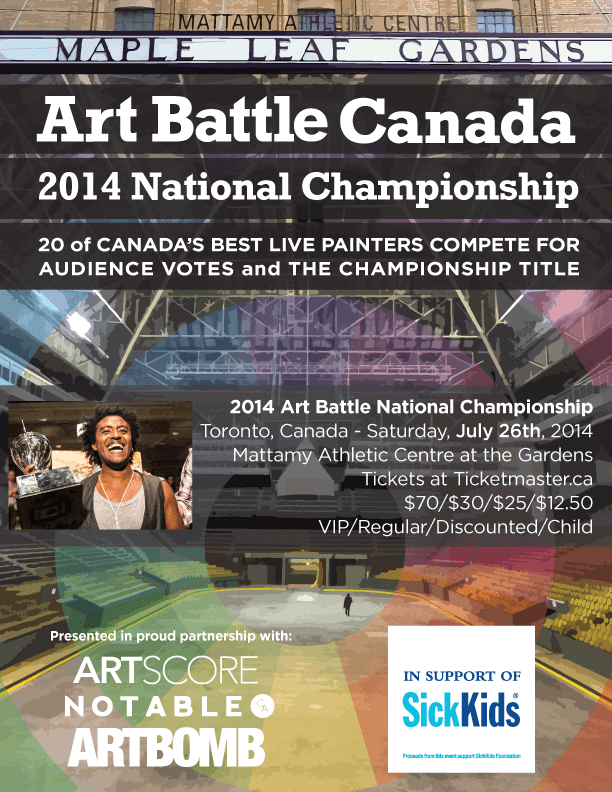 About the 2014 Art Battle National Championship
The audience will vote to determine who deserves to be crowned as the best live painter in Canada! All paintings created will be available for sale via silent auction at the event. Over 100 events have taken place in 27 Canadian cities this season, featuring more than 600 painters in a progressive tournament of skill and courage. Winners of monthly events during the season will be competing coast-to-coast in Regional Finals in May, June and early July to determine who will challenge for the title of 2014 Art Battle National Champion. Yared Nigussu of Vancouver is the returning Champion, he will defend the title he won at the 2013 National Championship which was held at The Art Gallery of Ontario. To see what Art Battle Canada is all about, check out http://artbattle.ca/videos/

About Jessica Strickland
I'm a lady whose ordinary, needs that 'extra'. With a background in corporate communications, I love the thrill of connecting with audiences and engaging with their interests. I'm fairly certain in a past life I was a mermaid…ok, I'm totally certain. One day I'll be living ocean side again. I love animals, and my golden retriever puppy Briar, is my pride and joy. @pr_in_heels http://jessandbriarblog.wordpress.com