Toronto Ribfest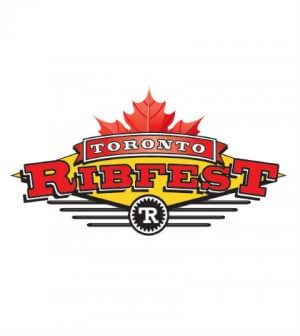 To all the food enthusiasts out there dying for an excuse to eat obscene amounts of sizzling meat, I have some good news for you – Toronto Ribfest is here! There's nothing like the smell of barbecued meat and the sound of great music to put you in the summer mood. From June 27 – July 1 vendors from all over the GTA will be getting together at Centennial Park (256 Centennial Park Rd) to serve you their best, mouth-watering ribs.
Ribfest Co-chairs Hugh Williams and Justin DiCiano have put together one heck of a festival, as they do every year, bringing you festivities for the whole family. You can expect to see live entertainment, a Kids Zone for the little ones, fireworks and of course food. The park will be set up with 3 stages all for musical performances. Some bands scheduled to play are the Climax Jazz Band, Slime Dogs and Jay Douglas and the All Stars.
Aside from entertainment, let's not forget that the World Cup is still full force. Toronto Ribfest and Carlsberg have created a Soccer Headquarters – or should I say football – where families can view the games, take part in activities and contests and even have soccer games of their own.
While you're having fun watching the soccer matches, having a cold drink and discreetly wiping BBQ sauce off of your shirt, bring the kids over to the Kid Zone for some fun activities, face painting, rides and magic shows.
Live entertainment and soccer games are all fun in some way but let's not forget what is most important, the food. Vendors from all over have prepared their signature rib recipes to provide you with an experience like no other. Picture your plate covered with multiple styles of juicy, fall off the bone ribs. Each bite packed with enormous amount of flavor. Howgs Gone Wild, Camp 31 BBQ and Blazin' BBQ are just a few of the BBQ masters that will be attending Ribfest – excuse me as I wipe off my tears of joy.
To end off the festivities for the week you can expect to see a special presentation from the Canadian Army for Heroes Day (June 30). Canadian Olympic gold medalists, who will be handing out some Urban Hero Awards, will join them as well. Also, as per tradition, the park will host an evening of fireworks to celebrate the union of our wonderful nation that is Canada. This will take place on July 1, Canada Day, and start promptly at 10pm. Bring your fold out chairs, blankets and water coolers and prepare yourself for a stunning light filled show!
For more information check out their official website: Torontoribfest.com
"Follow" On Twitter here: @TorontoRibFest and "Like" on Facebook here.

About Julian Mignott
Julian Mignott has been working in Toronto in the food and beverage industry for almost 10 years. He attended George Brown Chef School at the age of 18 and had the opportunity to further his culinary knowledge in the south of France at the age of 20. He is now currently attending Ryerson University completing a Journalism program as well as doing some freelance writing. Follow him on instagram: @juelz_mignott.