Secrets to Super Straight Hair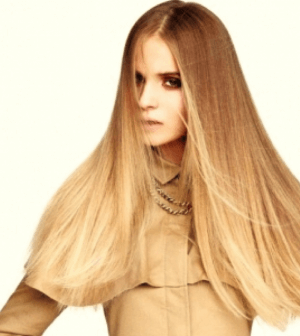 Are you loving the long, sleek look for your hair, but were blessed with a frizzy/curly/out of control mane? Envy is a waste of time: super straight hair is by no means out of reach. It does, however, require some time and effort on your part, but the results are totally worth it!
First rule of super straight hair is super clean hair! If you're looking for a poker straight mane, ignore any previous advice I've given to skip washes. Any excess product will muck up the process and is more likely to react negatively to the weather, or any other external factors. So get in the shower and lather, rinse, repeat!
Invest in a high quality straightening iron! While no iron is particularly good for your hair, skimping on the quality will only prove counter productive to your straight hair mission. A good straightener will not only last you much longer than their cheaper drug store counterparts, but ceramic plates are less likely to break your hair (note: I said less likely, not not likely. Heat styling is damaging no matter what way you look at it!).
Protect and seal! Use a heat protector spray before you iron (and even before you blow dry: your dryer is a hot instrument, too!), and a nourishing finishing cream. Any product that will nourish and repair your hair is a-okay when it comes to the ultra sleek look, just avoid heavy products that dry out your hair – they are not your friends!
About Alex Payne
Alex Payne is a fashion student living in Toronto, and a complete pop culture junkie. She's an avid blogger, writing about beauty, fashion, dating, music and film. She's obsessed with cupcakes, Kate Spade and The Simpsons. Oh, and vodka.