Recipieces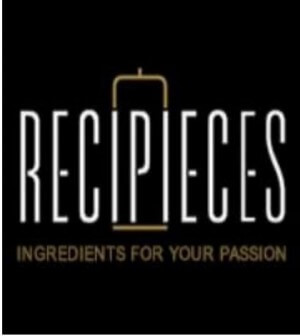 I want you to imagine a world where every recipe you attempt turns out a success, where no dinner is too complex, or no groceries too obscure to find – this is a world that once seemed surreal to me, and as such I avoided a lot of dinners I had been meaning to try to save myself extensive trips to a variety of stores in search of exotic ingredients or the sad and hunger-inducing failure that comes with trying something new and failing miserably. However, an answer to these woes and a key to the world aforementioned comes in the form of an ingenious business located in the heart of Kensington market, I am referring to Recipieces.
Recipieces is a full meal delivery kit with a twist. The concept, developed by partners Laura Rubio and Chris Burke, allows customers to have a gourmet meal delivered to them in its composite ingredients. Each ingredient is clearly number in correspondence with easy to follow recipe cards – which came as somewhat of a comforting realization to us after receiving about five containers of clear liquid in our kit.
We tried out the pan seared Ahi tuna, which came with ingredients for a harusame salad. The vegetables were fresh and the tuna steak we received was gorgeous and bright red.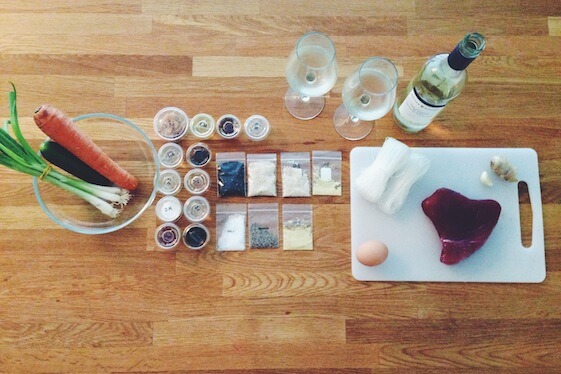 Ingredients in our kit, 26$ per portion
The harusame salad involved making a small omelet and creating a delicious dressing from soy sauce, vinegar, sugar and mustard. It was a very light, sweet and balancing addition to the Tuna, which called for a miso mustard sauce and a toasted sesame seed coating.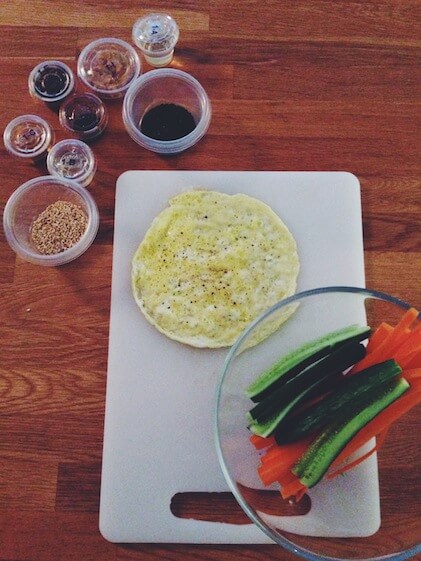 Salad mise en place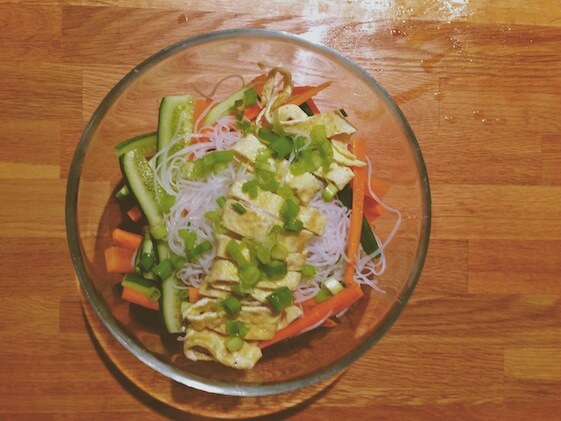 Harusame salad
The attached instructions were so easy to follow and the process was so relaxing; we made our way through a bottle of wine before we even finished cooking. If you're ordering some from the Recipieces website (a very convenient service they offer), might I suggest grabbing two bottles?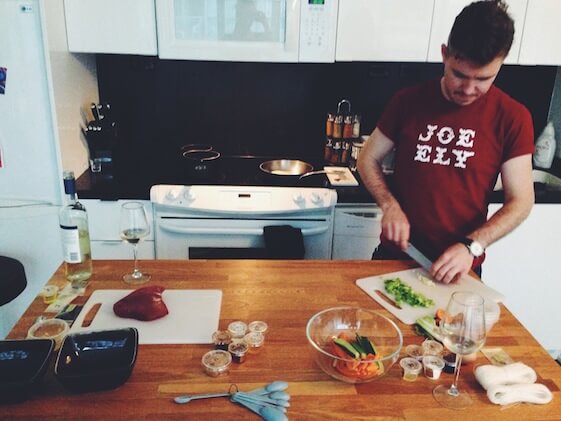 It helps to have an assistant too!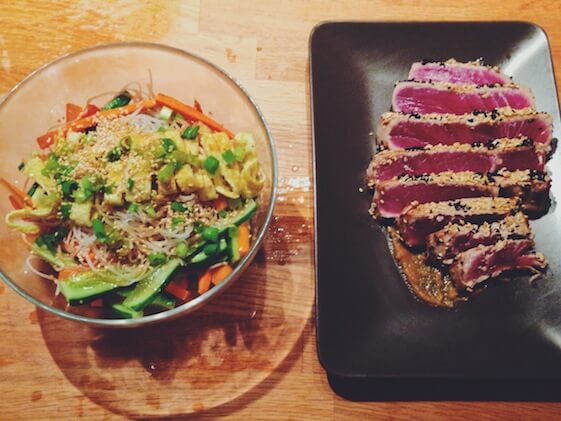 The finished product
By the time we finished cooking our meal we had certainly worked up an appetite. The recipe took time and effort to put together but was rendered very simple by the quality instructions provided by Recipieces, which even include step-by-step photos. The dishes turned out perfectly and incorporated numerous ingredients I have never used in my cooking before. The ingredients came to us incredibly fresh from the business's headquarters in Kensington market. In short, Recipieces is a fantastic option if you're cooking for a group, for a date, or if you just want to experiment with gourmet cooking on your own.
Email: welcome@recipieces.ca ,
"Like" on Facebook and "Follow" on Twitter @Recipieces
About Mary Anderson
Mary is a history student, freelance writer and avid culture junkie. Three years ago she moved from the nation's capital and began a love affair with Toronto that has only grown in strength since. In her spare time she can be found trying to complete her bucket list items of trying a Caesar in every bar in the city or crafting the perfect breakfast taco. Follow her on Instagram: @_mollieanderson