Opera Review: Don Quichotte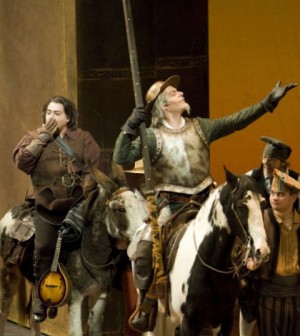 When a world-renowned book goes from pages to stages it can go one of two ways: it can hit rock bottom or rise to the heavens. The Canadian Opera Company's production of Don Quichotte is truly a magical journey that brings laughter to our ears and tears to our eyes.
And by the way, when I refer to the story leaping off the story pages, I am being literal. A huge screen is used to display pages of a story book to give the audience some background information on the scene, or its characters. For example, our valiant hero Don Quichotte went crazy after years of too much reading and not enough sleep.
The entire opera takes this into account and transforms the set into what I believe is a desk from a scholar in the 18th century. Gigantic books, ink-wells, and book-ends are placed all over the stage and are used to represent buildings, balconies, forests, windmills, etc. Gigantic regocnition goes to set designer Donald Eastman, as well as costume designer Christina Poddubiuk and lighting designer Connie Yun for really transporting the audience to a breathless fantasy world.
We begin our journey at a party where the beautiful Dulcinée, played by Anita Rachvelishvili, is being courted by several suitors. Her beauty leaves men breathless, and her voice melts hearts of all around her. And what a voice it is! Rachvelishvili's voice is so elegant, so powerful, yet so refined. Almost as if her voice is like silk. She (a royal of some sort)is on the search for love, but she has a problem: does she search for true love, or does she reach for the crown? Amidst the incredible dancing and music, our hero Don Quichotte played by Ferruccio Furlanetto and his faithful servant Sancho played by Quinn Kelsey arrive.
Don Quichotte himself is a man with a very large heart. He is humble, and kind, extremely generous, but mad and therefore at times is not taken very seriously. He lives for happiness, including the happiness of those around him, and all he wants is true love. He desires Dulcinée with all his heart, but she basically decides she is going to play with his emotions. She asks him to go out on what appears to be a suicide-mission to retrieve a stolen jewel necklace. He, believing he is a youthful, strong knight who has Dulcinée's heart.
Ferruccio Furlanetto and Quinn Kelsey's voices are also quite amazing; very emotional and believable at the same time. Their interactions with each other are genuine and really do help not only move the story along, but show all both sides of Don Quichotte's coin. On one side he is naïve and emotional, but on the other side he is brave to go for his dreams, no matter how farfetched they seem.
I quite enjoyed the large group scenes in the show, because they generally include some form of dancing and general movement which I did enjoy. Not to mention the live horse and donkey they had on stage.
I honestly didn't enjoy the first half of the show compared to the second half. I think the story was a little slow, but all other aspects of the opera made up for the slow moving plot. By the second half, the audience is caught up and we are taken on a whirlwind of emotions, from joy when he returns from his mission to absolute sadness when his heart is broken. When his old heart is shattered, and he is made a fool, he comes to the conclusion that he has nothing left to live for and just gives up. When his heart breaks, so dies ours.
We as an audience get to walk away with a question on our head by the end of the opera: are we crazy to see life as it is, or as it should be? Was Don Quichotte mad for letting his dream drive him, or would it do him better to accept that his age and state of mind will just have his dreams crushed? As Don Quichotte floats to heaven, waiting at the gates for him is an angel, a star that looks like his love. It is a true shame however that he had to die to live his dreams.
This moving and very enjoyable opera truly is a work of art and it is a true honour to have witnessed it. For more information of the Canadian Opera Company go to www.coc.ca/ .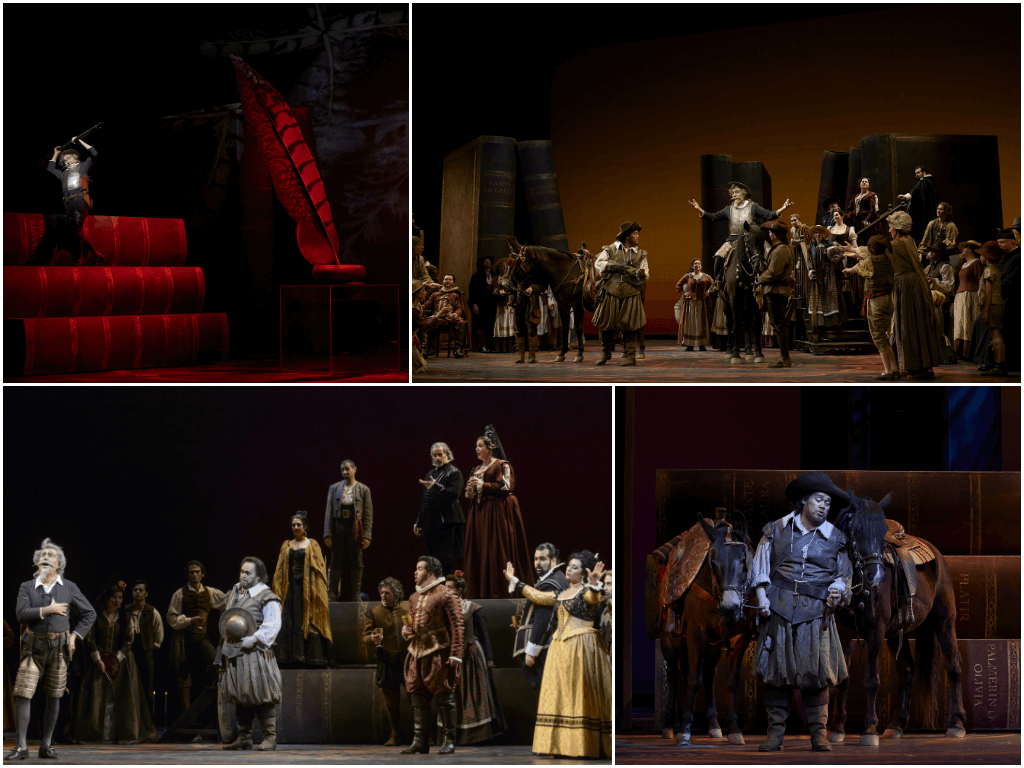 (*Image Credit: Michael Cooper)