ONOIR
The dark is a place we don't really spend too much time. It's typically reserved for sleeping, and other night time activities. We usually associate the dark with fear, like The Dark Knight Rises, and Who's Afraid of the Dark, but the dark is the specialty at ONOIR. In fact, it's not just dimly lit to create ambiance, the whole dining experience is done in the dark. Pure, pitch black. Close your eyes then cover them with your hands dark. Dark dark. You've been warned.
ONOIR opened in 2009 following a successful European model where diners eat a chef created meal in pure darkness, served by visually impaired servers. Who better to guide you through an experience requiring your other senses than someone who lives every day like that? The ONOIR in Toronto does offer a varied menu. A 3 course meal will set you back $39. A very fair price.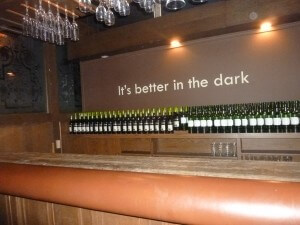 Upon arrival, you place your order in the lit lounge area. This room needs a reno in the worst way. Wood paneling, frosted glass; like a low budget homage to Cheers. Often the decor is going to be a prelude to the meal, try to look past it. My guest and I ordered a green salad & grilled calamari to start, followed by chicken & fish mains, and a surprise dessert. You can order all 3 courses as surprises, but opted not to. We were then introduced to our server, David, who gave us a quick crash course in dining in the dark. He guided us to our table and helped us find our way around. We had a plate, butter, cutlery. He returned with a bread basket. David always told us what he was doing and where he was going so we felt at ease. He was lovely. We really enjoyed his presence.
Sitting across from your friend in a room full of strangers you can hear but not see is a very strange feeling. You're not sure how loud you can be, or who is where, and whether or not anyone is "looking" at you or listening in. Either you embrace it or not. We had an absolute blast of a time. We talked our way through the meal, discussing topics from exactly who we thought we were with, to how we were doing with the food.
(note: I will say, leave your table manners at home. Eating a meal without being able to see results in you hanging your face two inches above your plate and using your hands as shovels). ONOIR is about the experience, unfortunately food is a very distant second. The food was bad. Since you can't see it, you have to rely entirely on taste & smell. My calamari was drenched in what I would guess was Italian dressing, and my fish was exactly that: "fish", type unknown. I'm guessing it was a white fish, perhaps cod or tilapia. Surprise dessert was an apple crumble with vanilla ice cream, I think. We were told if we needed anything (like to know what I was eating) to simply shout for our server, but as a former server myself I know how rude & annoying that can be. I had many more questions for David but the dining in the dark concept kind of gets in the way of the whole "get to know your server" routine.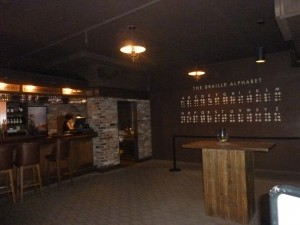 I'm on the fence about ONOIR. I've spoken to a lot of people who have been, and they all say the same thing: "Go once". What kind of business does not want returning customers? In my opinion, ONOIR could greatly improve. Dinner for two with a bottle of wine was $155. This actually is a lot of money to throw on "an experience". Reduce the portion size, use higher quality ingredients, and renovate that dank basement. Don't treat your guests as though you can "pull the wool over their eyes", despite it being dark, we can see through mediocrity.
For more stories like this, please follow me on twitter @queenwestgirl