Marché Toronto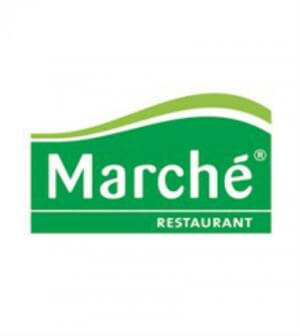 Located in Brookfield Plaza, in the heart of the financial district's core, is North America's largest Marche restaurant, part of a Swiss franchise famous for its extensively varied and high quality menu. Marche not only incorporates beautiful fresh ingredients, hand makes all of its dishes, and makes meals before your eyes, the menu includes basically any food item you can imagine. It doesn't matter if you feel like cake, oysters, sandwiches or a rack of lamb; you can order it with confidence at Marche.
The restaurant prides itself on the quality of the food it offers as well as its diversity. They hand make all of their pizza and pastas. They serve incredibly fresh seafood. They make sweet or savoury crepes to order, as well as offering delicious and healthy options for every meal of the day.
Marche also provides a great location to host large events – it seats 650 people and is equipped with beautiful public and private dining areas, including tastefully decorated themed rooms like the Swiss Hut or French Brasserie. The venue also includes a fully equipped bar, extensive wine collection and a cool, cosmopolitan outdoor patio that is also available for event bookings.
The restaurant hosts a number of its own events, including an Oysters and Wine night from 5pm- 9pm on Mondays, Martini Nights on Tuesdays or Skyy Thursdays. I had the good fortune of attending while writing this review. Wednesday night's Diva Night (which occurs from 5:30 to 8:30 every Wednesday) where $15 provides you with two free drinks, a warm atmosphere, a chance to win some great prizes, great house made hors d'oeuvres and a chance to network with fun, professional women.
Marche, which is open 365 days a year, not only offers healthy, high quality and diverse food options, but also a wonderful venue to host any large corporate or social event. I received a tour of the restaurant from the lovely and obliging Larysa Kalyta, who manages bookings for the venue and I was thoroughly impressed with the restaurant's friendly and accommodating staff and its fun and laid back ambiance. Marche offers something for everyone, making it easy for any guest to the restaurant to "celebrate life with Marche" in their own way.
Marché Brookfield Place Street Level
181 Bay Street
Toronto, Ontario, M5J 2T3
http://www.marche-restaurants.com/en/marche-brookfield-place-street-level
"Like" Marche on Facebook here.
About Mary Anderson
Mary is a history student, freelance writer and avid culture junkie. Three years ago she moved from the nation's capital and began a love affair with Toronto that has only grown in strength since. In her spare time she can be found trying to complete her bucket list items of trying a Caesar in every bar in the city or crafting the perfect breakfast taco. Follow her on Instagram: @_mollieanderson