#LoveGuess – GUESS Yorkdale Event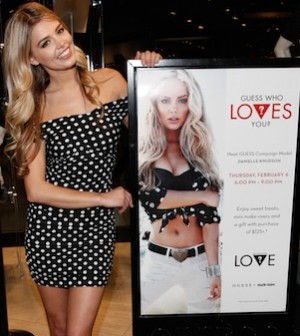 Two ladies in red awaited at each entrance as costumers eagerly rushed into Guess Yorkdale on Feb.6.
The store was filled with an ambiance of energy and excitement, as admirers of Canadian girl, Danielle Knudson, lined up to meet the new face of GUESS for Spring 2014.

The Red Deer native shared her thoughts on shooting with GUESS for her first major campaign, "it's surreal, sort of like a dream. We shot in Laguna Beach for three days, it was a great experience, still hard to believe."
Knudson also shared that her two role models are Claudia Schiffer and Adriana Lima. Now being a role model herself for younger girls, especially in Canada, she has a few words of advice, "never give up. Be happy and be positive."
Aside for the interactive meet and greet with Knudson, customers got a lot more from the event.
Lindsay Lorimer – Stewart, marketing manager of GUESS Canada explains, "we're focusing on the total costumer experience, we want everyone to have a good time. We have stations set up around the store; costumers can come get their hair done, make-up, have their photos taken, and all the free drinks and sweets as they like. We also have an amazing DJ in the store all night."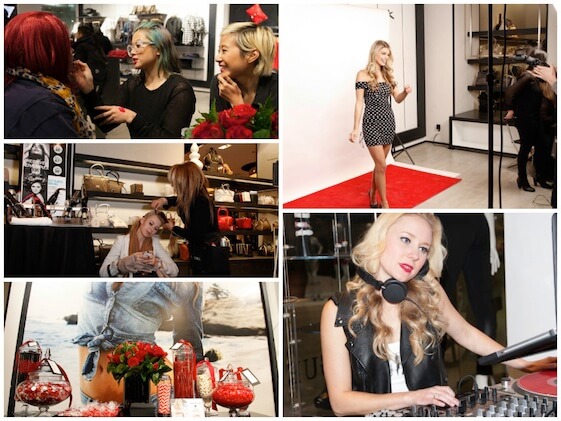 The event also had some great and fun promotions around the store; including a 200 dollar gift card that could only be unlocked with a unique code. Each customer was given a different code and throughout the night people lined up and attempted opening the locked box.
When finding out more about the campaign, Daliah Hijazi, Lotus Leaf Communications Account Exec. was able to speak for Knudson,
"Danielle is the first Canadian GUESS girl for our Spring campaign. She's up there with models like Kate Upton and Drew Barrymore, so it's great that she's following those footsteps."
Overall, the event offered something for everyone, including this writer who has an extremely sweet tooth and can't resist candy or great fashion.
(*All images used in this article were provided by GUESS Canada)