Kitanya Guu Izakaya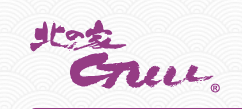 The term Izakaya means Japanese drinking establishment, which also serves food to accompany the drinks. Whether you find that information relevant and/or stimulating is really up to you. Kitanya Guu Izakaya (what an effing mouthful) commonly referred to as Guu, opened back in 2009 to a very eager audience of eaters. Hailing from Vancouver, the chain made it to Toronto thanks to James Hyun Soo Kim (Ja Bistro). Saying Guu is loud is an understatement. The level of volume we're talking is equivalent to an incoherent drunk man banging on pots and pans yelling in some language I don't understand. Oh wait. They do that, literally (minus Mr. drunk man). As you walk through the doors on church street you are greeted promptly by everyone, and yes it does make you feel special, everytime. Like a college girl whose had too much to drink I tell the staff I'm down for anything, and within moments a procession of Guu's finest is brought out to be enjoyed by moi, ugh life is hard.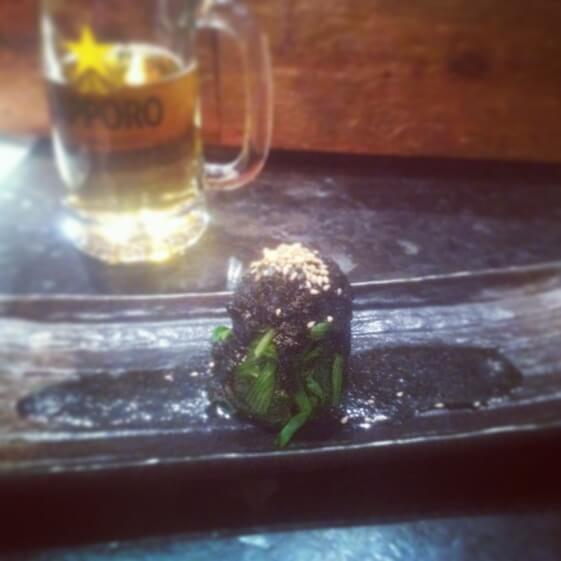 Being a boring I only speak English white girl, I shall provide you with the English name for each dish. We start off with some blanched spinach drenched in a black sesame sauce. The spinach is served cool and the sauce has a sweetness to it.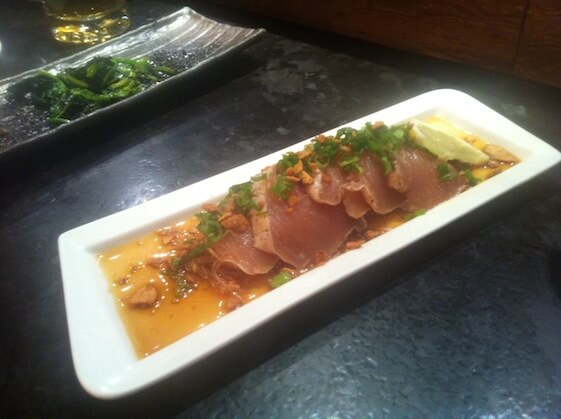 One word, Tataki. Let's be honest, we all live for tataki and if you don't you are just lying to yourself or really really weird. Get the tataki at Guu. The plate is well endowed, this tataki was no afterthought; it's the main attraction. Maguro Takaki, searned BC tuna sashimi with ponzo sauce and garlic chips.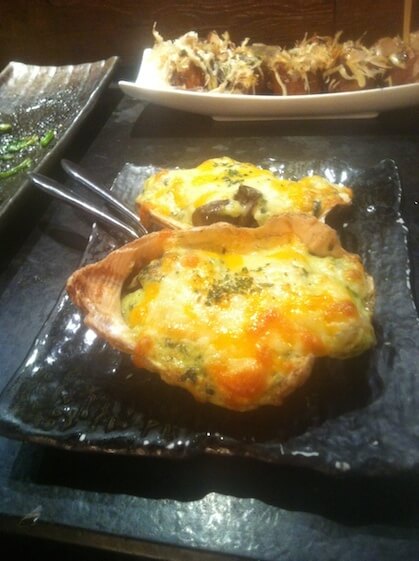 Baked BC oyster with mushrooms, spinach, garlic and topped with cheese. If I love tataki then I'm definitely having a really steamy sexy affair with baked oysters. I would suggest order a couple rounds of these bad boys. They disappear pretty quickly, despite being served piping hot. Hailing from BC, these oyster's are hefty in size and an absolute pleasure to eat. But c'mon slather something in garlic mayo and you can't really go wrong.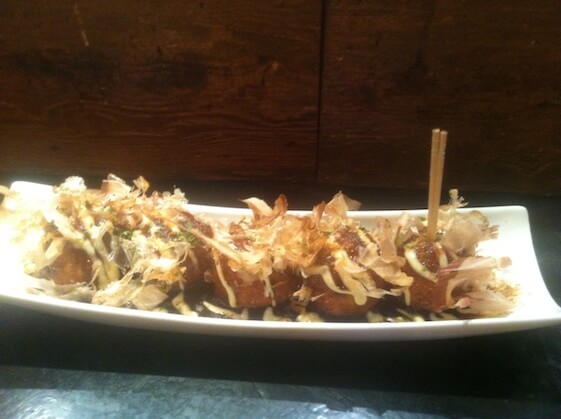 Deep fried octopus balls with tonkatsu sauce and karashi mayo. This dish wasn't for me. It may however be for you, I don't know you though so…whatever. My million dollar critique says, these balls were lacking in octopus and a bit to heavy on the deep fried. The presentation was nice with all the pretty sauce, that's got to count for something right?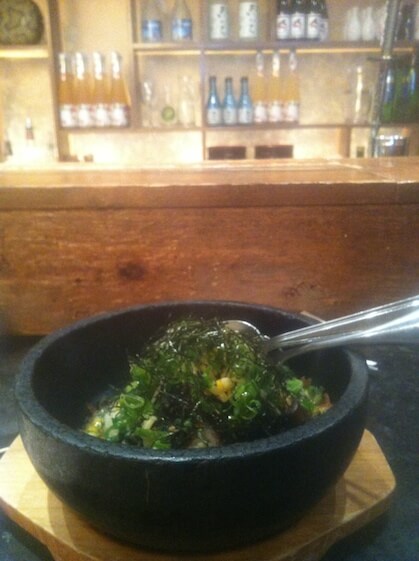 Pan fried udon noodles with beef, mushrooms, and scallion. Udon noodles are good, great at best, but they never amaze me. However let's not under estimate a good thing, because this dish after all is a very good thing. If you are looking for something to eat sans seafood this option is your best bet. Also if you're looking for something with a bit more substance (think entrée size instead of apps) this dish is also your way to go.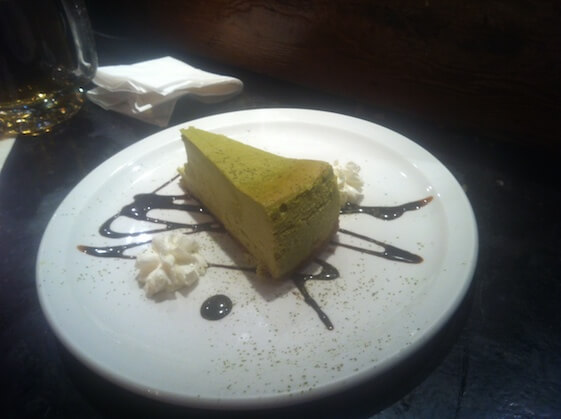 The finish. Matcha green tea cheesecake. I was happy to see my options were beyond a deep fried banana, I'm so over that. The cheesecake was pretty standard, not especially light and airy nor was it especially dense; it was medium in all its medium glory. And yup I could taste the matcha.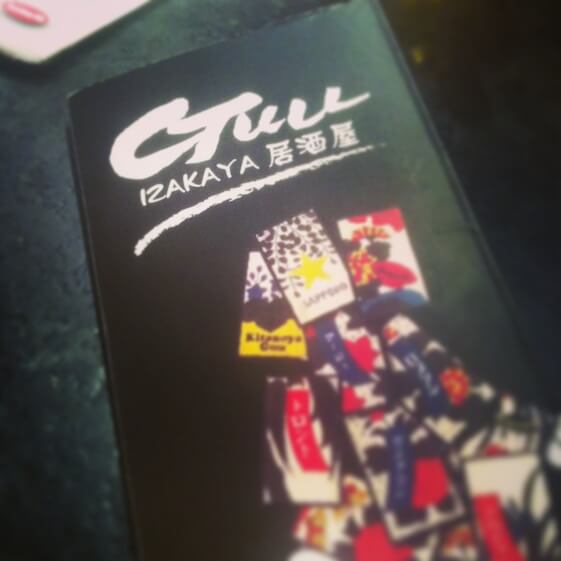 Guu isn't a place for first dates. That is, if you actually care about what the other person has to say, if you don't by all means come to Guu and don't hear a thing he/she is saying. It's a destination restaurant on top of everyone's must see lists. It is a must see. Similar to the bearded lady, you are curious to see her however you don't want to hang out with her everyday. Guu is packing some WOW factor, the energy, the staff, is not replicated anywhere else in Toronto, so book a reso for that birthday party, or some party and embrace the noise!
Eat on!
"Follow" on Twitter: @GuuToronto and "Like" on Facebook.
http://guu-izakaya.com/toronto
398 Church St, Toronto
(416) 977-0999

About Erin Wotherspoon
Erin, of average height and weight has no special skills to boast of. She graduated from Theatre School at George Brown, where she studied classical acting for 3 years. Erin began to feel like a pawn in a chess game she never consented to and switched her energies towards creative writing. Having had some mild success as a blogger, it is now her main goal in life to write novels. She currently contributes to a couple of food & drink related magazine around the city. @erinspoons