Is it finally over? Ice Storm Toronto Photos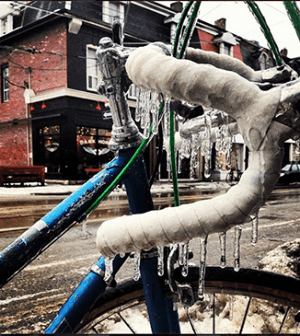 Quite the awakening in Toronto. The city has been hit by an ice storm. Waking up in my onesie after having our 1st Christmas slumber party the girls and I managed to make it out of the house to head out for some caesars.
Being situated in the downtown core, we were not affected by the ice storm like hundreds of thousands in the GTA being left without power.
The streets of downtown Toronto were abnormally quiet this Sunday afternoon. The ice storm sure picked a convenient time to "drop by." With only a few days left of shopping before Christmas, my plans just like most of yours, to do some shopping were altered pretty quickly.
The city was uber quiet today… it was almost like someone just pressed 'pause' . As everything stood still, from the bicycles on the street, branches on the trees, to the street car power lines – the city today paused a little while others were suffering with a power loss. Will tomorrow resume?
Scrolling through social channels, There are some fascinating photos which I have included in this post for you to enjoy. Check it out #icestormToronto
[statigram_widget]