The Gladstone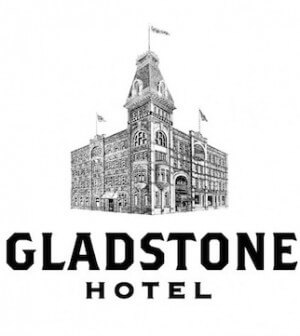 The Gladstone Hotel's newest edition, Chef Mario Paz, introduced his new menu the other night, and I've got the skinny on what to expect. The night begins with their signature Blackberry Gin and Tonic, a gin cocktail for the non-gin lover, the blackberry flavor works wonders. I'm in…and you should be too.
A little background: whether it's back-packing through South America cooking his way through mom and pop kitchens to the bright shores of Thailand, Chef Mario has been around the block and I assure you his menu is a reflection of that. Look out for "The Jerk", a spicy pulled jerk chicken with slaw in a soft house made coco bread pocket. Having no Caribbean roots whatsoever I have no deep connection with this dish, no memories of grandma making it etc. etc. I do however have some experience with chicken and dat was sum good chicken (it should be noted, that last bit was spoken in an accent to accentuate how good the dish really is).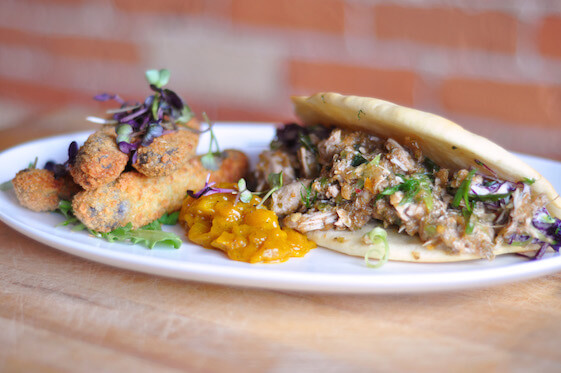 Let's talk about tempeh, Chef Mario's Texas Tempeh Burger in particular. Loaded with 48 hour marinated tempeh (uhh that's more than your average crock pot) topped with wild mushrooms, crunchy onion, BBQ sauce and aged cheddar. This is a veggie burger to write home about, I repeat this is a…you get the point. The wild mushrooms were succulent and meaty pairing well with the crunchy onion. Also, not to be missed or overshadowed was the Vindaloo Pork, local pork tenderloin, brown butter confit grapes, new potatoes and a vindaloo sauce. Order it and tell everybody about it.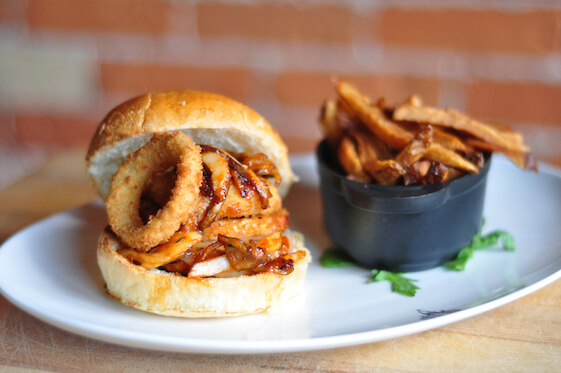 We finish things off with a Mexican Chocolate Fudge Brownie. Rumored to be vegan, this brownie is packing some heat, with a little guajillo chili. The oh so popular salted caramel sauce was a nice touch, though it was a bit too thick (I couldn't get it off the fork). That didn't stop me though, I licked that fork like an unmannered country bumpkin named Stu…?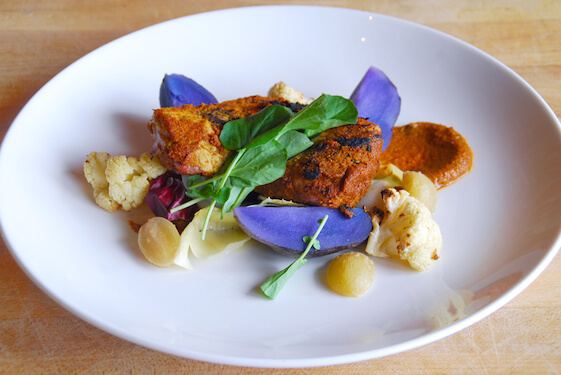 The wrap up. If there's one thing you should do, it's go to The Gladstone. Whether you're a veteran or a newbie, Chef Mario's globally inspired menu is worth the trip.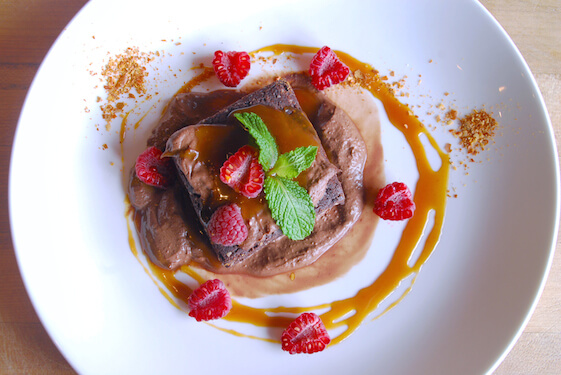 Eat on!
"Follow" @GladstoneHotel and "Like" on Facebook here
1214 Queen St. W.

About Erin Wotherspoon
Erin, of average height and weight has no special skills to boast of. She graduated from Theatre School at George Brown, where she studied classical acting for 3 years. Erin began to feel like a pawn in a chess game she never consented to and switched her energies towards creative writing. Having had some mild success as a blogger, it is now her main goal in life to write novels. She currently contributes to a couple of food & drink related magazine around the city. @erinspoons