Frank's Pizza House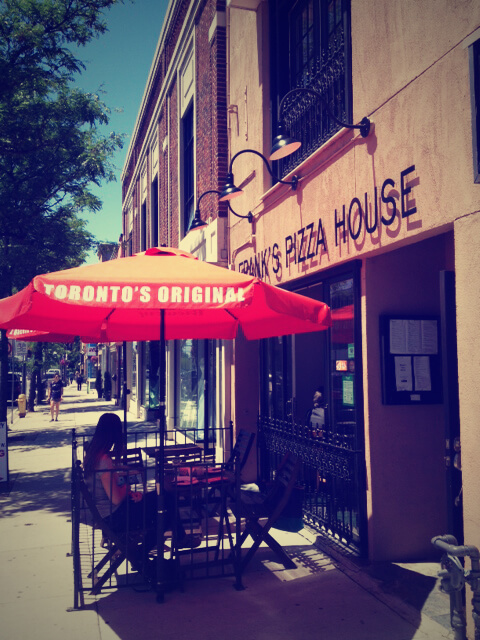 When Giorgio walks down the street, his kids wonder why people call him Frank. He laughs it off, and tells them not to worry.
Frank's Pizza House has been around since 1965, but Frank is no longer behind the counter. Over 20 years ago, the pizza dough was passed on to current owners, the mother and son duo of Maria & Giorgio Taverniti. And, that's when Giorgio inherited the nickname of Frank. The Tavernitis know not to mess with a good thing, Frank's was tried and true, and they chose to carry the name over. The pair are nearly always there, serving up orders, and cooking up ooey-gooey goodness fresh to order with the help of a handful of waiters.
Giorgio is instantly likeable. The charming cuisinier is quick to please his patrons. It smells sensational inside, but on a sunny June day, my guest and I sat on the street side patio under a crimson umbrella (hence the reddish hue on the food photos below).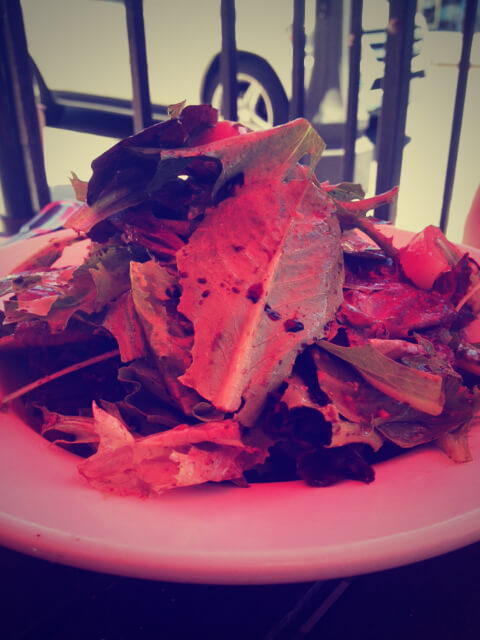 With quite a selection, it was a task to choose a meal. Who better to help you narrow down your options then the mastermind behind the menu– Giorgio recommends the calamari; it's pan fried, and breaded to order. Frank's Salad is a fan favourite, so my guest selected the luscious greens. The balsamic vinaigrette is made in house, and is fantastic. The array of herbs and crunchy legumes make for a flavourful starter.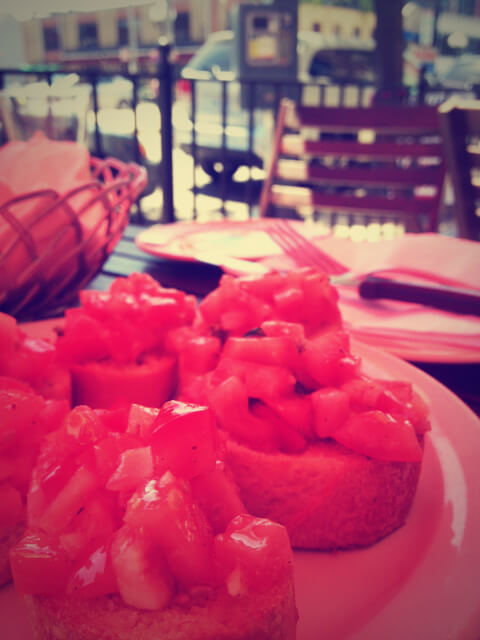 My appetizer was premeditated. I knew bruschetta was on Frank's extensive list, and I knew I was going to order a serving. The refreshing spread was nice, and light. These days, bruschetta makers stray from its origins, and add balsamic vinegar and crumble some feta onto the grilled bread. Don't get me wrong, I certainly enjoy the creative takes on a classic, but it was a smart decision to let the quality of the tomato take centre stage. The back to basics approach is a winner in my books. The oil is first rate, a few subtle herbs and a hint of onion bodes well on this bruschetta.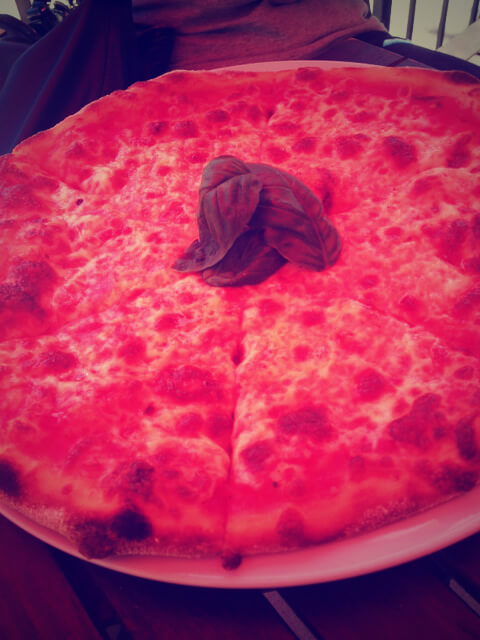 Margherita pizzas are a staple at italian restaurants, and it's beloved by many at Frank's. With such simple elements, there's nothing to mask substandard ingredients. Anything other than unadulterated freshness would be easily detected. This pared down pie has nothing to hide. A delightfully thin crust, a generous serving of savoury sauce and topped off with the finest quality cheese: molto buono!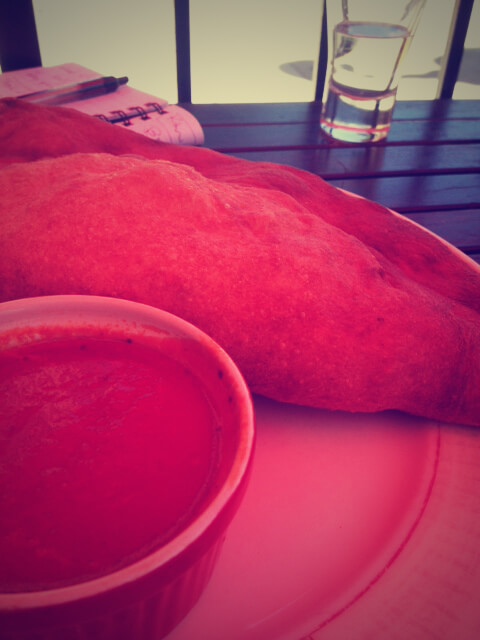 My intentions were good; I ordered a calzone. But, then Mr. Taverniti informed me of their prized offering. Voted numero uno in Toronto are Frank's panzerottis. Prior to this revelation, I never knew what the difference between a calzone and panzerotti was. For those in the dark like myself, a calzone is a baked pizza turnover, and a panzerotti is a deep fried version of the latter. Filled with melt in your mouth cheese, mushrooms, onions and green peppers, I was sold. For an extra dollar, you get a cup of ol' Frank's tomato dipping sauce. While more sauce is never a bad thing, I was happy with the amount of sauce readily available in my panzerotti.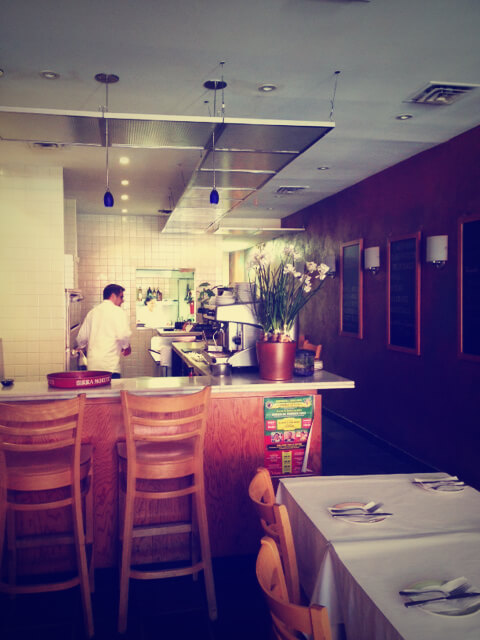 After a condensed carb intake, we were left unable to fathom the idea of dessert. I'm sure the tiramisu, and tartufo are equally spell binding though.
As we were preparing to leave, a couple walked in and wondered aloud whether Frank was in. They were blown away by Frank's/Giorgio's authentic pizza pie, and had to come by for another try. And, you don't even have to leave your house to experience Frank's because Giorgio will deliver to your front door.
Buon appetito!
1352 St Clair Ave W Toronto, ON M6E 1C4
(416) 654-6554
Twitter: @PizzaFranks