Dufflet Pastries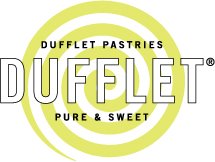 For most dessert lovers the thought of spending an afternoon at an esteemed pastry shop sampling cake and cupcakes is practically a dream come true. That's why I was perplexed when on a sunny Wednesday afternoon I could not for the life of me find a fellow cake connoisseur to accompany me to Dufflet Pastries in the Beaches. Specifically to eat cupcakes on cupcakes on cupcakes! My treat! Has everyone lost their minds!? Well, no, but scheduling conflicts arise…..
Therefore, the task at hand is to do the unthinkable: eat a bunch of cupcakes all to myself. A grueling plight for certain. But readers, worry not: I will muscle through. For you.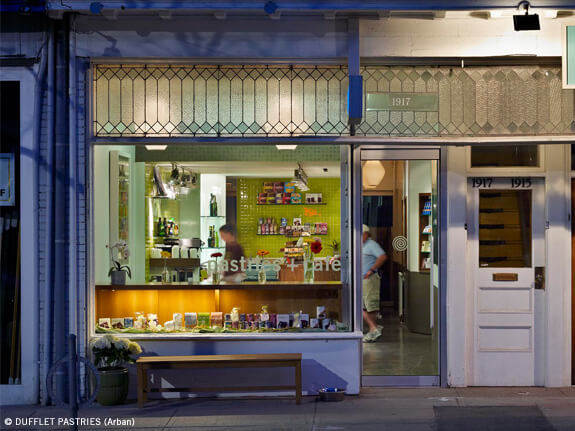 If the name Dufflet sounds familiar, you've likely had the privilege of devouring their delectable baked goods before – maybe even a few times. Affectionately dubbed the "Queen of Cake", Dufflet has become Toronto's household name for fine pastries and desserts. In the 70s and 80s Dufflet Rosenberg was a baker with a dream, and today Dufflet supplies over 500 restaurants and cafes, specialty food shops, supermarkets, hotels, and caterers. Out of their three Dufflet retail cafes, I am visiting the Beaches location to try their gluten-free line. I couldn't be more excited. I could try, but I would fail.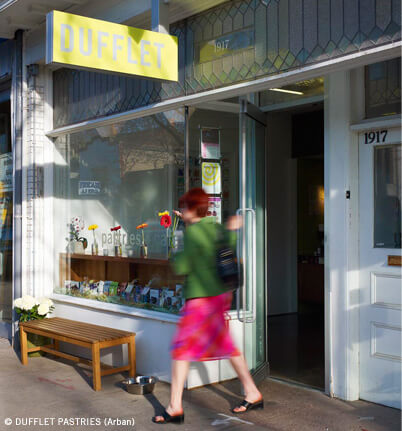 It's not often that I venture out to the east side of the city, but the idyllic Queen East is home to many cute confectioneries, so I'm happy to be checking out the most famous one on the strip. I'm welcomed by a colourful store front and a colourful personality, my hostess Melisa, who greets me and leads me past to the back dining room. On the way I see a large display of ready-made cakes and pastries and they look look beautiful. That's the thing about Dufflet cakes; at first glance you're perpetually torn between the urge to stuff your face and the urge to pet them and place them in a beauty pageant.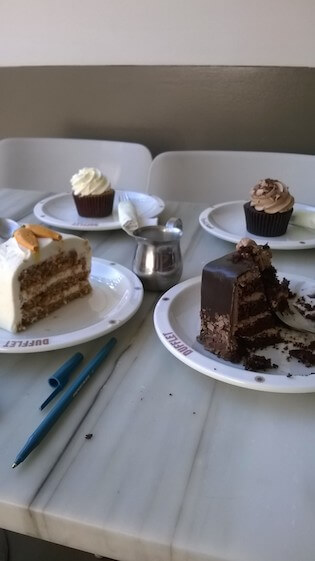 The back room is simple yet spacious, a bright and chic room with a gorgeous view of a courtyard garden, perfect for sitting down with a cup of coffee and a slice of cake. Or for me, two slices of cake and two cupcakes. You know, just your typical mid-afternoon snack. I have informed my gracious host that my gluten-free guest had to cancel, so it's just me today.
"That's okay, hope you're hungry!" she chirps, and suddenly a dessert parade is set in front of me. My brain is thinking, oh boy. My stomach is thinking, let's do this.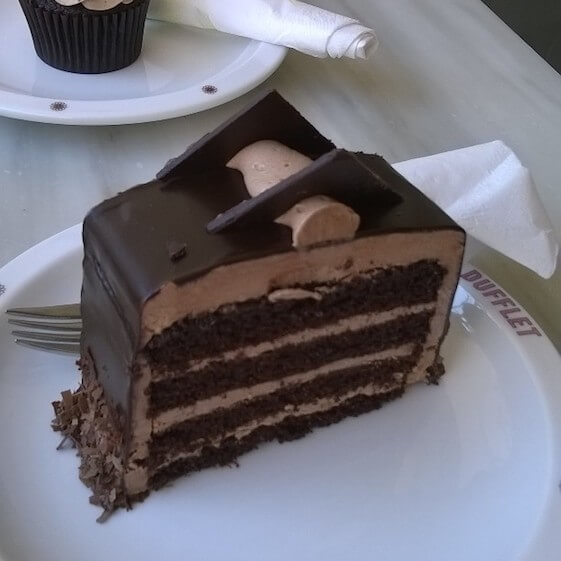 Up first is a hefty piece of Gluten-Free Devil's Food Cake. Layers of rich, moist, dense chocolate cake. If decadence is the way of the devil, this cake lives up to its name. It's garnished with dark chocolate glaze and a few decorative chocolate triangles with a light caramel drizzle. Layers of sweet chocolate buttercream balance out the richness in this cake, each bite gives you an equal amount of thickness you want in a cake and light, airy cream so that your taste buds aren't overwhelmed.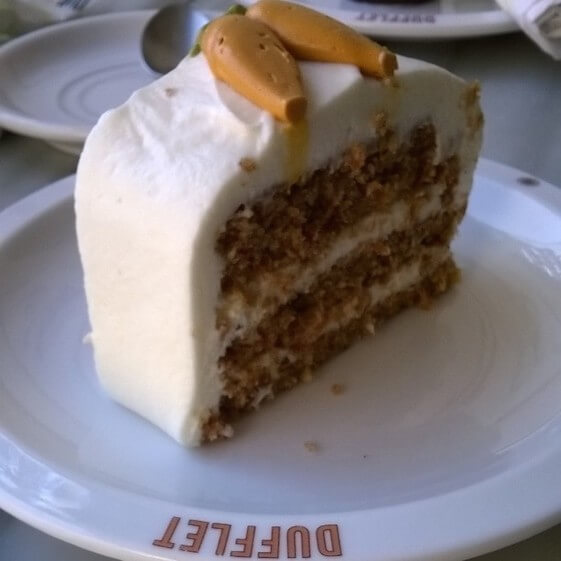 The next cake is one I have heard legends about: the Gluten-Free Carrot Cake. Admittedly, I am not even the biggest fan of carrot cake. My general view on carrots and cake is that they're both good but should be enjoyed separately. But I am committed to trying anything, especially if it comes with rave reviews. It does not disappoint. What I instantly love about this dessert is the cream cheese icing, it's a smart choice for a lighter, simpler cake that needs that extra touch of something sweet. The buttercream carrot decorations on top don't hurt either. The cake texture itself between the creamy layers is fluffy and light with a hint of carrot; just enough to call it carrot cake and not so much that it tastes like you're nibbling on them whole like Bugs Bunny.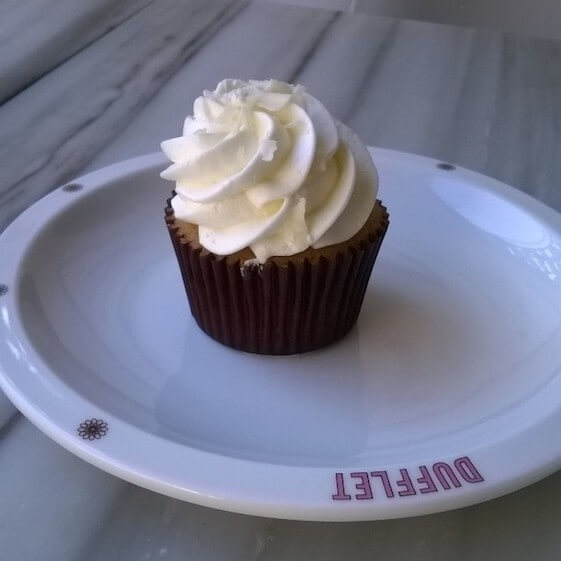 Now that I've made a fair dent in two big pieces of cake, it's time to move on to smaller and better things. Well, not 'better' per se, but perhaps more proportionate to my size – cupcakes! It's time to dig into a Gluten-Free Vanilla cupcake. Moist, nicely plump for such a tiny morsel, and topped with sweet vanilla buttercream and vanilla shavings. Delicious!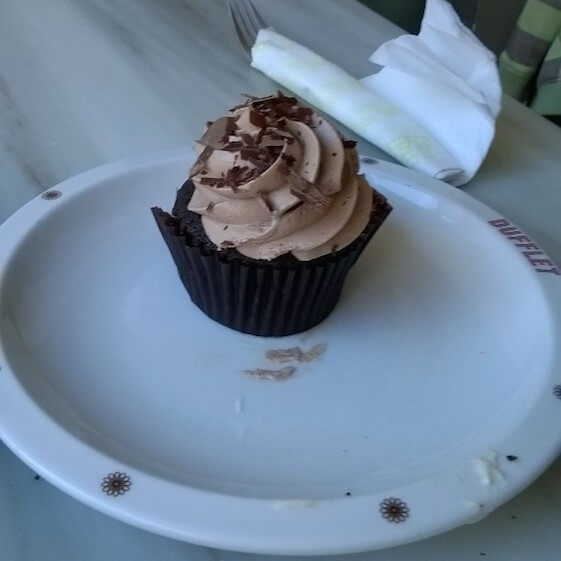 The last cupcake (but is it ever really the last?) is the Gluten-Free Devil's Food Chocolate cupcake. Similar to its larger, cake-ier counterpart it is moist, airy, and the highlight is the soft chocolatey buttercream on top with chocolate shavings. Self-professed chocoholics will have no problem getting into these miniature cake bites, they're a fantastic fix for those sweetness cravings. A 4-pack of these tiny treats is $9.00 and makes a lovely gift for friends who share an appreciation for gourmet cupcakes.
In between tastings Melisa pours me coffee and chats with me about Dufflet's legacy. The original location sits cozily on the trendy Queen West where Dufflet herself set up camp back in 1982. I learn an adorable little tidbit about the famous cake queen, which is that the name "Dufflet" is a nickname given to her based on her older brother, Duff, who she was a miniature version of as a child. The more I hear about Dufflet and her cake business, the more I appreciate her contribution to Toronto's food scene.
An important note about the cupcakes and cakes I tried today, the leftovers of which are now being packed into a take-out box so I can indulge again later, is that I completely forgot that they were gluten-free. The flavours and textures are phenomenal and do not even hint at the fact they're made without gluten. The gluten-free selection of cakes and cupcakes have been approved by the Canadian Celiac Association, so if you or a friend have a serious gluten allergy you can enjoy these sweet treats without worrying.
Thank you to Melisa and everyone at Dufflet Pastry Shop for their incredible service and hospitality. Long live the Queen of Cake!

Dufflet has 3 retail cafes uptown, downtown, and the beaches. Check out their website here for hours and details on how to order their cake collections.
"Follow" on Twitter: @TourDeDufflet

About Courtney Gilmour
Courtney is a Toronto-based writer and editor whose work has appeared in various digital and print publications, and probably the back of your chair in high school. She is known for her ability to create a near perfect plate of nachos and her inability to properly close a pizza box. Follow her on Twitter: @minxcourtney