Dinner and a Show at Marben
It was on a warm and beautiful summer evening, with great friend in tow, that I made my way over to Marben. In anticipation of the delights that awaited us, we discussed our menu choices: a salad here, a drink there; but the conversation kept drifting back to the one we had been dreaming of for weeks. Yes, JOHN'S BURGER! Simply named but much lauded…would it live up to it's reputation? We would see.
We were seated at the Chef's table, a high top with a window into the kitchen, very cool! It was such fun to watch a busy restaurant kitchen at work. Not only would we be sampling some fabulous dishes, we had the added bonus of watching some true professionals prepare our dishes! I really enjoyed listening to the camaraderie that went on between colleagues- you could see that they were more like family.
We dove into our Marben experience, of course, with cocktails. Lately I have been enjoying gin based concoctions so I opted to try out the Uncle Misha's Gin & Juice. Fresh red chilis garnished a thrilling blend of Victoria gin, Thai chili lemonade, and cucumber; bittersweet and refreshing! I personally enjoy a little extra heat so I mixed the chili peppers throughout. This cocktail proved to be a perfect beginning to a lovely and delicious evening.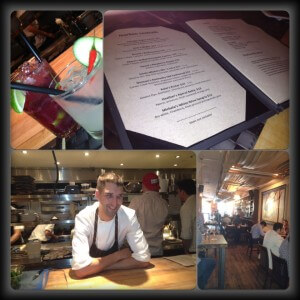 As I took a moment to look around and take in my surroundings I notice a mix of all different types of people; groups of friends, couples of all ages and families. I really enjoyed the fact that everyone was welcomed in to the cozy establishment. The dim lighting and the warm, romantic and welcoming setting made me feel like this would be the perfect spot to enjoy with that special someone.
We commenced along on our culinary trip with Rodney's Oysters and Evan's Charcuterie. The oysters were simply out of this world, tasty and buttery, perfectly seasoned and very, for lack of a better word, meaty. The charcuterie was a tasty arrangement of pickles, mustard, crostini and red onion chutney alongside a decadent selection of sliced meats and deep fried head cheese. This is a meat mixture made in the head of a calf, not something high on my priority list of must-try foods. But I figured if I am ever going to give this a whirl, the deep fried version is probably my best bet. I mustered my courage and popped a piece in my mouth, and surprise, surprise, very tasty! Will my dinner plates be graced by its presence anytime in the foreseeable future? Not likely. But I'm glad I tried it. For head cheese connissieurs (does such thing exist?) make sure you give Marben's take a try.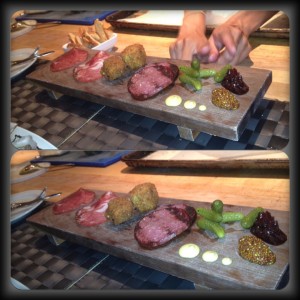 The adventure continued with Sean's Sous-Vide Trout nestled amongst corn, beans, roasted peppers, potatoes and salsa verde- a very tasty and healthy dish that most definitely wouldn't leave you feeling uncomfortably full. I don't typically order trout (for no reason other than I enjoy other fish more) but through my tasty travels I have learned that sometimes it is wise to venture out into the unknown (which was quickly becoming the theme of this evening) and this was certainly a positive experience. The trout was served perfectly pink, cooked just right and married well with its surroundings.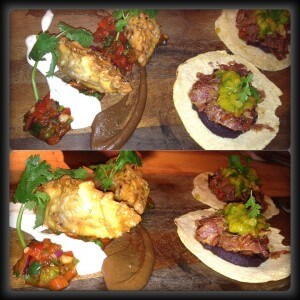 I mentioned earlier that my friend and I had been excited about trying something we had been reading up on and thinking about for weeks: JOHN'S BURGER. We were not disappointed. This burger indeed turned out to be the star of the show! At this point, if you have not tried one of these bad boys you have truly missed out on one of life's greater pleasures. I have tried my fair share of burgers over the years, and only a couple really stand out- Marben's John's Burger has now taken the #1 spot on my list. Created with love, John's burger begins with fresh Red Angus beef from Dingo Farms in Brantford. Topped with Branston pickle, braised ribs, and aged cheddar, it shared the plate with crispy coleslaw and the amazing Pommes Kennedy: thinly sliced potatoes, poached in beef fat, pressed, deep fried in brown butter béarnaise and drizzled with hollandaise sauce. Wow. A sight to behold, the sheer size of this beast could be somewhat intimidating to less courageous foodies…but we fear no food! We dove in head first; after all, this was the much anticipated burger we couldn't wait to get our hands on. And this burger delivered! It tasted JUST as good as it looked. What an absolutely satisfying dish.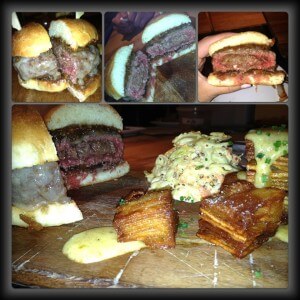 I look forward to returning to try Marben's famous brunch. Whether it's a warm night on the patio in the summer, or cozying up inside during the cold winter months- Marben certainly promises a memorable evening.
488 Wellington Street West, Toronto