Crush Wine Bar
A wine bar can be a scary place to visit if one is not comfortable with selecting from a wine list. A long list of wine can be daunting to the uninitiated, but fortunately the Crush Wine Bar on King Street West make the experience exciting and easy. In total there are 80 different wines that are available by the glass, and this impressive number is by far the best selection I've experienced in the city thus far.
Mark, the Sommelier and Manager, is a great believer in transparency. He gave us the opportunity to choose and experiment as we wished. He was invited to Italy this year for wine sampling so you can be sure that he is able to provide expert advice and guidance. He is justifiably proud of the fact that all the food, including dessert, is prepared and made in-house. Nothing comes through this door pre-packaged and all the ingredients used are fresh.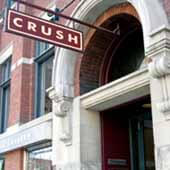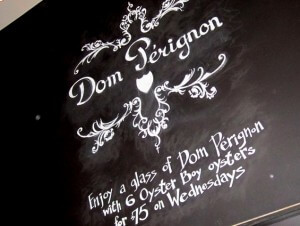 Jules was our waiter for the evening. He provided us with the menus, which are refreshingly simple and ideal for someone as indecisive as me! Each menu item is accompanied with a suggestion for which wine would best accompany it, an innovation that is both unique and helpful. On a separate menu are two pages of wine flights. This gives you the opportunity to try two different 3 oz. portions (the equivalent of one glass of wine,) which is a great way to compare and contrast different wines. Foregoing the wine flights we decided to start with a palate cleanser, a selected Prosecco from Veneto in northern Italy. This lively, fresh and fruity sparkling wine with cranberry red accents made it the perfect way to start the meal.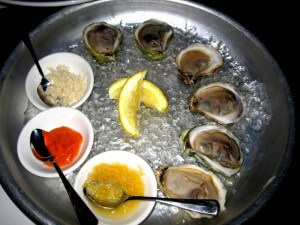 For our starter we decided on New Brunswick oysters on the half shell, accompanied by a Muscat white wine, which is very aromatic and light on the palate. The fresh oysters came with three differed sauces, the usual horseradish and lemon garlic oil, a spicy Sambal sauce, and a Meyer Lemon Mignonette. All were delicious and helped remove the mild fishy taste from the oysters but the Sambal sauce really stood out.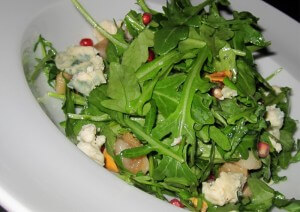 We followed the oysters with an Arugula salad, which was lovely and sweet with just a hint of vinaigrette. The salad included pomegranates, blue cheese and figs which were a nice touch. Arugula never disappoints and it was a delicious and refreshing start to the meal. With the salad we selected a Canadian Okanogan white wine, JoieFarm: A Noble Blend (2009), which was a real treat. Made from German grapes it is similar to Riesling; aromatic and juicy with a dry finish, it is a perfect summer wine to accompany a salad.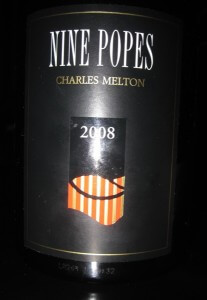 For our entrées we had Bison, paired with Nine Popes red wine from the Barosa valley in south Australia and Sea Bass paired with a Grego Roble Spanish red. Both were absolutely delicious. The Bass came mixed with olives that brought a delightful saltiness to the palate. It was cooked to perfection with a crispy skin and melted in the mouth. Sun-dried tomatoes, rapini broccoli, mushroom and new potatoes accompanied it. A piece of the fish scooped up with the delicious potatoes, sun-dried tomatoes, olives and sauces gave a wonderful "stew" taste without any fishiness. It was an absolute treat. Personally I would have enjoyed the rapini with a little more garlic but it was pan seared perfectly if a little bitter in the stems
Even better though was the Bison, served on top of a spiced beat puree. Phenomenal is not too strong a word to use. The steaks were lean and tender, perfectly complimented by the sweet tastes of the puree and the caramelized onions. It was also beautifully presented, with the fuchsia making it a very colorful dish.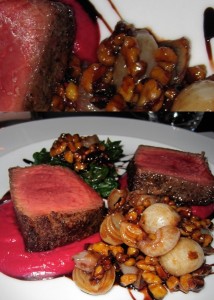 For dessert we chose four different cheeses of our server's choice. First he selected for us an Etorki from the Basque region of France. Made with only the finest-quality sheep's milk it had a smooth, velvety texture and a rich nutty flavor. Its aroma was sweet and buttery, and the cheese was voluptuous on the tongue. For the second cheese we stayed in Europe with Beamster, a hard, pasteurised cow's cheese from Holland. With a thick, dry, strong texture and a smoky, cheddar-like flavor it was delicious. For our third we came closer to home with an Elizabeth Bleau un-pasteurised cow's cheese from Quebec. This was strong, and very creamy with an almost liquid texture. So no chewing required! We stayed in Quebec for our final cheese, a La Sovagene pasteurised cow's cheese. This was light and delicious, similar to Brie.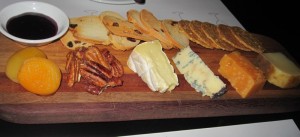 The cheeses came served with caramelized pecans, apricots, and crackers and we chose to accompany them with Porto Cruz , a 10 Year Old Tawny Port, from, of course, Portugal.
During our meal the music was upbeat so perfect for after work on a Wednesday. This particular evening also offers a "cost plus $10″ for any wine bottle on the list when you order an entrée. This is just unheard of in the city and such a fantastic offering. Dinner with the ladies, a first date, a casual business dinner – everyone wins! Crush wine bar is located on trendy King West surrounded by all of the places for a night out on the town. So, if you were to visit Crush on a Wednesday – order yourself the Bison, a flavorful bottle of red wine to enjoy the candlelit scenery and then head over to Brassaii which is next door if you feel like extending your evening some more fun. I couldn't come up with a better combination for a Wednesday evening.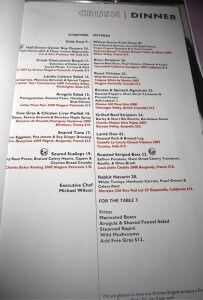 The menu is definitely carb-conscious friendly, so if you are on a diet you can easily be satisfied, until you start exploring the wine list of course! I particularly liked the way the wine glasses are lined up at the bar, just waiting for you to come in and indulge yourself. All in all it was a great meal and lovely evening and I would recommend Crush Wine Bar to anyone.
Be sure to check out the impressive website here:
http://crushwinebar.com/
455 King Street West
Toronto
416-977-1234
Weekdays 11:30am -10:30pm;
Sat 5pm -10:30pm