Cats Roam Free in New Shelter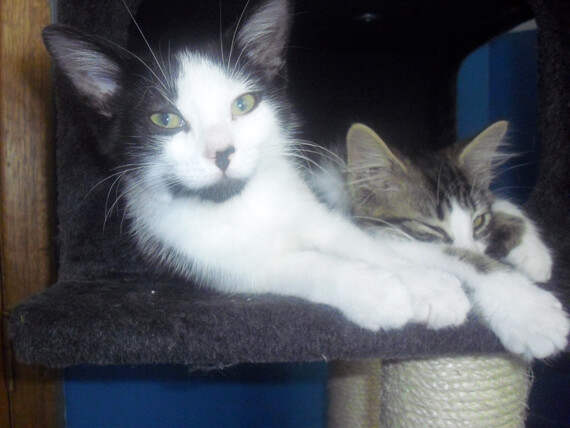 The Etobicoke Humane Society opens its doors to a brand new facility.
It's been almost a year since I volunteered at The Etobicoke Humane Society where the intake of animals was limited, cats were kept in small cages and the climb up the stairs to the second floor of an office building was enough to call it a day before cleaning even one litter box. So you can imagine my surprise upon entering the new facility – located at Bloor and Islington – to see these precious animals roaming free around the shelter claiming every corner of the room.
"We don't have cats in small cages anymore. That's one of our big things. They are socialized cats. The odd times, yes, they are going to have their little grapples, but for the most part they will have their little scrap and then the next minute they are sleeping together," says Karen Heaslip, the shelter manager.
Karen, who's been the shelter manager for over a year now, has been with The EHS for seven years mainly as an Adoption Coordinator, and says there are many benefits to moving to this new facility, which opened its doors in May of this year. "We were in an office building on the second floor and it wasn't conducive for a shelter. We had to go up a flight of stairs with cats and carriers taken to the vet with litter and supplies. And, we have a lot of older, senior volunteers." And, the new facility also houses a large storage shed for easy access to supplies – something the old facility didn't have on the premises at all.
Now with the larger space, there are at least 50 cats and 35 kittens in foster care expected to come in – the old facility was only able to hold 20 at the most. And, The EHS will be taking in dogs and other small animals once there are enough volunteer care-providers – another issue the old shelter on Royal York Rd. was never able to accommodate.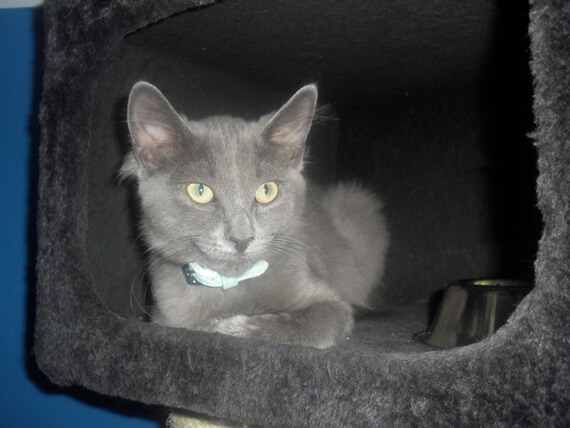 Three-month-old Misty
"And, there's no carpeting. So it's more hypoallergenic for cats and volunteers. With all these cats the fur and dust would remain in the carpets. So we had epoxy flooring installed. It's easily swept and mopped down every day," she says.
At the end of our interview, Karen gave me a tour of the grounds. First she showed me the massive area all set up and ready for the anticipated canines. Each generously sized cage were fitted with a raised bed, soft blankets, toys and bowls securely screwed to the cage doors to prevent spills and messes. If all that isn't enough, at the back of the spacious room, a walkout to a fenced-in backyard where the furry guests can run free and play fetch. And once the four-legged friends are ready to come back in, possibly dirty and stinky, there is a convenient dog-washing zone with a huge open-sided tub, big hose and lots of soapy bubbles.
Before Karen took me into the room designated just for kittens less than four months old, she showed me the quarantine room for new animals who haven't seen the vet yet, and stopped to put a load of laundry in their very own washer and dryer – another huge perk. At the old location, someone would have to lug a huge bag of soiled blankets and towels home to wash, and of course, lug it back up the stairs to the second floor.
Now to the room full of kittens, I couldn't wait. The private bedroom like space was dressed with cat trees, scratching posts and lots of toys on strings – cats love strings, especially kittens! Two to three kittens were curled up together in each corner of the room – I guess it was nap time.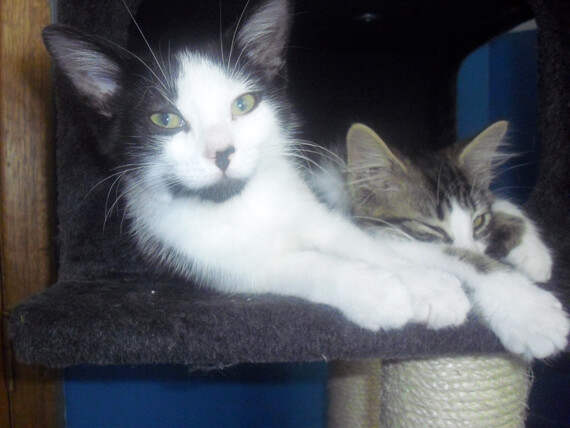 Waking from an afternoon slumber
Through another set of doors and we entered cat condo land. Four spacious 10×10 cages filled the room to house the shelter's older felines. Each cage fitted with comfy bedding, toys galore, a chair for potential adopters to meet and greet, and all four labeled with names like Cozy Cat Cottage. "They are like little apartments and they get socialized a lot better because they are not just stuck by themselves," says Karen.
I noticed a majority of black cats around the shelter and had to ask why. "We've been working on a large surrender case," explains Karen of the number of black felines. "It would be a hoarding case except the woman realized she was over her head and she phoned us. She had 42 cats in a bachelor apartment."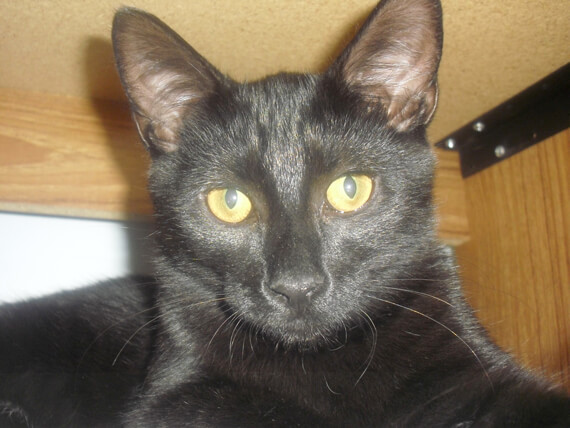 Six-month-old Rigby
As an owner of a black cat myself, I know the stereotypes they have are not in the least bit true. "They are very affectionate cats," Karen says. "Some people specifically want a black cat because they've had one in the past and they know they are really affectionate." But The EHS has one specific policy when it comes to adopting these dark-coated beauties. "The only time we won't adopt out our black cats is in October. They can adopt them but they are not picking them up until November 1 st , because of Halloween," Karen says – a precaution they've always been strict on.
Karen says most people who hoard a large number of animals think they are helping by keeping the animals off the streets. "But they're really not," she says. "I don't know of anyone who could afford vet bills for 42 cats, and for their spays and neuters and shots, unless you're a multi millionaire but then you're not living in a bachelor apartment. You have to get your animals spayed and neutered, that's number one."
The EHS has been around since 1987 and is a volunteer-run organization with no government funding.
Melina Manna