Beach Ready Legs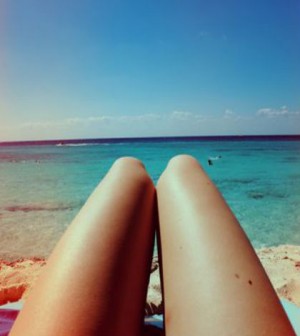 There are a number of ways we ladies need to prepare for beach season, one of which is ensuring our lovely legs are ready for their summer exposure. Let me show you how it's done!
Sunscreen!
This will always be my first and foremost beauty tip for summer. I can't stress the importance of sunscreen enough: burning is bad – like, very bad! Lobster legs are definitely not sexy, so let's just avoid that, ok?
Exfoliate
This will probably always be my number two beauty tip. Exfoliation not only feels amazing, but it also leaves your skin incredibly soft, removing all dead skin and general junk. Smooth skin, ladies!
Hair Removal
This seems obvious, but there are a number of ways to do this. Getting on a waxing schedule is always a good plan for summer, but if you're not a huge fan of having hot wax poured on your legs and having the hair ripped out by the root, a good razor may just become your best friend. My favourite is the Schick Intuition razor!
Self-Tanner
If you simply must have a bronzed glow during the summer months, self-tanner is the way to go! Your legs are hidden longer during the cold weather, so they're likely the palest area of your body that you'd show off at the beach. If you need the skin on your legs to catch up to the rest of you tan-wise, skip the tanning bed and opt for some self-tanner, or even some tinted moisturizer. Just make sure you aren't orange, ok?
Enjoy the beach!
About Alex Payne
Alex Payne is a fashion student living in Toronto, and a complete pop culture junkie. She's an avid blogger, writing about beauty, fashion, dating, music and film. She's obsessed with cupcakes, Kate Spade and The Simpsons. Oh, and vodka.