Artemis Pop-Up Shop Event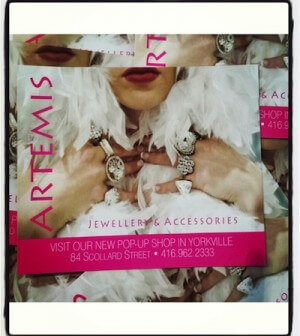 Question: Is there anything not to love about (1) Yorkville on a summer evening, (2) a bright space filled with food, drink and music and (3) fashion maven Amie DiCarlo's cultivated assortment of dazzling baubles from premium designers? Answer: Nothing at all. Artemis is a boutique retailer for the best in bridal jewelry, boasting a grand selection that screams sparkle. This past Wednesday, its pop-up location, at 84 Scollard Street in Yorkville, opened its doors to offer customers a special evening shopping and mingling experience. Whether you were solo or with some girlfriends, each attendee received a warm welcome, followed by an invitation to explore the shop and find some goodies (admittedly not a difficult feat).
For years, the pop-up shop has been a valued and popular medium for retail brands looking to gain more exposure. The Artemis pop-up differentiates itself from others of its kind, not least because of the effort that clearly went into making it the kind of place one could spend hours in. Gone is the pop-up shop trope of warehouse ambiance or the feeling of bareness to be offset by an overload of merchandise. Instead, DiCarlo and her team have made the space feel like a permanent fixture, the ideal addition to an area that already oozes luxury and caché. Think bright lights, glossy surfaces, white marble and pink accents and you'll begin to envision the Artemis aesthetic.
Ms. DiCarlo started Artemis alongside her mother. Together, they opened their Vaughn location and have since seen the company flourish. DiCarlo says that her love for bridal jewelry "comes from childhood." Her mother is a "super die hard fashionista and [DiCarlo] was the girl always wanting to wear heels and flip through fashion magazines."
Describing herself as a very open person, DiCarlo revealed that the jewelry we see in her shops is sourced from a range of places. "We source from all over. I meet designers at trade shows, at coffee shops, Toronto Fashion Week… Designers have even called me!"
Best of all, the fashionable Amie and her team understand the importance of customer service and catering to the clientele. Admitting that the Vaughn customer looks for something slightly different than the Yorkville one, Amie is aware of the nuances that exist in her demand. While merchandise in the main location and the pop-up does overlap, customers will also detect a refined uniqueness between the two.
Looking forward, Artemis will be expanding into the domain of e-commerce. Be sure to swing by the pop-up shop soon and visit www.artemisfashionjewellery.com to keep up-to-date with all things Artemis!

About Krystin Chung
While other kids were busy playing hopscotch, I could usually be found in my closet, playing dress-up or making one of multiple daily outfit changes. Currently pursuing a BA in Art History and Communication Studies, I think of myself as a burgeoning fashion writer, eager to use my knowledge, love for fashion and creative eye to bring you only the best.