3030 Dundas West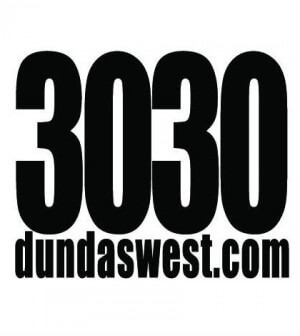 "It's pretty damn easy to stay here for two and half hours," a direct quote from my partner in crime during this food endeavour. Like many, one of my main priorities in life is to sample as much delicious food as possible, as quickly as possible. Having just moved to the city this year, there was no better place to start than 3030 Dundas West.
If you like candlelit dinners and soft jazz, this place is not for you. If you are like the majority of young Torontonians who love to kick back and relax with a local brew, then you have found a place to call your second home. From the menu scrawled on a chalkboard, the wide collection of board games (Boggle anyone?), to the vintage black and white television and stack of VHS tapes (yes, those are still kicking around), this place is electric with originality and comfort. A spacious venue, yet the tables are close enough together to have a conversation with fellow diners and still be able to enjoy Amy Winehouse playing on the stereo.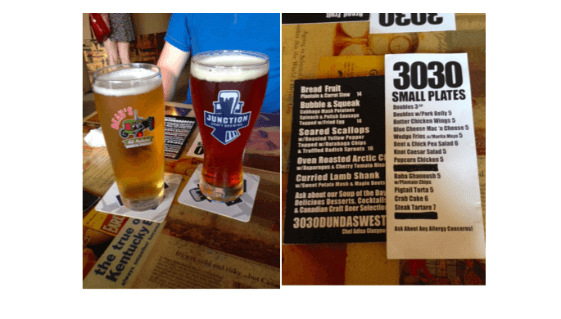 We were immediately greeted by the very chatty owner and bar manager, Jeff Kelly, who never failed to have a story to tell or a new place to explore in the city. My companion and I are both beer advocates and will always sample a new one when we can. Jeff made our beer choices based on what we drink on a normal basis (Alexander Keith's for me and Canadian for my partner). I wound up sipping on a Beau's Lugtread ($7), a completely organic brew, unlike Mill Street, that came with a great backstory on how it was brewed. Conclusion: I will be visiting the father/son team just outside of Ottawa for their annual Oktoberfest party this year. The other beer selected for the table was Junction Conductor ($7), a beer that became so popular within the city that the Junction Brewery could not do it alone and they had to expand their business to the Wellington Brewery.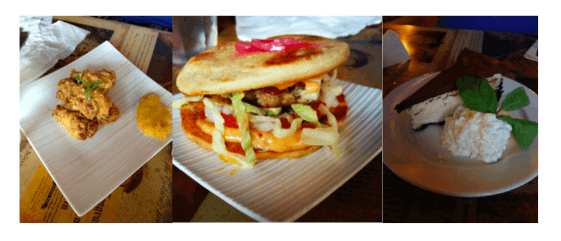 Now, let's get to the heart of the matter – the food. I won't lie to you and say I didn't look up the menu before journeying to the Junction. Even with my knowledge of their menu, I still wasn't sure how to narrow down my choices of their wide selection of $5 tapas. Shy of just pointing at all the mouth-watering dishes at random, we finally made our decision on four different food items. My taste buds extend their thanks to Chef Adisa Glasgow for moving here from Vancouver so I could experience a new twist on food. Working with the Chef from Curry Twist, a restaurant a few doors down, the creation of Butter Chicken Wings was born. Adding a touch of Indian food to the menu was a genius call to go along with the Asian steam buns, the Double with Pork Belly and the Pigtail Torta. Every item was quickly devoured and earned five stars along the way from us, but it was the Pigtail Torta that will make me come back again and again. The slow-braised pork marinated in Ethiopian spices was topped with iceberg lettuce and placed between a house-made bun, offering a little bit of a kick with its signature spicy sauce. No matter how full you are, no meal is complete without dessert. All desserts are made by Aleisha Chapman, who deserves great recognition for her melt-in-your-mouth Double Chocolate Mint Cheesecake.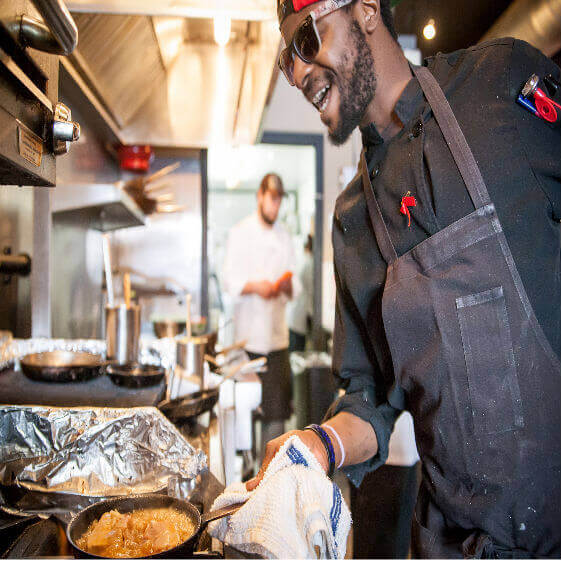 I heard 3030 was known for their ever changing local beer selection, turns out their head bartender Lucas Twyman crafts a mean bourbon cocktail. Paired with my cheesecake, I was able to sample several cocktails. It was hard to choose a favourite, however, I have managed to narrow it down to a mint infused bourbon with grapefruit soda and more mint for garnish. It is safe to say I am now a bourbon drinker, at least as long as Lucas is the mixologist behind the bar. It's even safer to say that I will be bringing back a lot more people on my next visit for a laid back brunch. Oh, I didn't mention they do brunch? Yeah, they do and you'll definitely find me there.
Full Menu Here: http://www.3030dundaswest.com/kitchen/
"Follow" On Twitter: @3030DundasWest and "Like" on Facebook here.
Open 7 days a week – 3030 Dundas Street West