World Mastercard Fashion Week Toronto (2012) – Part 1- The Experience
Lights, Camera, Fashion!
World MasterCard Fashion Week 2012 was a fashion week to remember. Packed with famous designers, models, press and public, it brought together the best minds and designs in the industry for one unforgettable experience.
As Fashion Writer for Toronto City Gossip, I had the privilege of obtaining a media pass and getting a behind the scenes look at the event as well as an up-close look at the designs.
So if you want to know what the hottest trends on the runaway and coolest shows were or even just what fashion week is like as an experience, this would be the post for you!
Part 1: The Fashion Week Experience
Target Media Lounge
What's red and white and cool all over? The Target Media Lounge of course! As one of the official sponsors of WMCFW, Target set up a stunning red and white themed media lounge where fellow photographers and bloggers could work between shows. Complete with Vitamin Water and gourmet mini sandwiches, the media lounge provided the perfect atmosphere for members of the media to work and network.
I personally really enjoyed the media lounge because it was a great place to tweet, Instagram and update in general through social media channels but it also served as a bit of reprieve with its great food, drinks, and people.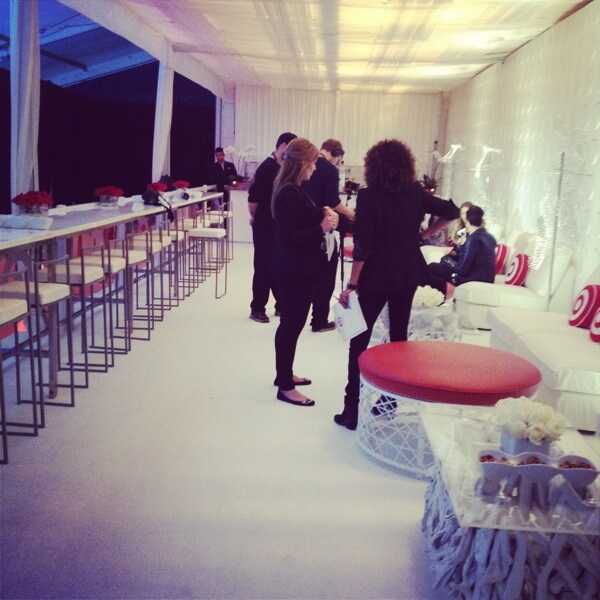 The Celebs
While we'll admit that we're no New York, Toronto Fashion Week had its fair share of celebrity attendees as well. These celebs included: Miss Canada, Chantal Kreviazuk, Kreesha Turner, DRU, Brian Gluckstein, and Jeanne Beker to name a few. If you're curious as to how to spot those stars on your trip to fashion week, we'll give you a big hint: they're usually sitting in the front row.

The Seating
Seating at fashion week is pretty well organized and I have found the staff to always be super helpful with resolving any confusion. There is usually general public seating (which any member of the public can purchase) towards the middle/back and media seating on the left of the runaway in the middle sections. Designer guests which are those individuals who are invited directly by the designer and lastly the front rows are typically reserved for celebrities and special guests.
The Booths
Fashion week has probably some of the coolest booths to visit in between shows. This year, Essie hosted a booth where you could get a manicure with their new colours; Samsung was present with the Galaxy Note II and allowed attendees to demo it; Caesarstone with delicious macarons; L'Oreal with a make-over booth, and 5 gum distributing gum. We felt that this year's booths were really relevant and tied in with the fashion and innovation theme we had been witnessing throughout.
How The Public Can Watch The Shows
So you want to go fashion week? Well, lucky for you, it's pretty easy for the public to get access to these shows. However the saying goes, the early bird gets the worm. There is a high volume demand for fashion week tickets so make sure to purchase early on or risk losing the opportunity to see your favorite designers showcase their collection.
So What Should I Bring?
If you're going there as an attendee, I'd say bring your chicest outfit, nicest smile, charged cellphone to Tweet, Facebook and Instagram about the event, and maybe even some business cards; after all, you never know who you'll meet during the show or in the main foyer!