Top 5 DIY Him & Her Gifts for Valentines Day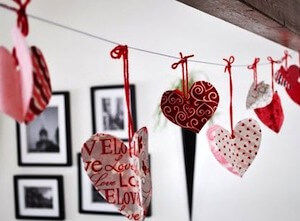 You want to know what is a #firstworldproblem? What to get your loved one/significant other/someone. The media has told us already: chocolate, flowers or jewellery. But it's so expected that it kind of gets lame. The best presents are the ones with thoughts, and the ones with most thoughts are the ones you make. Here are 5 DIYs that are super easy and possible to crank out before the 14th:
1. Bacon Hearts
"The only way to my heart is through my stomach". Truth. I can eat bacon all day, so getting bacon hearts throughout the day would be absolutely incredible. This present is pricey, because if it were me, I'd be expecting to eat Bacon Hearts for the entire day. Thanks.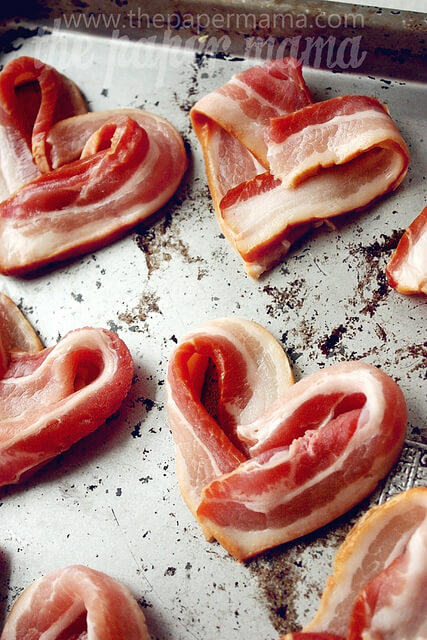 Recipe at: http://thepapermama.com/2013/02/links-to-love-for-valentines-day.html
2. Sleep Set
I find this pretty nifty even though it is kind of cheating because it's not DIY, it's store-bought. But if you bought the stuff separately and put it together yourself, I'm sure you could rationalize… Make sure it's comfortable and 100% cotton.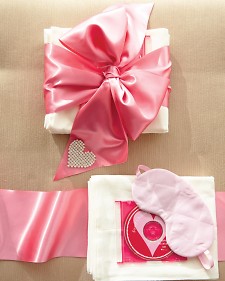 Example at: http://www.marthastewart.com/309440/kevin-sharkey-my-funny-valentine?czone=holiday%2Fvalentine-center%2Fvalentine-cnt-gifts&gallery=275749&slide=309440&center=276967
3. Bracelets
I would be really impressed by a guy who can make bracelets, and I would definitely wear it. When my girlfriends ask me who made it (maybe they assume a toddler made it for me), they would be even more impressed that my significant other made it. Tip: Match! If you make one for someone, make one for yourself as well.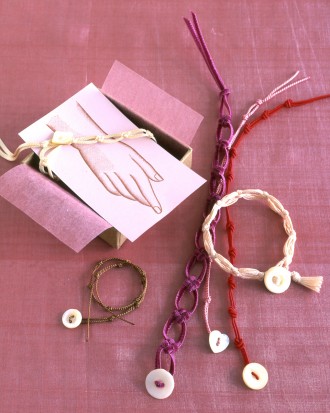 How to at: http://www.marthastewart.com/913767/knot-bracelet?czone=holiday%2Fvalentine-center%2Fvalentine-cnt-gifts&gallery=275749&slide=913767&center=276967
4. Coupon book:
Extend your Valentine's Day to more than just one day! And you can be as creative as you want, so ANYTHING and I mean absolutely anything can go into this coupon book. Just make sure you would be up for it at all times because the receiver has the power to use it whenever.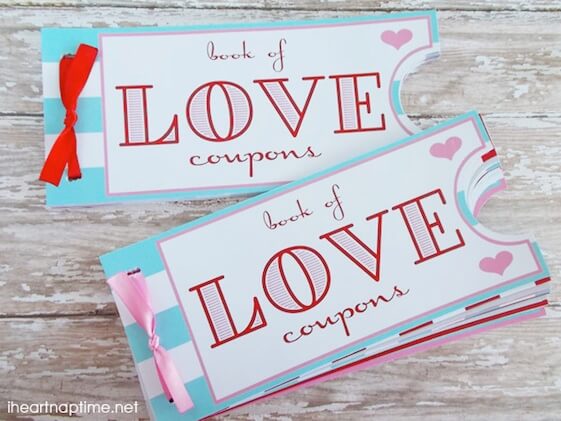 Printable here: http://www.iheartnaptime.net/printable-love-coupon-book/
5. Pillow:
Everyone can use an extra pillow, cute for movie nights or just some kind of decoration for the days ahead or throughout the years. They are also good show-off presents when guests come over.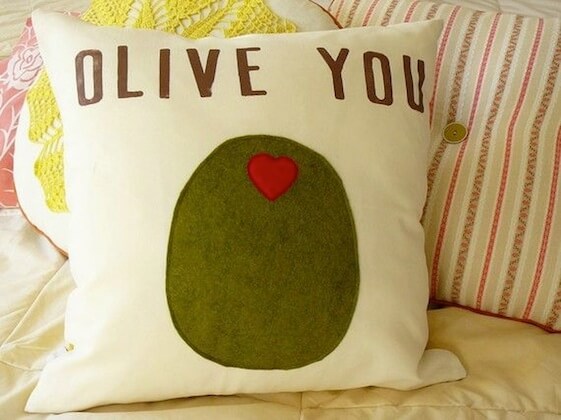 Or buy here: http://www.etsy.com/listing/65663367/olive-you-pillow-cover
Get crafty!
R
About Rachel Hon
I am a 21 year old coffee addict, sideline hipster with hobbies bordering granny territories. If I could, I would grow cat ears and live comfortably snuggled up in some old man's apartment. But I don't foresee that happening anytime soon, so in the meantime, I am studying towards a career bound to an office chair where I would make water cooler jokes with any poor soul who would listen and look forward to 3 pm coffee breaks that would be the most exciting part of my day. Realistically, I am no more than the average human being wandering the land we call Canada.