Win A Custom Made Ping Pong Table While Supporting Your Community!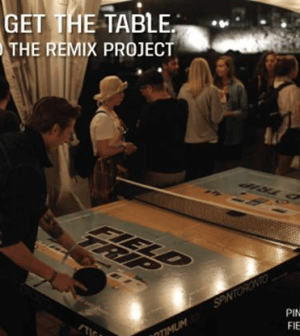 This is one of the coolest fundraising initiatives we have seen in a while!
SPiN Toronto has teamed up with the Field Trip Festival and designed a custom ping pong table for the artists to play on backstage. The table has been signed by members from The Darcy's Fucked Up, A Tribe Called Red, Chvrches, Washed Out and artists like Brendan Canning of Broken Social Scene, Zaki Ibrahim, Maylee Todd and Megan Bonnell) and it will be auctioned off for charity with proceeds going to The Remix Project. For auction details and bid entry: http://goo.gl/QJVl6a
Auction closes on July 4, 2014. Auction price includes delivery and setup of the ping pong table within the GTA.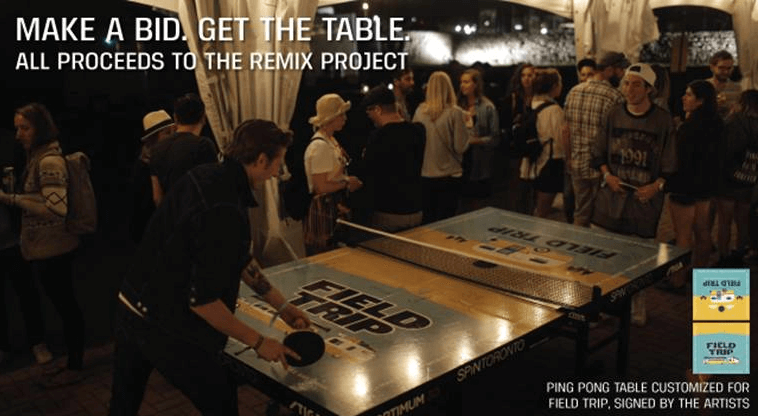 About the Remix Project:
The Remix Project was created in order to help level the playing field for young people from disadvantaged, marginalized and under served communities. Our programs and services serve youth who are trying to enter into the creative industries or further their formal education; The REMIX Project provides top-notch alternative, creative, educational programs, facilitators and facilities. Our mission is to help refine the raw talents of young people from across the GTA in order to help them find success as participants define it and on their own terms.
https://www.facebook.com/theremixproject
About SPiN Toronto:
SPiN Toronto is a 12,000 sq ft ping pong night club located at 461 King Street West in the heart of downtown Toronto! The club boasts 2 fully licensed bars, 12 ping-pong tables, cocktail menu, full food menu, a lounge and a private party room. Memberships are available for the more obsessed players, but not necessary to take part in our nightly events, tournaments, private ping-pong instruction by professional players, and casual socializing and play.
http://toronto.spingalactic.com/news.post.php?newsid=153
https://www.facebook.com/SPiNtoronto
About Field Trip:
Field Trip began in 2013 as a celebration of Arts & Crafts' 10th anniversary. The future of the event is to establish it as a world-class, two-day boutique music and arts festival situated in the heart of downtown Toronto. Field Trip focuses on highlighting the community's best culinary offerings, as well as collaborative explorations on the themes of art, photography, technology, fashion and more.
https://www.facebook.com/fieldtriplife
https://www.youtube.com/user/FIELDTRIPLIFE

About Jessica Strickland
I'm a lady whose ordinary, needs that 'extra'. With a background in corporate communications, I love the thrill of connecting with audiences and engaging with their interests. I'm fairly certain in a past life I was a mermaid…ok, I'm totally certain. One day I'll be living ocean side again. I love animals, and my golden retriever puppy Briar, is my pride and joy. @pr_in_heels http://jessandbriarblog.wordpress.com