The Burger Cellar – Burger Grill and Wine Bar
There is nothing like a yummy grilled juicy burger right? With simple yet gourmet toppings, a little messy but it's so good, you don't care that some of it is dripping down your hand with every bite. Well that's how I feel about The Burger Cellar at 3391 Yonge St – simple, gourmet, and delicious! Burger joints always excite me; maybe it's because of my weakness and love for French fries, as they are always the classic choice that you get with a burger. Well not anymore, The Burger Cellar has kicked the classic burger sides up a notch and I was thrilled to be able to sit down and enjoy a few of their tasty creations with a good friend.
We walked through the large wooden doors into a beautiful open restaurant. It was busy, full of families with their kids, friends catching up, and couples on dates. I immediately felt comfortable as we were taken to our seat beside the large fireplace. We both ordered a Muskoka Cream Ale to sip on while we looked over the menu and checked the place out. Lots of big windows allowed a lot of natural light to shine in and also gave us a great view of Yonge St. I loved the wall of wine bottles at the back of the restaurant – the whole feel was a much buzzed about burger joint meets upscale wine bistro.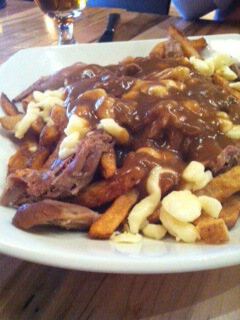 I had looked at the menu prior to coming and knew I HAD to have the duck poutine. Yes, that's right; they braise the delicious duck in veal stock until super tender and then put it over French fries, cheese and gravy. We started with this, and it was so decadent and good! The duck was so tasty and a perfect complement to one of my favourite foods!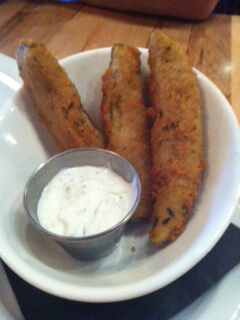 We asked for help from our server for the next few items we ordered – we wanted to try their other popular dishes. She immediately told us that we had to have the pickle fries. I was 100% fine with this because anything with the word fries in it, I know I am going to love. These were huge pickle spears of sour dilly goodness in a panko crust served with a lemon dill aioli. They were crunchy and fantastic – perfect to share.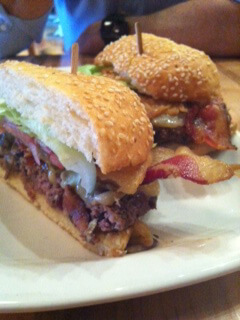 Then it was on to the main event – our burgers. Again we asked which ones we should try and we were both so pleased with our server's suggestions. We ordered The Burger Cellar Burger (the BCB) with the AAA Black Angus burger; two year old Bothwell smoked cheddar, apple cider bacon, sautéed mushrooms, chipotle BBQ sauce, and a beer battered onion ring. This burger was the king of burgers and tasted like every burger should taste like. It was seasoned really well and cooked perfectly. It was nice and juicy and not too thick so I could actually get my mouth around it to take a full bite. Seriously, how many burgers have you had where you take your first bite and all you get is some lettuce and bun because it's way too big? lol.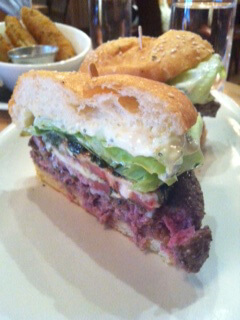 The other burger we had was their special feature burger, it wasn't on the menu and it was something that the chef had just created. It was called The Caprese Burger and this one blew my mind. It was with a Natural Burger, basil pesto, fresh Italian buffalo mozzarella, beefsteak tomato, and a lemon aioli. It was tangy, sweet, and fresh – It was delish, I just always wanted one more bite until… it was gone.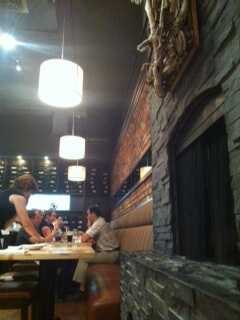 Of course we did try a few different red wines that all went so well with our meal – we tried Tempus Alba, Charles Smith 'Velvet Devil" Merlot, and Stratus Vineyard 'Tollgate Blend' which is exclusive to The Burger Cellar – no other restaurant carries this one.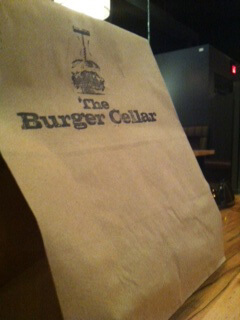 I would highly recommend each dish that we had at The Burger Cellar and I look forward to going back and trying a few other items that stood out to me on their menu. They have a great selection of salads, Chinese chicken bites, and fish tacos – everything sounds great! So please go check it out and enjoy xo
Feel free to read more of my adventures here: http://erinlovesfood.com/

About Erin Scheel
Food Lover • Blog Girl • Recipe Rebel! My name is Erin and I am in a constant search for a full belly. I have lived in Toronto most of my life and have been enamored with the city's food culture and fascinated by the culinary possibilities this city has to offer on a daily basis. I'm really into cooking, vintage clothes, chocolate milk, craft beer, french fries, leftovers and then working it all off at the gym! Read it and eat it here: www.erinlovesfood.com, Twitter: @erinlovessfood, Instagram: erindotcom