The $15 "Meatatarian" Diet
After much deliberation I've decided to share my guilty pleasure and it includes the following : meat, all-you-can-eat and kimchi. Oh I went there, the Korean Grill House at 214 Queen west that is. Although I mainly eat a vegetarian diet, when that carnivorous craving rears its bloody head (all puns intended) this is my preferred outlet. If you haven't heard of this fleshy gem you've probably unknowingly passed it, neatly nestled beside the Scotia bank at Queen and McCaul.
It's simple design doesn't lure you in with fancy art work or a decadent entrance, rather the Korean Grill House has a simple, modern layout and best of all: all you can eat meat!. Did you read that gentlemen? An all-you-can-eat joint that can be passed as a legitimate date spot because it still scores you unique points.
If you've never been to a Korean barbecue before I suggest you plan to visit one ASAP for the experience. The concept is that every table has a gas grill built into the middle where you grill your dinner to your liking. Although you do have to handle raw meat (which I was initially hesitant about) the fact that the cuts are very thin and easy to cook will turn the most unskilled cooks into barbecue masters. The restaurant takes care of the marinading, slicing, and preparing where all you have to do is move the raw meat out of it's tray and onto the grill with your provided metal tongs. Voila, a master chef and you did it all in stilettos. So why do I love this place so much?
Need I say it again? All-you-can-eat meat. Ladies, have you heard that the best way to a man's heart is through his stomach? I'd like to expand that theory and say that if you toss meat into the mix it's better than tapping his coronary artery. Gentlemen, this is your chance to not look like a carnivore on a date. Suffice to say this makes the argument clearest.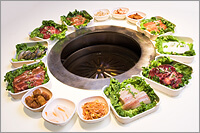 The price is right for two, for four, for all. The Korean Grill House caters to those of us on dates, those of us looking for a double date, or just simply a get together with friends. Did I mention that my $15 claim is only for dinner? Lunch and late night are even less and the sides, of which the spicy bean sprouts and kimchi are my absolute favourites, also have no limit.
They're open late. If you're tired of heading to the Garden after a night of drinking, try a little barbecue fun instead. Yes, unfortunately you have to be there at 1:00 am for their last seating but did I mention it's all-you-can-eat? At least one hour for protein overdose is good justification for leaving the bar early. Besides, they serve alcohol too.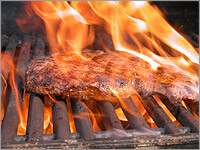 Service is always fast, friendly, and never forgetful no matter how busy it is (and believe me it gets busy). I recommend you get a few trays of the beef ribs and overdose on kimchi. The wonderful thing about the Korean Grill House is that you don't necessarily have to eat all-you-can-eat, they feature a separate pay by item menu as well as full meals that you don't have to cook at all. So did you get that? Unlimited barbecue yourself meat, delicious Korean sides, and a unique available any time atmosphere. I'm not sure why you're still reading…
214 Queen St., Toronto
Tel (416) 263-9850